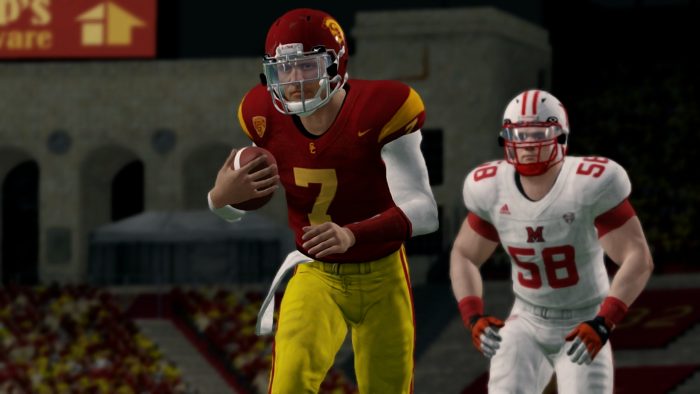 USC
The mighty USC Trojans bring in the top ranked offense and defense in the league to this matchup. Currently averaging over 500 yards of total offense a game, the Trojans are led by their sophomore quarterback, Thrasher Banes. Banes is completing almost 80% of his passes and has accounted for 14 touchdowns. On defense, the Trojan attack is led by safety Arian Adams. Adams has produced the stat line of 31 tackles, two tackles for loss, and a sack, not to mention an interception as well for 12 yards. The Trojans are coming off a game where they manhandled LSU, beating them 56-14. Banes completed 44 of 48 passes. (three incompletions and one interception). Can he recreate his success from a week ago against their SEC foe?
Alabama
The Crimson Tide come into this game producing the best passing attack in the CFSL. Averaging 472 passing yards a game, Doug Day leads the attack with 1418 passing yards and ten touchdowns on the season. Already on pace to shatter his single season records from last year, he looks to wide-outs Tyrone Young, Brogan Speraw and Zach Stone. On defense, the Tide are paced by Will Stills who is a wrecking ball from the defensive tackle spot. 14 tackles, seven for a loss and three sacks have Stills rolling early, but can he lead the Tide in an upset?
Prediction
These two teams used to hate one other back in the day, but it appears to have cooled off lately. Alabama brings in a run and shoot attack, with more shooting than running. USC looks like USC of old and can dominate games on offense and defense. The key to this game is passing yardage. If USC can cover these Alabama wide-outs (or N.W.O.), this should be an easy win for them. I see USC rolling over the Tide tonight.
Score Predictions
Hornsnation: USC 44, Alabama 24
David Ware: USC 35, Alabama 38
Houston Freeman: USC 45, Alabama 37