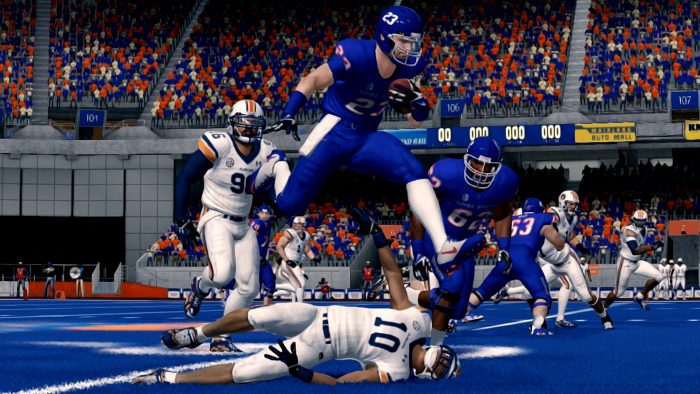 We are halfway through season ten and every team still has a chance at the championship. (Well maybe not Florida). Lets take a look back at week four!
THE FINAL UNBEATENS
Five teams entered week four with pristine records. USC, Boise State, Texas, Oklahoma State and Florida State. After week four, we now only have two unbeaten teams. Boise State took care of Notre Dame on the Smurf Turf, winning 51-35. Solid performances by Elton Bridges and Luke Hall keeps the Broncos perfect heading into week five. The other unbeaten is Oklahoma State. The Pokes dropped LSU 40-28 in their matchup with another good performance by Lyle Fletcher and his 373 passing yards and two touchdowns. Only one team has ever finished the season undefeated, can Oklahoma State or Boise State add their names to the record books?
WEEK OF THE UPSETS
This week we saw quite a few upsets based on the weekly pick em. Nebraska torched Texas while Oregon was able to handle Miami. Alabama beat USC while we watched TAMU handle their business against Florida State. These upsets go to show that even if you are the favorite, a great game plan by the underdog can beat any team. Is it time to hit the panic button for these teams after one week? No. But a trend in the wrong direction can lead to worry, and worry is a path to the dark side. (Just kidding) Anyways, this season, more often than most, just proves it's hard to win in the CFSL week in and week out. Will we see any upsets next week?
DOUG DAY'S AIR MILES
If Doug Day was a frequent flyer he would be in diamond status this season. Day is averaging 477 yards per game in the air. To put that in perspective, all time GOAT Ray Tatum averaged 343 yards in the air for his career, with his best mark in season two with 410 passing yards a game. Day was instrumental in the win over USC last week with 493 passing yards and five touchdowns. He has thrown for 400 plus yards every game this season with one 500 yard game, in a loss. Can Day keep it up this season as Alabama enters deep into SEC play? Possibly. Ray Tatum was in the Run and Shoot SCHEME in season four and passed for 4,655 yards that season, something that Day might be close to breaking this season.
AUBURN'S BACK?
Almost everyone counted Auburn for dead at halftime in their game against Oklahoma. Down 31-17 at half, Auburn looked like a team on the ropes with their season hanging in the balance. After a couple of key plays, the steady hand of Ron Newman and Loki Lawler let Auburn in the comeback win over the Sooners. The Tigers were finally able to get back on track after two losses to Boise and FSU respectfully. Are the Tigers completely back? I would say they at least have their toes in the water and you can never count out Pack who has been an AD since season one. Look for Auburn to make some waves in SEC play.
THE YOUNG AND THE RESTLESS
What is going on with LSU and the Youngbloods? Both Gage and Colt have struggled at time this season and find themselves at 1-3 on the season. The LSU Tigers also have a -41 point differential. Most of that can be attributed to the USC loss, but this doesn't appear to be the same LSU team as last season where they were dominant up until the championship game. If LSU is to rebound they need more help from Gage. This Youngblood has tossed five touchdowns with six interceptions, a far cry from his 29 touchdown passes last season. Tiger fans down in Baton Rouge are starting to get restless, can these Youngbloods deliver a title in their final season? Or is this show starting to fade?