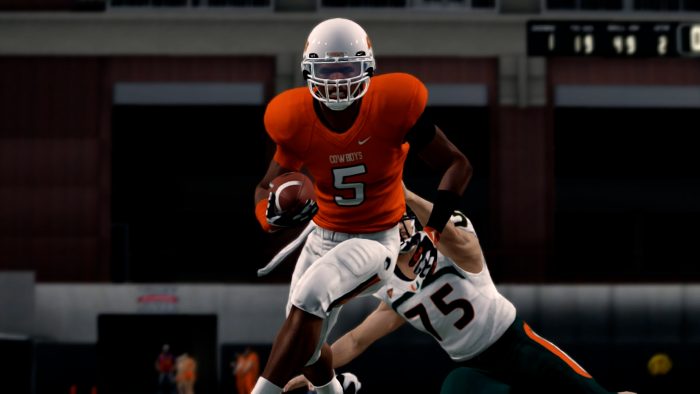 Texas
We kick off the second half of season ten with a huge conference battle as Texas travels to play Oklahoma State. This game is huge for the visiting Longhorns because if they can win they will be tied with Oklahoma State for first place in the Big 12 and would have the tiebreaker over them. Texas is coming in at 3-1 and really needs a signature win as their opponents overall record has been 5-11 so far this season. The Texas offense has scored an impressive 38.5 points per game with most of their offense coming through the air. They average 433 yards in the air and 48 yards rushing per game. Texas will need to get the running game going as they have only won one game out of the five games in which Vito Pipino has attempted 50 or more passes in his career. Texas' defense will have their work cut out for them as they give up 477 yards a game, and Oklahoma State averages 543 yards a game on offense.
Oklahoma State
Oklahoma State won the only time these two teams have played, but it was not without dramatics as Oklahoma State outscored Texas in the fourth quarter 15-3 to pull off the 48-45 victory. Quarterback Lyle Fletcher continues his dominance as he completed 78.8% of his passes for 1,749 yards, 13 touchdowns, and only three interceptions. The Cowboys have had a very solid defense and have only given up 31.8 points a game. They have forced nine turnovers which is second best in the CFSL. The wide receiver core for Oklahoma State has been very productive as three different receivers already have at least 300 yards. Will Oklahoma State be able to hold on to first place and secure the tiebreaker against Texas?
Prediction
Both of these teams need to win this game as playoff ramifications can be determined by the results of this game.  Oklahoma State has to continue to move the ball and convert on third down.  If they can keep spreading the ball around to all of their weapons, they will stretch the Texas defense out and will have a great chance to win.  In the last eight games for Texas when they scored 30 points, they won all but one game.  They will need to try and keep up with the Cowboys, as I expect this to be a high scoring game. 
Score Predictions:
Houston Freeman: Texas 52, Oklahoma State 55
David Ware: Texas 41, Oklahoma State 38
Squidy: Texas 35, Oklahoma State 48
HornsNation: Texas 44, Oklahoma State 34