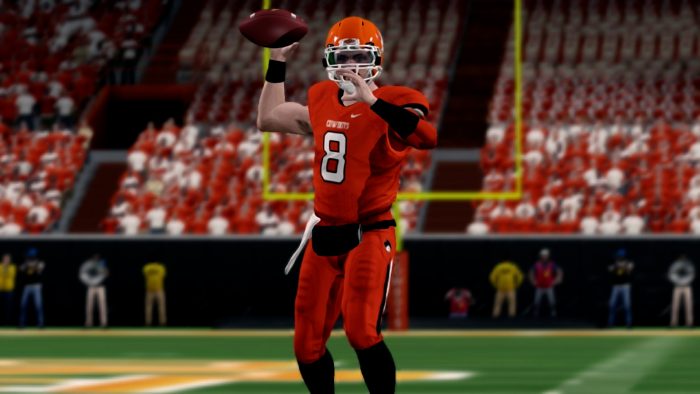 *Author denotes that this was written prior to the Miami/Alabama game and therefore stats from that game may not be included"
1) THE WILD BIG 12
If there were ever a vote on which conference is the toughest this season, the Big 12 would win in a heartbeat. Oklahoma State leads the pack at 5-0 with Texas, Nebraska and Texas A&M right behind them with three wins a piece. Oklahoma and LSU round out the Big 12 with only one win, but as we have seen before both teams are capable of turning it around. The only team with a net scoring loss is LSU, and that is likely to the beat down USC gave them. The season ten champion will likely come from the Big 12.
2) LYLE FLETCHER > VITO PIPINO
There was a discussion or argument made that Pipino is better than Lyle Fletcher. While I agree that is false, we saw in the Texas-Oklahoma State game that Fletcher plays well within his system while Pipino is a system quarterback. Fletcher is averaging better yards per game with a better number of yards per attempt. While Pipino is slated to beat his passing numbers from last season, he is also in a more Air Raid system, the same system that made Clayton Denny a star, only to see him crash down to earth this season. Will Pipino have the same effect next season? In the sake of argument right now, Fletcher was more efficient with his throws against Texas and was only slowed down by the likely celebration at halftime by Oklahoma State. Texas mounted a furious comeback that saw Pipino throw 67 times, second only to Denny in season seven.
3) THE CASE FOR BOISE
Look, Boise just obliterated Michigan. Clayton Denny looked like a walk-on quarterback and Elton Bridges played like Blake Moon with almost 500 total yards. Many thought this could be an eye test for Boise, and while beating a 2-3 Michigan team is huge, Boise continues to prove doubters wrong and remain unbeaten. This defense is led by Trace Jones who has secured double digits tackles in almost every game this season (he had seven in week one against Oklahoma). The Broncos of Boise continue to pace the CFSL in offense and defense. Can Clutch become the first athletic director to ever win two titles? It's very possible.
4) RANK OHIO
Look, I have been a huge fan of Ohio dating back to the start of this season. They are led by a good core group of guys as well as their athletic director. Currently sitting at 4-1 this season, Ohio has found ways to win this season and their only loss came to Ohio State in week two. How do you not rank them? While yes they are a MAC team, they also are in the middle of the pack in offensive efficiency ahead of Texas and Oklahoma State. While sure they are playing other MAC teams the majority of the time, how do you rank teams like Michigan and LSU who haven't look good? Ohio sports a winning record, has beaten a power three team in Florida, and has looked really good against inferior MAC schools. It's time to rank the Bobcats.
5) ALL HOPE LIES IN DANE JONES
Clemson secured the upset this week over Florida State with a big win on a Hail Mary at the end of the game. Dane Jones went off again for 132 yards and one touchdown while adding a couple of catches. While Clemson may not have had the year that many thought, Dane Jones could win offensive player of the year. Sure this season we see Lyle Fletcher going off at times, not to mention Ryan Lendy winning the wide-out race, so can Dane Jones win offensive player of the year? Only Frost Carlson won the trophy as a halfback, but many could say few quarterbacks challenged him (he was also getting the ball about 30 times a game). This could be the year a non-quarterback wins the award and my money is on Dane Jones.