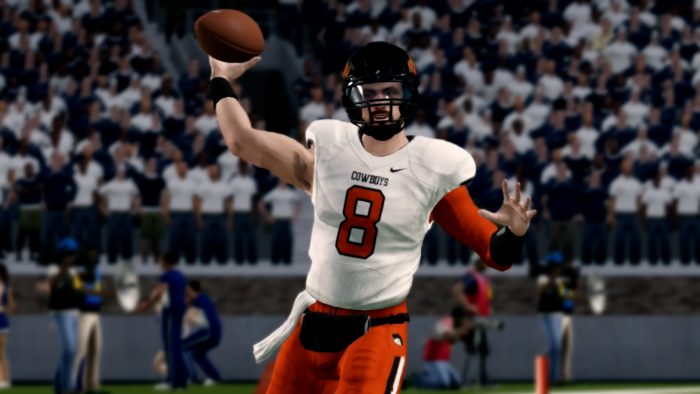 We are more than halfway through season ten in the CFSL. We polled our content team writers to discuss who are our halfway point All-Americans.
QUARTERBACK
Oklahoma State QB Lyle Fletcher
A consensus pick here, the QB for the Pokes looks to win his second straight AA award. Why shouldn't he? Currently averaging more yards per game than last season, Fletcher has thrown for 2,062 yards along with 17 touchdowns in the air and two on the ground. Completing over 78% of his passes, Fletcher is well on his way to another AA award along with a possible 2nd OPOY.
HALFBACK
Clemson HB Dane Jones
Michigan HB Conner Darian
Speaking of back to back All American awards, how about Dane Jones? Jones who won the AA in season nine for HB, looks to win his second award. The Clemson halfback has rushed for 742 yards with five TDs. He is averaging 6.6 yards per rush, and running for 148 yards on average per game.
Conner Darian makes this list as well for the Michigan team. Darian has rushed for 543 yards this season with only three TDs. He has averaged over 100 all-purpose yards per game this season with a massive 243 yard performance against Florida. Can Darian win the AA award in his first season?
WIDE RECEIVER
USC WR Ryan Lendy
Alabama WR Joe Idol
Texas WR Cash Jackson
Boise WR Austin Gombas
If you look at the leaders for WR, you will find each one of these players in the top 5 of each category. Lendy by far has had a ton of success including the record breaking performance of 381 receiving yards against Alabama. Also during that game we saw Idol with 194 yards of his own, including 235 yards the next week against the defending champions. Cash Jackson has been quiet lately but had the massive games against Florida and NIU to make this list. Finally, it was a toss up between Gombas and Ray Robinson and Gombas gets the nod here for having one more touchdown as well as four pancakes. IHop anyone?
TIGHT END
Auburn TE Joey Cash
Cash has performed very well this season when called upon. He was able to have a monster game against the undefeated Boise State team with 140 yards receiving. Only one TD so far this season, so look for Auburn to get him more involved.
DEFENSIVE LINE
Boise DE Bo Diddle
Texas DE Nick Harley
LSU DT Dillon LeBlanc
How often do you see a defensive end make double digit tackles? Well its rarer than Oregon's championship game appearances. Well no one told Nick Harley that. The past two games Harley has put up 26 tackles, 11 tackles for a loss and six sacks. Those types of numbers would be considered a good season for some but he has done it in two games. Bo Diddle and Dillon LeBlanc have both been wrecking balls for this respective schools. Boise is undefeated and the play of Diddle has helped that. LeBlanc has been a force on an unimpressive LSU squad with his 19 tackles for a loss and nine sacks.
LINEBACKER
Oregon OLB Jedidiah Longtree
Florida State OLB Ikkuma Talok
Ohio State MLB Allen Mack
The Ducks Longtree is looking for his third straight AA award and is shooting for his second DPOY award as well. Already at 63 tackles, he also has 11 for a loss and three sacks. Ikkuma Talok and Allen Mack are both in the mix for the AA award as well with them having 58 tackles and 57 tackles a piece.
CORNERBACK
Miami CB Jon Dowd
Auburn CB Sean Flowerday
Miami's Jon Dowd could be a threat to the Jedidiah DPOY campaign. Dowd has made 29 tackles, four for a loss and leads the league in INTs with four. Flowerday follows up behind him with 39 tackles of his own, five for a loss and three INTs.
SAFETY
Nebraska SS JoJo Schillizzi
Texas A&M FS Josh Claydon
Schillizzi was the consensus pick for safety while Claydon came in a close race for the second spot. Schillizzi has 50 tackles this season with four for a loss and two INTs. He has also forced a fumble with a recovery. Claydon has played well so far with 48 tackles and two forced fumbles.
RETURNER
Michigan WR Memphis Lane
The Wolverine wideout, Memphis Lane, has been a bright spot for the Michigan squad on returns. Lane leads all P3 teams with 538 yards from kick returns and 187 yards on punt returns.
So there you have it, the picks for All-Americans by your content writing team. What are your thoughts? Think anyone can move up into this list or fall out? Let us know!