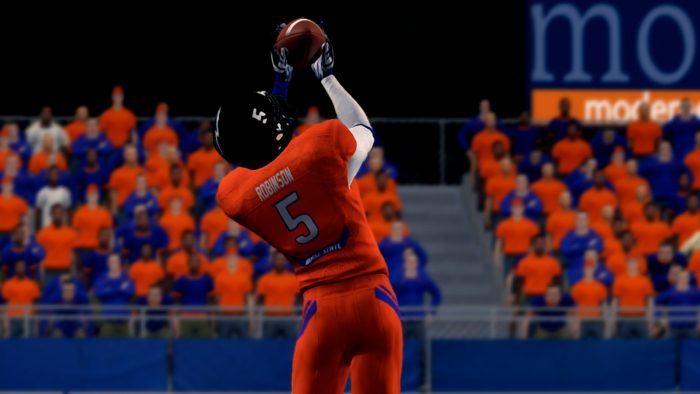 Boise State
Boise State has been tested, but they continue to make all the big plays when they need to. They have not shown any sign of weakness yet as their defense has been very solid and the offense, led by quarterback Elton Bridges, has been amazing. They are averaging 46.6 points per game which is best in the CFSL. To make them even tougher, the defense has only given up 19.2 points per game which is again the best in the CFSL. What can this team not do? History says that its almost impossible for a team to go undefeated, especially all the way through the playoffs, but can Boise State pull it off? This will be a huge test for them as Ohio State has been on a roll and it will be one of the biggest tests for the defense.
Ohio State
Ohio State comes into the game 4-1, and have not lost since week one in the "Stern Bowl." That three point loss really got Ohio State going and they have not stopped. All four of their wins have come against some really good teams, and they have found a way to win each and every time. The offense is starting to gel. Quarterback Zach Davis has thrown for over 300 yards in each of the last four games, although he does have only five touchdowns compared to five interceptions in those games. Linebacker Allen Mack has been on fire for the defense with 14 tackles in each of the last two games and averaging 12 tackles a game during this win streak.
Prediction
If Boise wants to win this game the path is simple for them, just do what they have been doing. Their dominant play this season has been very hard to stop and they need to keep playing ball. The defense will have to work against this offense who has had a lot of success in the last few weeks, so we will see Boise State having to work harder than they have in most games. If Ohio State wants to win, they must force Boise State's quarterback to make mistakes. He has not thrown an interception all year against a power three school. If they can force a few turnovers and the offense can move the ball like they have the last few week, they have a chance to end the undefeated run by Boise.
Score Predictions
David Ware: Boise State 49, Ohio State 42
Squidy: Boise State 38, Ohio State 35