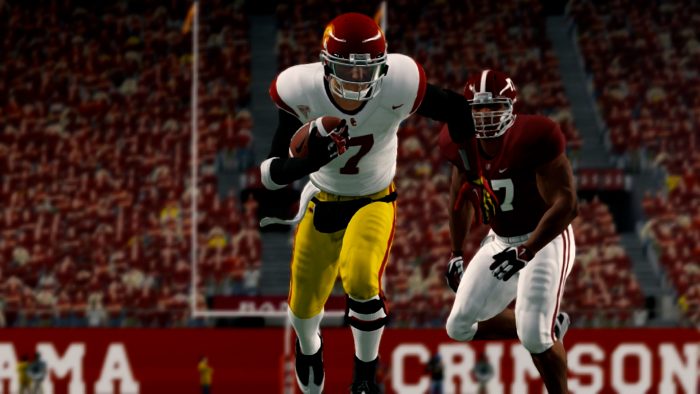 Another week in the CFSL season ten and this one was perhaps the best week yet! No one was safe from an upset this week as many of the favorites went down. Lets take a look at what we learned this week.
NO ONE IS UNBEATABLE
The final two unbeaten teams entered this week with high hopes of going undefeated for another week. Well no one told Ohio State or Texas A&M. The Buckeyes limited the Boise offense and won 23-16. The Aggies defeated the other OSU by the same exact score. (Weird huh?). Both the Broncos and Pokes were picked by the majority to win this week, only to see their undefeated seasons come to an end.
Somewhere season five Ohio State is popping champagne and celebrating as their lone undefeated CFSL season continues to be unmatched for another year. Yes, the same Buckeye team that lost to Auburn in the season five playoffs.
A WEEK FULL OF UPSETS
No team was safe this week. As previously mentioned that Boise and Oklahoma State fell, but so did favorites Oregon, MiamiU, Nebraska, Ohio and Texas. That is seven teams that were picked by the league in #weekly-pick-em that fell. This week continues to show that every team must bring their A game with them otherwise they will find themselves on the other end of an upset.
PLAYOFFS? WE TALKING ABOUT PLAYOFFS?
Lets re-look at how the playoffs are seeded:
Each conference winner makes the playoffs
Each conference runner-up makes the playoffs
Two wild cards also make the playoffs decided by league polls
The 8 playoff seeds are determined by the league polls
If the season ended today, these teams would make the playoffs:
USC (BIG10 champion)
TAMU (BIG12 champion)
Miami (SEC Champion)
Ohio State (BIG10 Runner-up, owns tiebreaker against Boise)
Oklahoma State (Big12 Runner-up)
Auburn (SEC Runner-Up)
Boise State (Wildcard likely)
Alabama (Wildcard likely)
Now these are not set in stone, especially the wildcards as these were just some of my guesses. There are some massive match ups that loom in the distance. This week we are given Boise State vs USC and Auburn vs Miami. The following week is when it gets really tough as you have Oklahoma State and OU, USC and Notre Dame and Alabama vs Auburn. These playoff pictures could change quickly and some teams on the outside can sneak in if any of these teams fall.
THRASHER BANES FOR OPOY
Every week it appears no one has a lock on the OPOY trophy. A couple of weeks ago, we were talking about Okie State's Fletcher taking home the OPOY as well as potentially Dane Jones from Clemson. In the loss against TAMU, Fletcher failed to throw for a touchdown for the first time in his career. (Now he did run one in). In their loss to Auburn, Clemson HB Dane Jones was shut down from the start by only getting 35 yards on 22 carries.
Enter in Thrasher Banes. Now he did just beat a lowly Michigan team to a pulp, but Banes has shown that he can get it done when the games are close. On pace to complete 80% of his passes, yes 80%, Banes has also sniffed out the redzone on the ground with eight TDs already. Banes leads the league in completion percentage, is third in yards thrown and is fourth in TDs thrown with 15. Can this be the USC signal callers year for OPOY?
TEXAS BACK, NOT BACK
As much as it pains me to write this section, I have to do it. We first must give props to LSU, Colt and Gage Youngblood. Anthony Stover also deserves some recognition here as well with his game sealing pick-6 of Vito Pipino. Currently Texas sits at 3-3 but is 0-3 in Big 12 play. With two massive match ups against Oklahoma and TAMU, Texas could finish 3-5 on the season. I don't see that happening though but a 4-4 finish is likely. In order for Texas to have a glimpse at the playoffs, they need to win out big. In the past four games, Pipino has attempted over 50 passes per game. Texas is 1-3 when Pipino throws for over 50, including 73 attempts against LSU which tied him for the record all time of passes attempted. Its no secret that teams are loading up expecting Texas to pass. I mean they lead the league in passing yards a game. But as we can see in the past couple games, Texas has been slow to come out of the gates which has caused them to abandon the run game all together. If their defense gets it together, they can make the playoffs. Unfortunately, it will be another year without Texas on top.
Do you have any thoughts on this week and playoff teams? Let us know! Lets discuss in league chat.