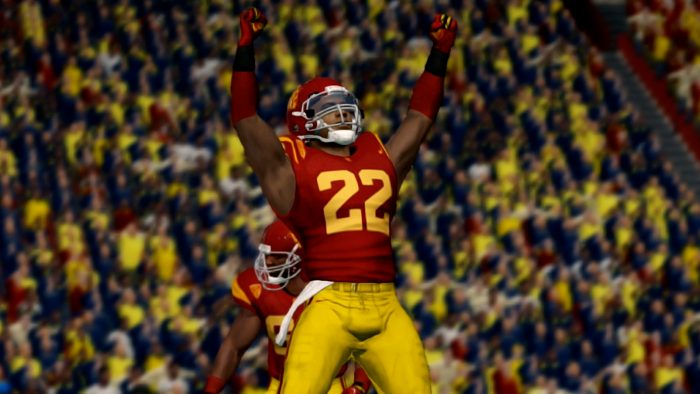 With two weeks to go in the regular season, the playoff push has ramped up, as it does every season. And with the eager push for the playoffs each team has a best case scenario, and by the end of the week the conference champions could very well be decided among the Power Three conferences. For the intents and purposes of simplicity, we'll frame this discussion within the spots that can absolutely be controlled, namely the Conference Champion and runner-up spots, which account for six of the eight playoff teams. With the last two to be decided by the final rankings, it's difficult to say what is needed for teams to get in via poll, but within their conference? That's an easy discussion to have.
Big Ten
USC Trojans
It doesn't get much simpler for USC other than to defeat Boise State this week. With their win over Ohio State, the Trojans would have the tiebreakers needed to be the Big Ten Champions.
Boise State Broncos
Boise State, still in the running for the Big Ten crown, needs some help. They have to win out, but they also need Ohio State to drop a game over the course of the next couple of weeks. Winning out though, would guarantee their playoff spot, provided Ohio State doesn't win out either.
Ohio State Buckeyes
Ohio State is in the same spot as Boise, needing to win out and for USC to drop a game if the Buckeyes are to claim the Big Ten throne for themselves. Winning out, by the way, can garner the Buckeyes a playoff berth.
Notre Dame Fighting Irish
Unfortunately, no Big Ten title spot, but if they want a playoff berth they have to win out and will need Ohio State and Boise State to slide through the remainder of their schedules.
Oregon Ducks
While Oregon may not be able to compete for the Big Ten crown, they still have a window at the playoffs. With games against Ohio State and Boise State coming down the line, the Ducks can win both of those games, and watch Notre Dame drop a game to get into the playoffs.
Michigan Wolverines
The Wolverines are playing for pride at this juncture, looking to have some performances to make All-American or get onto Player of the Year ballots. If Michigan can do that, play spoiler within their division, and finish strong, then they will carry a lot of momentum into recruiting season.
Big 12
Texas A&M Aggies
It doesn't get much better than being in a position where all you need to win the conference is win your next game. The Aggies are fully in control over their destiny, and a win over LSU would make them the very first Big 12 Champions.
Oklahoma State Cowboys
If the Cowboys are going to win the Big 12, and yes they still have a shot, then they need to hope that both LSU and Texas can find a way to knock off the red-hot Aggies. Aside from that, Oklahoma State has to get back on the winning path and stay there for the remainder of the season. And if the Aggies don't lose out, then, the Cowboys are still a playoff team.
Oklahoma Sooners
Being in the same predicament as your in-state rival isn't the best feeling for fans, though it certainly makes these last two weeks of the season interesting. With a 2-1 conference record, Oklahoma has a shot at the title of Big 12 Champions like the Cowboys. So long as the Sooners can win out, which includes week eight Bedlam against Oklahoma State, and the Red River Rivalry with Texas, then all Oklahoma needs is for the Aggies to go ice cold over the last two weeks. Depending on how the chips fall, Bedlam could decide the Big 12 Crown.
Nebraska Cornhuskers
Is there a way to make the playoffs for teams like Nebraska? Yes, but it won't be easy. The Cornhuskers' to-get-in list comprises of winning out and both Oklahoma State and Oklahoma losing out for that guaranteed runner-up spot. That's extremely difficult given the Sooners are starting to catch fire.
LSU Tigers
Much like Nebraska, LSU's longshot at the playoffs starts with winning out. However, they'll also need Oklahoma State and Oklahoma to lose out. Oh, and part of this scenario implies beating Nebraska in week eight, who is in the exact same situation. Still without losses from the Cowboys and Sooners, both teams are in a tight spot.
Texas Longhorns
How sweet of a situation for Texas. To be in position to knock both of your rivals out of the playoffs, or at the very least keep them from winning the conference must feel rewarding, and is an excellent recruiting tool. With the Red River Rivalry and a date with the conference leaders in week eight, Texas can play spoiler and use that in recruiting.
SEC
Miami Hurricanes
It may not have been the prettiest run, but here the Hurricanes sit as the in-conference leaders with a flawless record against the rest of the SEC to this point. Still, a huge game against Auburn is on tap this week, and should Miami win it, they hold on to the SEC throne, and will be back-to-back conference champions.
Auburn Tigers
Speaking of Auburn, the Tigers have a great spot to win the SEC, so long as they win out which includes defeating Miami and their in-conference rivals, the Alabama Crimson Tide.
Alabama Crimson Tide
I wish I could say Alabama's path to winning the conference was just as easy as Auburn's or Miami's but I'm afraid it isn't. It's still simple, just an extra step. Alabama has to win out, but they'll need Miami to lose out to win the conference. As far as the runner-up spot, then winning out will get them into the playoffs.
Florida State Seminoles
Well, Florida State does still have a match with Miami at the end of the season. So long as the Seminoles can win out, they'll just need help within the conference to be able to jump past Auburn and Alabama. A lot of help.
Clemson Tigers
The Tigers are in a similar spot to the Seminoles, but they have a game with Alabama on the docket. This is a good thing if you're Clemson but it still doesn't guarantee a spot. Know this, winning out is one part of the equation, but if Clemson wants a playoff spot, they'll need a lot of help past that.
Florida Gators
The Gators still see Clemson and Florida State this season, which means the Gators can dash both teams' playoff quests. Since both the Tigers and the Seminoles need to win out, Florida can get out of the season on a high note, by completely derailing two teams' playoff chances. There's not many better recruiting tools than winning your last two games and playing spoiler.
Eight teams get in these days, and there are six spots that are available to teams for them to solely control that fate. What I have discussed here may not be enough for those teams who need a lot of help. And for the teams who are needing a little help to be conference champions, they likely don't need much help getting into the playoffs. Two weeks remain, and there's eight playoff spots still up for grabs. Fasten your seatbelts ladies and gentlemen, this roller coaster ride is only just beginning.