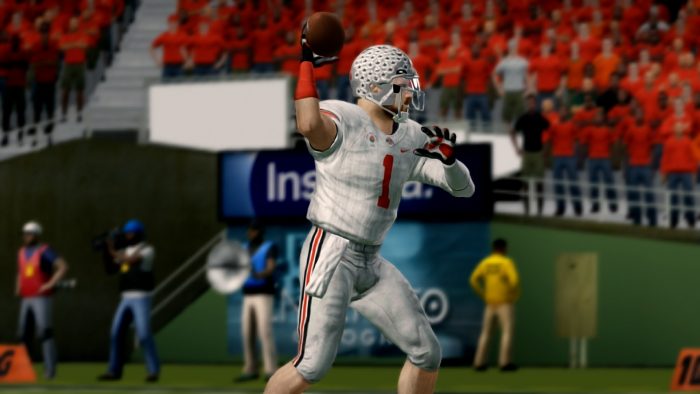 I sat down with Ohio State's AD, Will, to discuss their upcoming championship game against Texas A&M.
Congrats on making the CFSL championship game, how is the team doing after last night's win?
The team was ecstatic, haven't had anywhere near this type of energy since our Season 8 win over Michigan to make the playoffs. Everyone in the locker room was celebrating and recapping the game, was huge for us to get that rematch win over Miami that we wanted.
Your team has come alive after the Michigan loss, what has been the difference maker?
The difference maker has to be the way Zach Davis is playing. Something just clicked for him in the playoffs, he's obviously built for this kind of atmosphere and playing in the big games. Nothing changed on the defense, they've been as good as ever, but Davis getting going has also helped Silva breakout a bit more as well.
Texas A&M is a squad that is gritty and grinds out wins, how does Ohio State matchup against a team like that?
Before these playoff games Ohio State was the same way. I think we match up perfectly with that style of play. Two overtime wins this season, and three of our losses have been by no more than three points each, we've kept almost every game close and reachable in the fourth quarter. They've obviously done the same in these playoffs, so I think both teams are dangerous when it comes down to the fourth quarter and the last stretch of the game. We certainly don't expect to be fazed by it as we have had plenty of experience grinding games out until the end.
What was your favorite moment from this season?
My favorite moment, personally, was beating Boise State week six. It was the biggest statement win we've had here at Ohio State during my tenure as AD. We took down the number one seed that looked unstoppable for much of the season. All our guys' confidence jumped up after that, we beat them in a close defensive battle and stopped their very good offense.
You are leaving Ohio State after a couple of seasons for Washington, will this game be your swan song?
Leaving to AD at the University of Washington after being the AD here for three seasons will be crazy, still not quite ready to leave this place, been together with a lot of these guys for a while now, and the freshmen fit right in. As for this game being my swan song, for what we've done here at Ohio State, yes, I think it would since it's right at the end of it all. Leaving on a high note here would be the best, these guys have all worked for it.
What player are you looking forward to facing on the Texas A&M side?
If their had to be one player, it's quarterback Jimi Germaine. He was our Season 8 QB that we had when we made the playoffs and got eliminated by Miami. We haven't gone against him yet, so it's kind of funny we meet him here in the big game. We definitely want to go out there and beat him maybe most of all tonight.
For all the other aspiring coaches out there, what does a week preparation look like for your coaching staff?
For us here at OSU, we didn't change too much of our usual process. That doesn't mean we didn't increase the quantity by a lot though, the games being earlier means you have to get your rosters drawn up and try out ideas in a shorter amount of time. Our process was the same, but the amount of work we had to put in was a lot greater. There wasn't a day we could really take off, expected work to be done on the gameplan each day.
Who is the biggest leader on your team?
This is very hard to pick… we've had a lot of guys step up this season like junior Michael Krueger, junior Dameko Brewer, and freshman Deion Prince III. But if I had to pick one guy, it would have to be junior Manuel Silva… the man has done so much for this team in terms of energy and keeping everyone active and involved, especially in the locker room. He's always positive and rallying guys up for each game. Last season, Zach Davis was adding a lot of that hype for us, but with him coaching a MAC school, Silva really took it upon himself to fire everyone up.
How excited are you for this championship game?
This is the most excited and nervous I've been for a game, and I'm sure the team feels the same way. There's nothing better than going on the run we did and having one last opportunity to finish it, very excited.
Texas A&M has a really good halfback in Tye Dixon, how do you gameplan against him?
We have to try to contain him, he's very good on stretch runs and sneaking behind his O-line. We need to shove their offensive linemen backwards in order to disrupt a back like him, can't let him go forward easily.