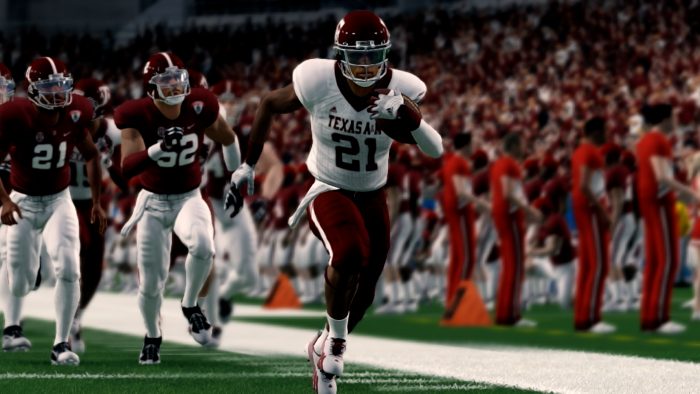 This week I sat down with the AD of Texas A&M, Eric, for an interview on their upcoming championship game.
Congrats on making the Big Game, how is the team doing after last nights win?
Man they're on cloud nine! Hyped up for the big game!
Your team is taking on a red-hot Ohio State team that has beaten the top seed in USC and last year's championship team in Miami, how are you getting your team prepared?
Man, we're just practicing and getting ready for a war! We know that Ohio State is coming prepared and we need to be ready for a four quarter slug fest!
Ohio State quarterback Zach Davis has passed for over 400 yards the past two games, what's your plan to stop him?
The Wrecking Crew. These group of men and our lady have been to war with the best all season long. They are excited about a huge test against one of the more underrated quarterbacks in the league. Zach ain't fooling the Wrecking Crew! We know how good he is and we will be ready. We are going to have to put pressure on him and disrupt the passing lane. If we don't he will eat us alive!
Jimi Germaine has thrown two interceptions the past two games, what are you telling him prior to this game?
I'm telling Jimi to go out there and have fun. He got us this far and we know he's the man for the job. Every time Jimi makes a mistake Coach Perry has always caught him on the sideline saying "Breathe, relax, you got this."
Your team doesn't rank in the top of either offense or defense, what should Ohio State be worried about?
They should be worried about playing the team that "Wasn't supposed to be here." These Ags have a chip on there shoulder and have had it there since week two. Tye Dixon has been coming into form. Ohio State should be worried about Tye Dixon.
What was your favorite moment of this season?
Has to be our first big win against Florida State. We really felt like we found ourselves after that game.
What player are you looking forward to facing on the OSU side?
Halfback Manuel Silva and quarterback Zach Davis are monsters. The challenge they present for the Wrecking Crew is exciting.
For all the other aspiring coaches out there, what does a week preparation look like for your coaching staff?
We communicate a lot. We make sure we are all on the same page with out gameplan and we keep an open dialogue. Communication is key.
How excited are you for the championship game?
We don't know how to put this into words. We haven't slept much.
Who is the biggest leader on your team?
That is the hardest question to ask especially with this squad. Not one player sticks out more than the other. Claydon, Perry, Mills, Dunn, Woodson, and I could keep going. It's awesome how bought in everyone is!
Are you ready for Monday night?
We are. We've put in the work, sweat, and blood. Now it's time that metal meets steel.