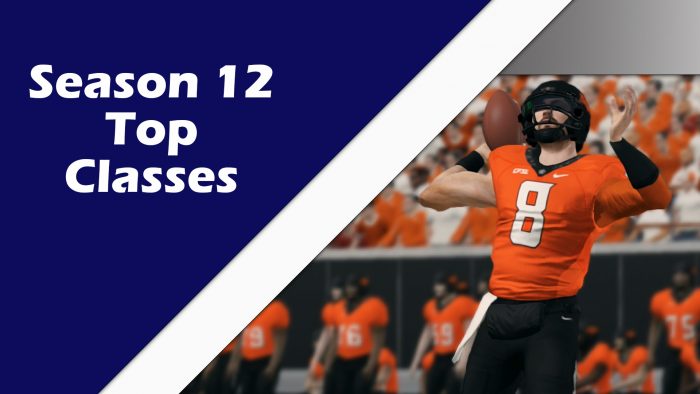 Season 11 came to a close over a month ago and we are now reaching a few weeks out of Season 12 in the CFSL. Last season the league endured some drama and rebounded quite nicely in adding new players as well as a new league structure.
The decision was made to allow a "redshirt" year for last season, so there was not a whole ton of activity during recruiting but fun nonetheless. Lets take a look at some of the top performing teams during the transfer window and national signing day.
IOWA
Iowa takes the top spot in recruiting classes thanks to two reasons. One, they are a brand new team and had the most spots of anyone to fill. Two, they absolutely killed it with the transfer window while also getting some studs as new recruits. The headliners are record setting and former OPOY QB, Lyle Fletcher. Joining him is HB Tanarius Harris and elite WR, Lavonte Griffin.

The Hawkeyes were also able to fill out their defense with transfer stars, DT Austin Whitten and Will Stills. OLB Brock Hoskins also came over from Missouri while they signed FS Latrell Terry as a new recruit.

Iowa is in a great spot from a locker room perspective. They filled their teams with highly active, high character players. The biggest question is how new AD, TattedGriffin, will involve all those players. TattedGriffin comes from a Oklahoma State program that always near the top of the league, so the learning curve may not be as steep as some expect. Iowa should be a playoff team this season.
OKLAHOMA STATE
Sure I can be seen as biased but when you go through recruiting season and you only add Elite players, that means something. OKState did a great job of filling in the gaps after the departure of his record setting QB. In comes QB Harrison Murray who looked good at Tennessee in times but due to a young AD, had some trouble making it all click. He now gets his chance playing for an AD that knows how to make QBs great.

The Cowboys were also able to add Brandon Reichele and Rip Tuttle as Murray's targets at WR. Reichele comes from South Carolina after making the playoffs last season. Oklahoma State was also able to sign elite HB, Kayce Alexander, who will help keep teams honest about their passing ability. This could be the best Oklahoma State team we have seen so far.
TEXAS
Texas was able to really continue to fill out their roster after they watched their season end short in the playoff loss against Oregon. Vito Pipino looks to carry home another OPOY trophy and get Texas back into the promise land. Additions include elite SS Joey Cass and WR Quincy Meyers. Kyzir Washington adds another experienced corner to this team and Texas should have no problems reaching the playoffs again.
MISSOURI
Missouri had quite a bit of departures but the Beaver was able to reload with key transfers and recruits. MLB Sean Moore Jr. headlines this class along with Anthony Ellis at CB. Johnny Tipton comes in as a brand new elite CB, giving the Tigers a nice 1-2 punch. Missouri looks to rebound after last seasons disappointing end.
USC
The Trojans made some big waves adding elite WR Dominik Flories, CB Brody Edwards and SS Ken Williams. During the new recruit's window, they were able to add Elite OLB Callous Jackson as well as TJ Crisman and Thaddeus Jackson at the safety spots. It has been a few years since USC has been relevant in the CFSL, especially since their championship in season seven. But this season could be the season they go deeper in the playoffs.
NEBRASKA
The Cornhuskers were another interesting and busy team this offseason. First they added three Elite players during the transfer window in HB Dallas Gregory, DE David Southerland and FS Martrell Wright. They filled out their roster by also adding SS Maverick McCracken and a few defensive tackles up front. The children of the corn have a nice roster built, so it will be interesting to see how new AD Rury game plans.
MIAMI
The Hurricanes made some noise in the offseason as well by collecting elite HB Mojo Rison to go along with elite WR Zeus Thomas. During national signing day, they were able to sign elite DT Owen Britt and 4-star Damien Daniels. Not so much quanitity but really good quality pieces.
KENT STATE
Look, 14rdavis has been in the league awhile and this is his first offical coaching gig, and he knocked it out of the park. I know MAC teams don't get much love but he was able to pull players that should have been in P3 conferences. Players such as Reign Reaux who transfers over with 5 Star HB Jackson Smith.

Not only did he do well in the transfer portal, he signed some key recruits. Elite QB Almedian Colakovic headlines it while elite FS Stevie Glades makes an appearance at safety. Kent State is going to upset some teams this season.
TENNESSEE
Tennessee had quite the exodus during the offseason but was able to reload with QB Mike Potter and elite HB Connal Thrace. Linebacker Christopher Britton Jr. also comes over as a transfer but some question may remain from their safety spots. There is still time to fill out the team, so they could move up in these rankings.
WASHINGTON
The Huskies had a great offseason by adding HB Dion Hawkins, WR Calvin Jordan, DE Terrell Morris and Matthew Norris. They also added Deion Chambers at linebacker, giving them South Carolina West in the Big-10.
What are your thoughts on this off-season? Should other teams be included on here or taken off? Lets us know!