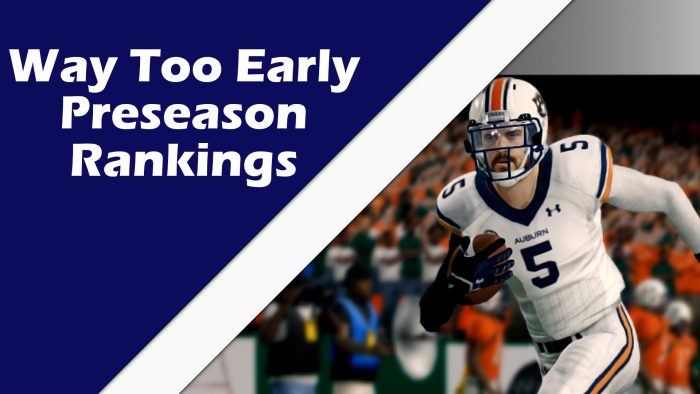 Its that time of the year where writers begin to predict what will happen this season and how teams will fare. While recruiting has died down, the playbook draft is tonight. Any team ranked below can change drastically based on the playbook that they choose, so take this lightly. Or not. Or complain about your team in league chat. (Look LSU not everyone can be number one). Lets take a look at my Way to Early Preseason Rankings.
1 AUBURN
Pack finally takes the reigns in my top spot much to his dismay. Auburn performed a miracle against Boise State in the fourth quarter and played well in the loss to Oregon in the championship game. They weren't super active during recruiting, just adding some depth at at WR, CB and FS. Its the holdovers that make Auburn even more dangerous. Quarterback Jason Lemmy is back with offensive superstars in Loki Lawler and Ron Newman. Defensively they have a lot of depth on the defensive line and linebacker. The only questionable thing for this team is the safety spot. Only rocking two safeties with not a lot of experience could come back to haunt Pack and this Tiger team.
2 BOISE STATE
Look, no one really talks about why Boise only played three quarters against Auburn in the semis. The Broncos looked unstoppable and then they didn't. Their defense opened like Moses (Lemmy) parting the Red Sea and could not make a stop. Clutch comes back into another year with Boise at the helm with a championship at Clemson as an AD and one as a player. If there is anyone that can rebound this season, it has to be him. Frustration may be growing up north in potato country but don't count out Ryan Smith and Luke Hall. Both are really dangerous and have a year under their belt. Gombas and McCray are the two leading receivers for a team that is destined to be an offensive juggernaut. The only weakness in this team might be the defensive line. They will likely need one of their DEs or DTs to stand out to help this team reach the championship game.
3 OREGON
Yes, Oregon did just win a championship and I ranked them third. "Why Horns, they just won a CHAMPIONSHIP, rank them first coward." Well, no slight to Venom, who takes over an impressive program, but the inexperience will show, along with the massive departure of Frosty and Puma Longtree. Not to mention picking last in the playbook draft. Oregon has a scary offense with Camit the comet coming back. Delano, Gates and Barrett will make this team go. The only question is the depth at linebacker behind Jedidiah and Loto. They didn't have space to sign anyone in the offseason, so teams looking to beat the Ducks will just need to run right up the middle. Can Oregon repeat? Not likely. Maybe just use this season as a building block for next.
4 LSU
The team that everyone loves to make fun of and the team with the biggest ego comes in at number four. Not a slight, LSU could be ranked as high as number one with everyone that they return. Offensive Player of the Year and Most Improved Player, Justin Morris Jr., returns to a dangerous team that is picking 20th in the playbook draft. Now could last years success be because they picked 4th in the playbook draft? Only time will tell now that they are at the bottom of the draft. I really like the secondary for LSU. Elites are aplenty at the corner and linebacker spots. Their safeties have good depth to them. LSU could make a run in the playoffs.
5 CLEMSON
The third set of Tigers in the top five is Clemson. Clemson barely missed out on the playoffs last season, losing to South Carolina in the final game and put on an impressive display in the loss. Quarterback Dylan Tate is a superstar and the right player to lead this team. Duane Sammons is a transfer at HB with another TE transfer, Brandon Maynard II. (Which is probably the first time a player plays at a rival school, then joins the rival, KD much?). This Tiger team screams depth. This is a pretty loaded squad that will make life tough for other teams in the SEC.
6 OKLAHOMA STATE
"Horns just always talks about his team" wrong my friend. Oklahoma State has good reason to be ranked higher as well but I am not the biased type. (or am I?) QB Harrison Murray comes over from Tennessee after a failed marriage there and is looking to make it work with the QB guru, OKState. Now Murray is no Fletcher, or at least not yet, but if there is someone that can make this team work, its Houston. Afterthought Kayce Alexander was the lone freshman to sign but look for the trio of Martin, Reichle and Tuttle to put up offensive numbers this season. Defensively, depth in the secondary might hurt this team but when you are putting up 60 points a game, who cares?
7 TEXAS
"They're baaaaaaaackkkkk" proclaims Jooby as Texas returned from the dead last season by making the playoffs before losing to Oregon. Vito Pipino is back again for the senior year reboot as he has been the Van Wilder on campus. Many forgot he won OPOY in season 8, his freshman season, and is about to set a plethora of QB records. Will he be the greatest to ever suit up for Texas? Maybe but he needs to win a championship first. Cash Jackson, Quincy Meyers and Hollywood Mason are his favorite targets as this group is experienced. Nick "Pain Train" Harley was a beast in their playoff win over South Carolina and this team has a lot of depth on defense. They did sign transfer Joey Cass who is a massive player at safety. If this was the season for Texas, this team would be it. They are loaded.
8 MISSOURI
One of my favorite players to watch, Kai Kohko, returns at QB for a team that had its ups and downs last season. Their offense may not exactly scare you, but its their defense that is fully stocked. The attorney firm of Davis and Moore will have fun leveling out and issuing judgements against opposing running backs. Their defensive backfield is well stocked as well as their defensive line. This team can be dangerous if used right.
9 IOWA
Iowa is a brand new team, yes. Iowa has a brand new AD, yes. Can they make the playoffs? Maybe. Lyle Fletcher comes over from Oklahoma State after being a star there for so long. His biggest target will be Lavonte Griffin who only got better season after season with Texas. On defense, Austin Whitten is the big man up the middle to watch. I really like the linebacking core of Hoskins and Thompson. Not to mention Terry and Wetzel in the secondary patrolling the safety spots. Iowa went out and signed six wideouts, which can only make sense if they plan on Air Raiding it this season. Tatted has a good squad here but can he bring over the success he had coaching at Oklahoma State?
10 NOTRE DAME
Uh, how did I put Notre Dame 10th? How could I have missed that? Not to worry Irish fans, you make the list. This team has stars everywhere and looked good going into the playoffs. Well Boise had something to say about it and ended the Irish hopes of a championship. The commish curse continues in full force but new QB KyShawn Williams will have his work cut out for him. Only a five star and not elite, it will be interesting to see how Wookie makes everything work. It also doesn't help they are picking near the bottom of the league for a playbook but the Irish could make some noise.
So what did you think? Am I completely insane for these rankings? You cannot make everyone happy but this is an exciting time for the CFSL. We are only days away from the newcomer games and the start of the season. Be sure to tune in and leave your comments in league chat!