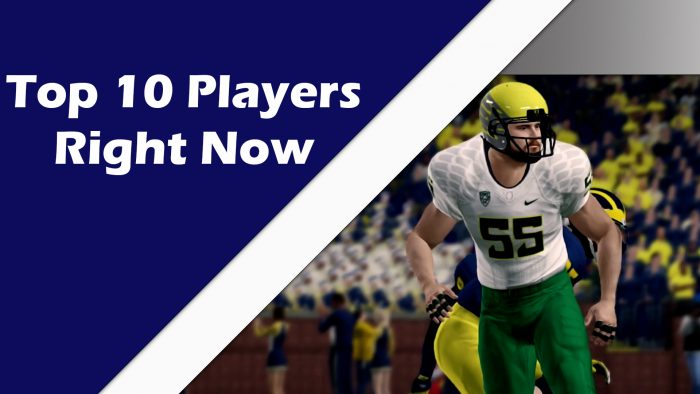 Welcome back CFSL! Hopefully everyone was able to enjoy the newcomer games and the podcast we had this week. We are officially less than a week away from the start of season 12! Lets take a look at the top ten players in the CFSL right now.
Now remember kids, this isn't "official" this is more of who I think are the best ten. Certainly can be subjective.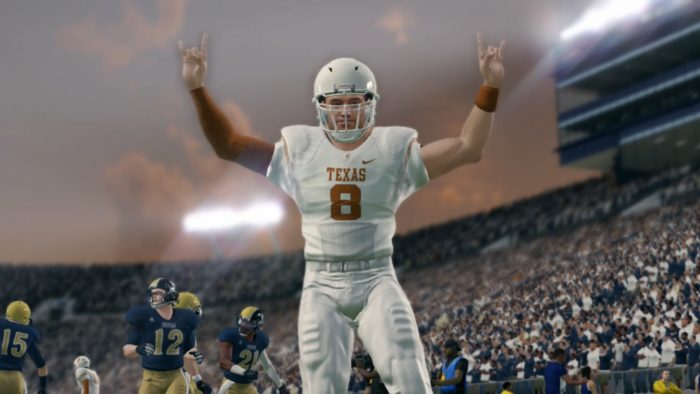 1 VITO PIPINO, QB, TEXAS
This one was pretty easy to nail down. Pipino has been the Texas QB for four seasons already and is about to break every Texas QB record this season. In season 11, Pipino passed for over 2k yards to go with 19 touchdowns through the air. He also posted his second highest QBR at 157.8. Now, his success hasn't always translated to the Longhorns success, but this should be the year he is able to add a National Championship trophy to his collection to go with his OPOY in season eight.
2 JEDIDIAH LONGTREE, LB, OREGON
There probably is not a more polished defensive player in history than Longtree. A four-time All-American. Two DPOY awards and numerous POTWs. Longtree is as good as they come. If there was a 1a and 1b for this list, both Pipino and Longtree would fill the top spot. Oh, and he also helped Oregon to their first title last season. Longtree can continue to stack up his trophy case and become the only player in CFSL history to win three DPOY awards. Can he do it under a new coach will be the biggest question.
3 LYLE FLETCHER, QB, IOWA
This is where the list can kind of get murky. Fletcher was great last season, posting a 157 QBR and passing for 16 touchdowns. He has an OPOY to his name from season 9. He is going to a new team in Iowa and they are loaded up at WR. Can he continue to reach greatness at a new school?
4 JUSTIN MORRIS JR, QB, LSU
I am sure I am going to get some nasty grams for putting JMJ fourth on this list. Morris Jr. made a massive step from NIU to LSU, and in his first season as a Tiger, he passed for over 2k yards and put up a 157.4 QBR. He won OPOY, AA and MIP in his first season at LSU and will look to continue to add to his trophy case this season. The biggest hurdle will be to be able to produce those types of numbers in a playbook that we have not seen much in 12 seasons.
5 ALLIE PETERS, LB, TAMU
Allie Peters cracks this list at number five. A two-time All-American, Peters has been successful playing as a two-way player with two touchdowns on the ground last season. On defense, she out performed her season 10 stats with 68 tackles, eight for a loss and three sacks. Talking with the AD of TAMU, Peters is going to be the force for the Aggie defense.
6 DALLAS GREGORY, HB, NEBRASKA
Dallas Gregory is probably one of my favorite players at HB and he went to the corn wasteland that is Nebraska. The Cornhuskers are getting a great player. Gregory rushed for 870 yards and nine touchdowns. This was an average of 174 yards per game and immediately will give a big boost to Nebraska. Their 1-2 punch of Harris and Gregory will be something to watch this season.
7 LAVONTE GRIFFIN, WR, IOWA
A former Texas product, Griffin will be the big time threat for the Hawkeyes this season. Last year, he caught 25 receptions for 574 yards and eight touchdowns. He used to play corner for Texas as well, so it will be interesting if he does both for his new team in Iowa. Having a QB like Fletcher throwing to you should increase his numbers for a third straight season.
8 DEUCE WILLIAMS, HB, NOTRE DAME
The Duece is Loose! In his first season at Notre Dame, Williams rushed for 637 yards and six touchdowns. He also caught 27 receptions for 132 yards and another TD. He also picked up All-American as HB in his first season and should make waves as the Irish HB this season.
9 NICK HARLEY, DE, TEXAS
Another Texas player makes this list and hes a good one. Our first defensive end, Harley was an absoulte force for the Longhorns with 41 tackles, 25 for a loss and 16 sacks. A two-time All-American, Harley is just five sacks away from the all-time record of 48 held by Mike Miller. This could be the season that we see a new leader in sacks as well as TFL.
10 CASH JACKSON, WR, TEXAS
Our final player is another Longhorn on this list. Cash Jackson has been nothing short of Cash Money, getting 718 receiving yards and eight touchdowns. He has been with Texas just as long as Pipino and has shown to have a knack for the big play by averaging over 16 yards per catch. Texas's offense can look scary if they get on track.
Well thats the list as I see it but what did you think? Who should be added or removed? Let me know in league chat!