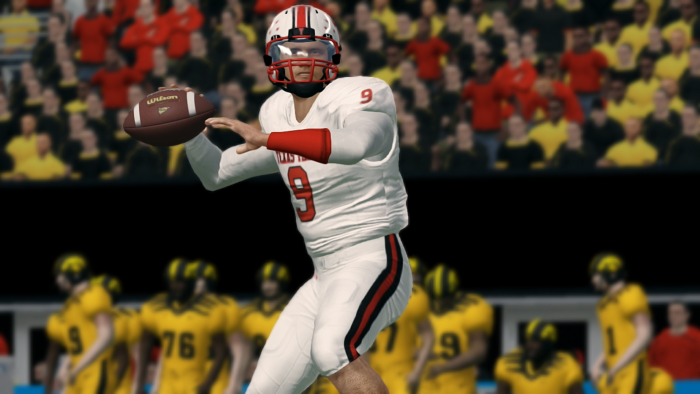 by Houston Freeman (OKST56)

"Courage is being scared to death, and saddling up anyway." – John Wayne

Welcome to the Big 12 conference, where disputes are settled like the Old West with a whole lot of drama, firepower, and 10-gallon hats. The Battle for the Golden Gun will be the very first matchup between Texas Tech and Oklahoma State in CFSL history. The two mustached riding mascots will show off their offensive prowess in a game that looks to be a good ole fashion Big 12 shoot out. Oklahoma State is averaging 41 points per game, and 440 total yards per game. Meanwhile Texas Tech is averaging 33 points per game and 421 total yards per game. Each team sits at 2-1 with an opportunity to close the gap in the Big 12 standings, and march their way up the CFSL rankings. Embracing their wild west origins, it is time to determine why each team will win without a single football-driven analysis given.

"If you're going to wear a cowboy hat, you're going to have to go all the way. You should have livestock
around you, settle all of your disputes with a pistol, and ride a horse absolutely everywhere." – Tom Segura

Best Stadium Chant: Raider Power (TTU) vs Orange Power (OKST)

College football brings about some of the best stadium chants the sports world has ever heard. Right at the top are Texas Tech's Raider Power, and Oklahoma State's Orange Power. The experience of feeling the air suck out of the stadium as 60,000+ fans orchestrate a north versus south side or east versus west side 2 syllable battle for the loudest side of the stadium is one that you will not long forget as your arms crawl with goosebumps. With both chants being so similar in style and origin, this one is a draw.

Winner: Draw 0-0

Best Mascot: Raider Red (TTU) vs Pistol Pete (OKST)

Raider Red was created in 1971 to combat the rules against banning live mascots traveling to away games. Dressed in his raider regalia, and sporting a strong mustache, he fires his two 12-gauge shotguns after every Texas Tech touchdown and field goal.

Pistol Pete was modeled after the real life image of former Deputy US Marshal Frank Eaton in 1923. Pete fires his 12-gauge shotgun after every Oklahoma State score as well. The edge goes to Pistol Pete in this one as you can also see him do an unassisted head stand several times during games.

Winner: Pistol Pete (OKST) 1-0 Oklahoma State

Best Rider: Masked Rider (TTU) vs Bullet and the Spirit Rider (OKST)

The Masked rider is a symbol of spirit and pride for Texas Tech. Wearing black riding clothes, mask, bolero hat and red cape, the Masked Rider, mounted on a black quarter horse, leads the Red Raiders on to the field before the start of each game.

The Tradition began in 1936.

Bullet and The Spirit Rider lead the Cowboys onto the field before each game, and celebrate each touchdown by sprinting to the 30 yard line and back. Bullet and The Spirit Rider have a unique responsibility as they are also the mascot for the Oklahoma State band who first started the tradition in1984. Unofficially, The Spirit Rider seems to have been an inspiration from Texas Tech. Due to the longevity of the tradition, and the reflection of the Texas Tech culture instilled in each ride, the Masked Rider takes this round.

Winner: Masked Rider (TTU) 1-1 Even

Best Greeting: Guns Up (TTU) vs Pistols Firing (OKST)

Another similarity between the universities, each team displays a pistol gesture with their index finger and thumb of their hand to gesture to other fans and show school pride. Tech has utilized the Guns Up symbol since 1971, and Oklahoma State has utilized the Pistols Firing symbol since at least 2001 and likely is yet another tradition inspired by Texas Tech.

Winner: Guns Up (TTU) 2-1 Texas Tech

Best Logo: Double T (TTU) vs OSU (OKST)

Texas Tech's Double T logo is the perfect balance as you have one smaller T overlaying a larger T to play into the fact that everything is bigger in Texas. Oklahoma State's OSU logo has undergone several changes over the years to refine it, and it simply doesn't stand out in a college landscape that already has other "orange OSU's".

Winner: Double T (TTU) 3-1 Texas Tech

Best Entertainment Alumni: John Denver (TTU) vs Garth Brooks (OKST)

John Denver's "Take Me Home Country Roads" is arguably one of the most famous country songs ever, and does it's best to capture the spirit of living a simple country life. Denver has sold 33 Million certified units.

Garth Brooks' "Friends in Low Places" rivals Denver's "Take Me Home Country Roads" as a pop culture
phenomenon as you'll hear it blasted across stadiums and bars across the nation. Brooks has sold over 157 million units to date. Though both artists have brought many people together and created camaraderie amongst them, Brooks' sales pretty well blow Denver's out of the water.

Winner: Garth Brooks (OKST) 3-2 Texas Tech

Best Campus Restaurant: Spanky's (TTU) vs Eskimo Joe's (OKST)

Spanky's is a favorite pre- and post-game destination for Texas Tech fans located just southeast of Jones AT&T Stadium. Spanky's is home of the famous Fried Cheese appetizer and Oldstyle burgers, and chicken sandwiches served with fresh cut fries.

Eskimo Joes is the Spanky's equivalent for Oklahoma State fans also conveniently located just southeast of Boone Pickens Stadium. Known as "Stillwater's Jumpin' Little Juke Joint," Joe's is frequently packed to the top floor with patrons clamoring for their nine different styles of cheese fries, burgers, or an orange 22-ounce novelty cup. You will often find Eskimo Joe and his dog Buffy at Oklahoma State games as unofficial mascots.

Winner: Eskimo Joe's (OKST) 3-3 Even

Best Campus Bar: Chimy's (TTU) vs The Tumbleweed (OKST)

Home to the annual Calf Fry Festival, a 3-day Red Dirt / Country music festival, The Tumbleweed is a
must-see dance hall and bar that celebrates the cowboy spirit and embodies the college experience.
Chimy's is the premiere Tex-Mex campus bar that originated in Lubbock just east of campus. The
outdoor patio allows for a full experience to enjoy margs, queso, and a chimi. The best part besides the fact that everybody loves mexican food is if you can't make it to campus for the game day experience you can still have it in Ft Worth, San Marcos, and College Station.

Winner: Chimy's (TTU) 4-3 Texas Tech

Best Student Section: The Raider Riot (TTU) vs The Paddle People (OKST)

Every University wants to own the title of best student section, but these two teams really have some of the elite student traditions in college football. The Raider Riot throws tortillas on the field to as a throwback to simpler days when they threw drink top lids as a distraction to opponents. The students realized tortillas were a cheap easy replacement and have since thrown those at every kickoff.

Boone Pickens Stadium has long been regarded as one of the tightest fits from sideline to the first row of seats, so close in fact that the 8 foot walls surrounding the field are all engulfed in black padding to protect any errant player if they run into the wall. In it's humble beginnings, the student section noticed how much louder they could be when smacking the padding of the wall. Then a small group snuck in the famous wooden paddles, and the rest is history. You can hear the deafening blows of The Paddle People throughout the game, but loudest on third and fourth down attempts when the Pokes are on defense.

The winner goes to Oklahoma State because they snuck in a whole dang 2 foot long paddle so often for years, that it has become 100% acceptable to the university and they allow the group to buy tickets year after year.

Winner: The Paddle People (OKST) 4-4 Even

An 8 round battle couldn't bring about a true winner as we are down to a 4-4 tie. Who will prove they
are the better team on Saturday? Not enough obscure and random facts can solve this one, it will only
be solved on the field where the winner will claim The Golden Pistol. Tune in to PX1Sports at 2:00 PM
CST on Twitch Saturday September 18!