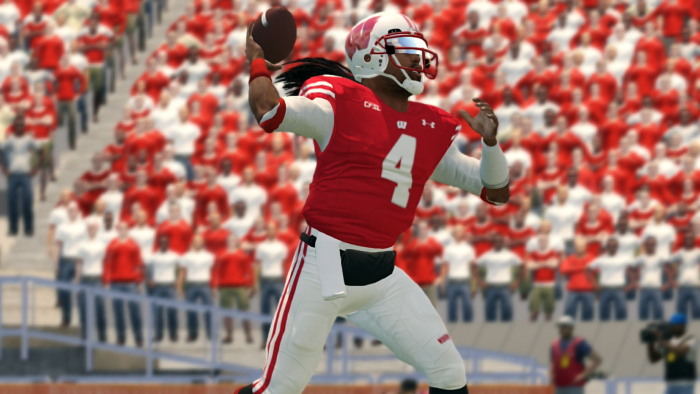 You can see nearly everything from the broadcast booth. In fact, in some stadiums we visit we are up so high we can seemingly see into next week. So today that is what we are going to do. I reached out to a couple of my broadcasting colleagues Vinny Mixon and Cole Mantell and asked them to do what coaches can't and look ahead. Here is a broadcasting crew's point of view on some of the big games coming up in week 6 of the CFSL.
Oregon at Wisconsin:
Making a trip to Madison and walking out with a win is always a tough task. Just ask Ohio State, they were lucky to get out of Camp Randall Stadium with the pride stickers left on their helmets after being demoralized by the Badgers all afternoon long. The Badgers have not felt the agony of defeat since a week one loss on the road to Oklahoma. Since then they have rattled off four straight wins including three inside of the Big 10. With Notre Dame not on the Badgers schedule the biggest game left before the playoffs might come right here in week 6.
The Ducks also come in with a lot on the line. Like Wisconsin, Oregon comes into this game at 4-1 over all. However a 34-31 loss at the hands of the Irish has Oregon sitting at 2-1 in Big 10 play. The defending CFSL champions have put their best webbed foot forward every week. And I expect nothing different this week against Wisconsin. With a big road win Oregon would push themselves into a tie for the second spot in the Big 10. But as Vinny pointed out, the Ducks would have that all important head to head tiebreaker. So while a loss all but keeps the Ducks from a top 2 spot in the conference, a win all but guarantees they will have an automatic berth into the playoffs.
Both teams have high powered offenses. But both defenses may be the best unit on the team. Whoever wins the turnover battle could very easily be the team that wins this game.
Alabama at Florida: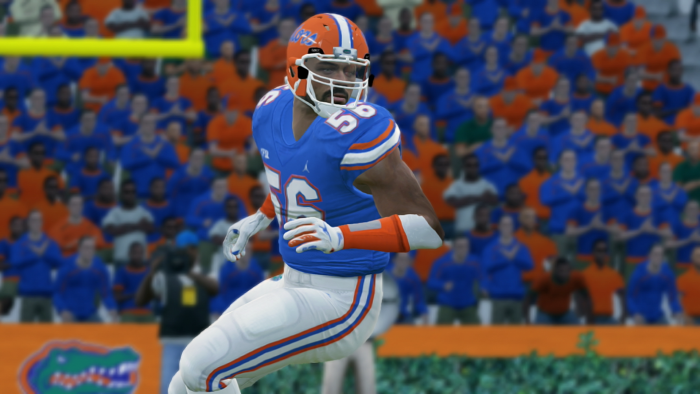 A game on this list that both Cole and I had as one to watch comes from the SEC. It is Doug Day vs Ronnie Blevins. Okay, really it is Alabama and Florida, but let's be honest about this. We are all going to be tuning into this one to see which QB wins what is sure to be a wild west style duel, drop back 5 paces and fire. Ronnie Blevins is 4 touchdown passes away from overtaking Day's season 10 mark of 34 TDs and knocking him out of the top 5. And while Ray Tatum's season 4 record of 42 TDs is safe…for now…Blevins will be taking aim at that mark before long as 11 touchdown throws in 3 games seems all but a sure thing the way he has been putting up numbers. Maybe the most impressive stat line for Blevins is that he has only thrown 3 interceptions heading into this game. Taking care of the football will be huge as Florida tries to work their way to the top of the SEC. Right now entering the week in a 3 way tie for second with a 2-1 record.
For the Tide, it's simple. Win or go home. A loss would be their third in the conference and would guarantee that they would not be able to automatically make the playoffs. Doug Day is the second best Power 3 QB (statistically) this season. He needs to go out and put on a show, out duel Ronnie Blevins, and get some help from his wide receiving core known in Tuscaloosa as The NWO. If Day and the Crimson Tide offense can't keep pace it will be a long night in the Swamp.
Texas at Oklahoma State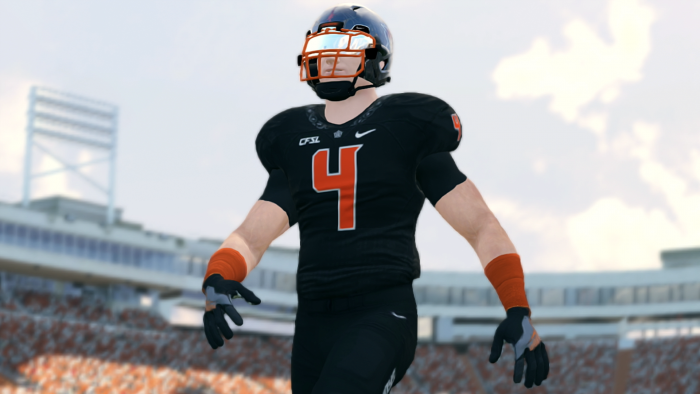 The Big 12 may be the most intriguing conference in the CFSL this season. Heading into week 6 there are four teams that are sitting at 4-1 and have a legitimate shot at one of the two automatic playoff spots. And when Vinny, Cole, and I all submitted our games to watch Texas and Oklahoma state was on all three lists. The why is simple. The winner holds all the aces in the conference. The winner will control their own destiny while the loser will join a group of three teams with one conference loss. Granted OU and Mizzu will have to win their games this week to keep pace we could see a three way tie for second, all looking up at whoever wins in Stillwater.
Harrison Murray and Vito Pippino are going to get the most attention Monday night. And maybe rightfully so. As the QBs go the teams go. Both are completing about 75% of their passes and are separated by only 16 yards passing. But the key in this game might be whichever team gets their running game going. Kayce Alexander leads the way for the cowboys with 72 carries and is averaging 71 ypg. The average is not high, but he has 18 broken tackles on the year. Alexander is a big back who can cause problems for a defense if he gets going. And Texas back Brandon Black will carry the load for the Longhorns. The fifth year senior is having his best season rushing the ball, averaging over 100 yards a game. Texas finally figured out that they have a great back to compliment Pippino. If they can use him effectively on the road Monday night they could be walking out of there with another HUGE conference win.
Don't forget to keep an eye on Ethan Martin, he is one reception away from standing alone in third place in career receptions. My guess, drive one and that is done. And Nick Harley continues his onslaught of the record books as well. He will continue to try and one up OU's Michael Krueger.
So that is our view from the booth. What games are you most looking forward to in week 6? Let us know in league chat. And of course tune in on Twitch to see how it all shakes out!