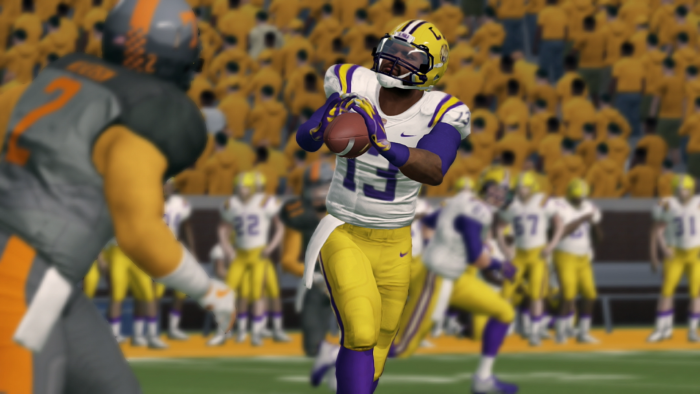 As we have officially concluded Week 5 and moved past the midway point of Season 12, we take a look at what teams rose in rankings, and those who fell. Three teams not ranked last week took their opportunity to move up. Which three jumped in? Which three fell out? If you go back to last week and compare to this week, the bottom three teams all fell out of the PRI; Michigan, Texas A&M, and Nebraska. Who are the three that moved their way in? To answer that question, we see Washington, Clemson, and surprisingly, EMU. Last week proved to be a mover and shaker, does this week also have a ton of changes? Let's find out.
20-16.
20. LSU (2-3) – LSU stumbled this week by dropping three spots from their previous week's ranking. The Tigers hosted the Florida Gators (27-34) in week 5 and took a tough loss when Blevins and Temes hooked up for a 70-yard touchdown on the last play of the game. If nothing else, the Tiger defense showed that they can boast one of the best secondaries in the league as they held the vaunting Gators offense to the lowest points the Gators have put up all season; Florida averaged 66.3 ppg coming into this week. LSU will host the Florida State Seminoles in week 6 and this could be just the matchup the Tigers need in order to move back into SEC contention. The Seminoles are 4-1 and 3-0 in conference play. If the Tigers can get this upset, they could very well put themselves into position to be one game behind Florida, FSU, and Miami. The Florida-Florida State happens in week 7 and the FSU-Miami game occurs in week 8. This game has some serious implications in the SEC. Can the Tigers maul the Seminoles at home? Or will the Seminoles tame this wounded Tiger? This is a must watch game for sure.
19. Washington (2-3) –The Washington Huskies climb their way back into the PRI this week as they fell out in last week's edition. The Huskies hosted the Trojans of USC (23-20) and came away with a stunning defensive battle between these two very talented programs. The Huskies must now travel to South Bend and take on the Fighting Irish in week 6 play. I expect this game to be an another defensive battle as both teams rank near the bottom 2/3 when it comes to offensive production and both rank in the top 10 in their defensive prowess. If Washington wants any hope of making a playoff appearance, they must come away with a win this week. This game will come down to turnovers, which team capitalizes on those turnovers, and field position. Can the Huskies be the first team to beat the undefeated Fighting Irish? Or will Notre Dame slay another beast in their way of a perfect season?
18. Alabama (2-3) – The Crimson Tide drop three spots from last week's rankings as they lost on the road to the Florida State Seminoles (27-34) in Tallahassee. Alabama now sits 1-2 in SEC play and desperately needs to win out the remainder of their games for any chance at a playoff berth. However, three teams stand in their way as they still have to get by Florida, Tennessee, and win the Iron Bowl against Auburn. This won't be an easy feat for the Crimson Tide as they remain in Florida and must travel to Gainesville to take on the Florida Gators this week. These two teams are fairly evenly matched and will have to come down to which Quarterback has the best performance and leads their team to a victory. Will the Crimson Tide contain Blevins and company? Or will Day and the NWO step up and come away with a marquee win this week?
17. Clemson (2-3) – The Clemson Tigers claw their way into the top 20 this week with a big win over the Tennessee Volunteers (59-21). Dylan Tate had a great game as he amounted 369 passing yards, six passing touchdowns and only one interception and Duane Sammons had himself a great game as he carried the ball 37 times for 232 rushing yards and a rushing touchdown while also catching the ball nine times for 73 yards and a touchdown. This was one of the best Clemson offensive showings all season and is why the Tigers were able to come away with such a big win. The road to their potential playoff berth has started and will continue as they must win out against Auburn, Miami, and LSU for any chance of making it this season. Clemson hosts the Auburn Tigers this week and are in much need for another win. Both teams are evenly matched in total offensive production and points scored. It's the Auburn defense that needs to step up this week as they allow over 40 ppg to opposing offenses, and with how Clemson's offense played last week, this Auburn defense may have their hands full. Which Tiger will reign supreme this week? Will it be those in led by Tate and Sammons? Or will Lemmy and Lawler come out on top?
16. EMU (3-2) – EMU makes its debut in the PRI and comes in at number 16 this week. EMU travelled to take on the number 1 team in the MAC last week and came out with a huge win over Kent State (56-37). This puts EMU now firmly at the top of the MAC and travel on the road again to take on the Toledo Rockets, who have yet to get their first win of the season. EMU is nearly, if not already, a top 10 offense and Toledo ranks as one of the worst defenses in the league. EMU controls their destiny of being crowned the last MAC Champs as they only have Toledo and NIU left on their schedule. Can Terrell Allen put up any more ungodly passing numbers this week? Or can Toledo find a way to secure a win?
15-11.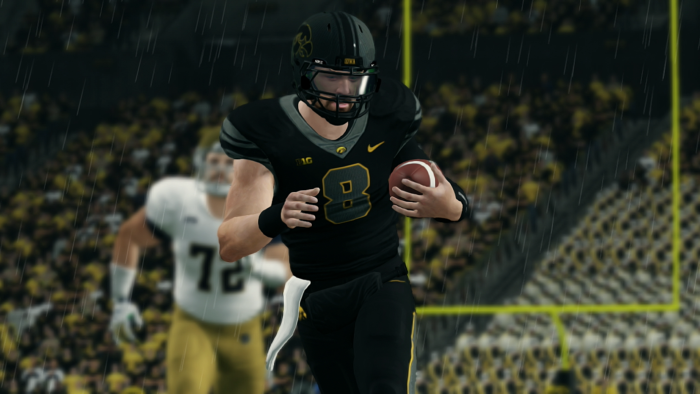 15. Iowa (2-3) – The Hawkeyes drop three spots from last week's rankings as they took a thrashing at home against Notre Dame (15-44). Iowa travels this week to take on The Ohio State Buckeyes as they look to bounce back this week. The road to the playoffs looks very slim for the Hawkeyes as they still have to play Ohio State, Michigan, and Wisconsin. Now, Iowa does tout one of the best defenses in the league and takes on one of the worst defenses this week, so this should be a game that Iowa can come into, get the win, and potentially ride some momentum the rest of the season; but a playoff berth doesn't look to be in their future as the BIG10 still has two undefeated teams in conference play and two teams with only one loss in conference play. Does Whitten and this Iowa defense make a stand this week? Or can Blake hood and this Ohio State offense rebound from last weeks performance?
14. USC (2-3) – USC remains at their number 14 spot this week after a devastating loss to Washington (20-23) this past week. USC will travel to Ann Arbor to take on the Michigan Wolverines for week 6 play. This is a trap game for the Trojans and they need to tread lightly here this week. Michigan may be 1-4 on the season, but the Wolverines only last by three points to both Notre Dame and Oregon, two strong contenders for BIG10 Champions. Pinesaw and Roberts really need to step up this week and this USC offense needs to be in rhythm in order to come away with a win. Much like Iowa, I don't foresee USC making the playoffs this season as they still have to play Michigan, Oregon, and Notre Dame, but if any 1-2 BIG10 team has a shot, it would be the Trojans. USC has to win three straight and get the bug upsets against Oregon and Notre Dame while hoping Wisconsin takes a stumble as well. Can the Trojans get the win in Ann Arbor? Or can the Wolverines stay off USC?
13. Kent State (3-2) – The Golden Flashes drop two spots as they lost to EMU (37-56) this past week. Kent State will travel this week to take on Bowling Green and look to keep their chances of being crowned the last MAC Champions. Kent State needs a few things to go right here in order for that to happen. The Golden Flashes have to win out against BGSU and Ohio, not too terribly a tall feat for them, but they would also need for EMU lose at least one game against a common opponent, which would be Toledo or NIU (NIU stands the best chance for this to occur). Kent State needs to focus on them and keep playing the way they have all season and let the chips fall where they may at this point. BGSU is coming off a big time win this past week, will they let that momentum carry over? Or will Kent State extinguish that flame?
12. Texas Tech (3-2) – The Red Raiders move up three spots this week as they came away with a win over Texas A&M (52-31) this past week. They will travel on the road this week to take on the Missouri Tigers, who was ranked as the number 1 team in last week's PRI. In order for Texas Tech to be in contention for the BIG12 and a playoff berth, they must get three straight wins over Missouri, Texas, and Nebraska. This is a very tall order as Texas and Missouri are a combined 5-1 in conference play. I don't see Texas Tech making it happen this season as the BIG12 is extremely competitive and a two loss team in the BIG12 likely won't be enough to win the conference or get in to the playoff picture. The Red Raiders needs another solid performance out of Andrews to come out with a win this week. This is going to be a tough test for Texas Tech as the Missouri Tigers still boast a top 5 defense and Andrews has struggled against teams that has extremely talented defenses this season. Can the Red Raiders come away with the upset? Or will Missouri bounce back from their defeat last week?
11. FSU (4-1) – Florida State moves up two spots this week as they were able to hold off the Crimson Tide (34-27) and improve their record to 4-1 and 3-0 in conference play. FSU is clearly the number 1 team in the SEC, but the road to the SEC Champion is a lot harder for them in their last 3 weeks of play. The Seminoles will take on LSU, Florida, and Miami, all teams looking to make their claim and be crowned as the SEC Champs. Florida State will have to travel to the Bayou this week to take on the LSU Tigers who narrowly lost to the Gators last week. This will be a huge matchup and could really shake up the SEC depending on how things go in this game. LSU has a top 15 defense and FSU has struggled at times to get their offense rolling and sit near the bottom third of offenses in the league. Can the Tigers bounce back and take down the current SEC leader? Or will FSU somehow find a way to stay atop the SEC throne? This is a MUST watch game.
10-6.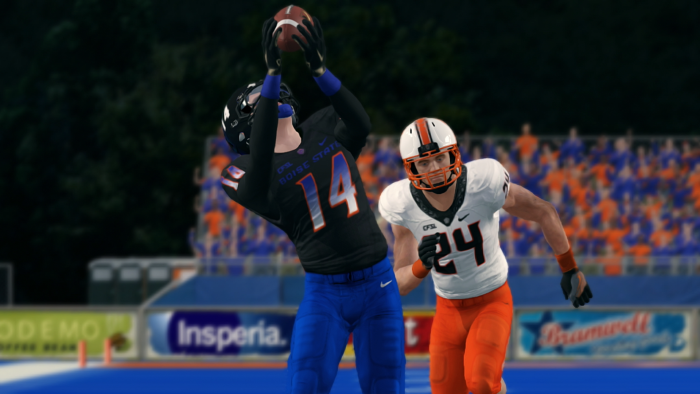 10. Boise State (3-2) – Boise State makes the biggest change in the PRI this week as they drop seven spots from number 3 last week. The Broncos had a tough loss at home last week to the Oklahoma State Cowboys (24-49). However, the Broncos look to bounce back this week as they host the Oklahoma Sooners in another big time BIG12 matchup. If Boise State wants to have any chance at making the playoffs, they have to win this game and then have to take down Nebraska and Missouri the last two weeks of play. Boise State's offense ranks 5th in points scored and Oklahoma's defense ranks 2nd in points allowed. You couldn't really ask for much of a better matchup than these two teams right here. This game has the potential to really mess with the BIG12 in conference rankings, pending how Oklahoma State and Texas fair this week. Can Ryan Smith and Luke Hall be too much for Oklahoma? Or will Krueger and company be able to shut this Boise State offense down?
9. Miami (4-1) – Miami moves up 1 spot from last week's ranking as they were able to defeat Auburn (56-35). This week they travel to take on the Tennessee Volunteers. The Vols haven't had the kind of season they hoped for, but did find a way to pull off the upset against Auburn in week 3; can they do it again? Miami is tied for second in the SEC, with Florida who they have the head-to-head win over, and look to move to 3-1 in conference play in order to keep their playoff hopes alive. Miami boasts the second best offense in the league and are taking on the Volunteers defense that ranks in the bottom quarter for the league. This should be an easy win for the Hurricanes as they head in to a very difficult last three weeks of play for them. Miami will have to play against Tennessee, Clemson, and Florida State, all of which can be extremely tough games and could a loss come in any one of these last three weeks cause Miami to fall out of contention. Will Odie and Rison be too much to handle? Or will this Tennessee defense show up and slow this two headed monster down?
8. Wisconsin (4-1) – The Badgers move up a spot this week as they defeated The Ohio State Buckeyes (55-17). Wisconsin has look impressive this season and moved to 3-0 in conference play, trailing only Notre Dame. The Badgers will host the Oregon Ducks this week and look to remain undefeated in the BIG10. Both of these teams boast top 10 offenses and defenses. This is a tough one to call and one that will come down to who makes the most mistakes. If Wisconsin wants to be crowned the BIG10 Champion this season, they cannot afford to make a mistake and lose any in conference games. They will have to come away with wins over Oregon, Washington, and Iowa for that to happen and outscore the Fighting Irish since Wisconsin and Notre Dame do not play this season. Will Wisconsin keep their BIG10 Champion dreams alive? Or will Oregon burst that bubble and cause the BIG10 to become a murky picture?
7. Florida (4-1) – The Gators move up another spot this week as they were able to take down the LSU Tigers (34-27). Florida will host the Alabama Crimson Tide this week and will need to come away with a win here if they want their SEC Champion's dream to become a reality and for them to increase their chances for a playoff spot. The road for this isn't an easy one but I like their chances better than just about any other SEC team at this point as they still have to play against Alabama, FSU, and Tennessee. Will Blevins and company come away with a much needed win? Or will Day and the NWO come out and play their best game in Gainesville? This is a must watch game because both teams are in must win situations.
6. Oregon (4-1) – Oregon falls one spot this week even with a win over Michigan (34-31). I guess the PRI wasn't very impressed with this win and that's what caused the Ducks to fall a spot. Nonetheless, Oregon remains 4-1 and 2-1 in conference play and must now travel to take on the Wisconsin Badgers who are 3-0 in conference. Both teams are evenly matched and I would give the slight edge to Wisconsin simply for the fact they are playing at home. If Oregon wants to keep their playoff hopes, and potential BIG10 Champs dream alive, they will need to come away with wins over Wisconsin, USC, and Washington. Can Oregon limit their offense to making mistakes and their defense force turnovers? Or will the Badgers come in and play a clean game to come away with the win?
5-2.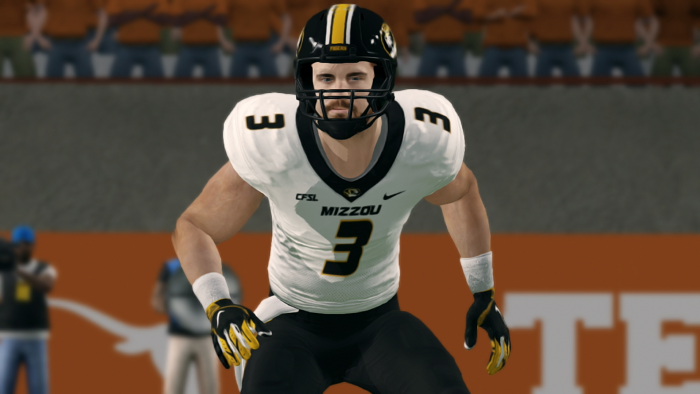 5. Missouri (4-1) – The Missouri Tigers drop four spots as they suffered their first loss on the season at hands of the Texas Longhorns (16-48). The Tigers play host to the Texas Tech Red Raiders this week and look to bounce back after their devastating loss. The Tigers playoff hopes aren't dashed just yet as they must still play Texas Tech, Oklahoma, and Boise State. If they can win all three, their hopes of a BIG12 Championship are still alive and would likely secure themselves a spot in the playoffs. Texas Tech is coming off a big win and looks to keep Missouri out of the playoff picture though. The Tigers still tout one of the best defenses in the league and take on a Red Raiders offense that has been lack luster at times. If Missouri wants to win this game, they have to contain Kurtis Andrews while getting Kohko and Velez going on the offensive side. With so much in the BIG12 left up in the air, the Missouri tigers have to pounce back and they cannot afford another loss for the remainder of the season. Can Kohko and Velez be too much? Or will Andrews shoulder the weight of his team and leader the Red Raiders to a victory?
4. Texas (4-1) – The Longhorns jump three spots from last week as they were able to tame the Missouri Tigers (48-16). They now must travel to take on the Oklahoma State Cowboys this week. If Texas wants to win their conference and get the automatic bid in to the playoffs, they have to take down Oklahoma State, Texas Tech, and Texas A&M. The only team in those final three weeks of play that could really hurt Texas is the matchup they face this week. Texas comes in as a top 10 offense and a top 5 defense while Oklahoma State comes in as a top 10 offense and a top 10 defense. This will be an exciting game and could the game of the week and has some very serious implications inside the BIG12 conference. Both teams desperately need this win. Who comes out on top? Does Pipino keep the Longhorns steam rolling through some of the best in league? Or will the Oklahoma State Cowboys grab the bull by its horns?
3. Oklahoma State (4-1) – The Oklahoma State Cowboys move up three spots this week with their impressive win over Boise State (49-24). The Cowboys play host to the Texas Longhorns this week and both teams are undefeated in conference play. Only two teams in the BIG12 remain perfect, but not after this game. This matchup can solidify who wins the BIG12 Conference and punch one these teams tickets to the playoffs. Oklahoma State comes in with the 5th best scoring offense in the league. Texas counters that with the 6th best defense against points allowed. Oklahoma State still has to face off against Texas, Texas A&M, and Oklahoma. This is the marquee game of the week and has so much riding for whoever wins this matchup. Do the Cowboys get their 8 second ride in? Or do the Longhorns throw the Cowboys to the dirt?
2. Notre Dame (5-0) – Notre Dame jumps up two spots this week after their dominating win over Iowa (44-15). The Fighting Irish will host the Washington Huskies this week look to remain the only undefeated team in the league. Talking about undefeated, if Notre Dame wishes to remain undefeated, win their conference, and be the clear number 1 team in the playoffs, they still have to win out against Washington, Ohio State, and USC. If Washington can win this contest, they move to 3-1 in conference play. If Notre Dame wins, they may very well have punched their ticket to a playoff berth. If Notre Dame wants to win this game, they really just need to keep doing what they have done all season long; be a top 5 defense and be methodical in their offensive approach. A lot rides on this game for both teams. Can the Williams' duo pull it out yet again? Or will Croft and company take down the last of the unbeatens?
Number 1……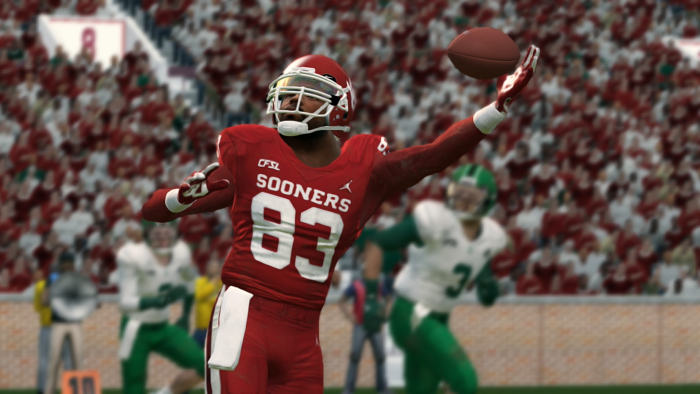 1. Oklahoma (4-1) – Oklahoma comes in as the number 1 team this week jumping one spot as they beat the Nebraska Cornhuskers (38-21). The rest of their schedule doesn't get any easier as they will travel to play on the smurf turf this week against the Boise State Broncos. Then they will still have to face off against Missouri and Oklahoma State. I don't think there is a team with a more daunting last three weeks of the season. But, if Oklahoma can pull it off, could they claim the number 1 spot in the rankings? Oklahoma comes into this contest ranked as the 3rd best scoring offense and 2nd best against allowing opponents to score against them. Boise State ranks as the 5th best scoring offense and ranks 14th in giving up points. Which powerhouse offense comes away with the win this week? Which team's defense is able to get enough stops to secure the victory?