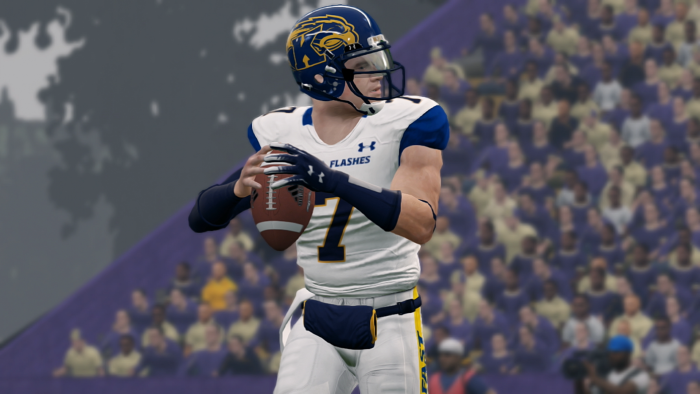 by joeyzaza619

Last week I focused on what was considered the marquee matchup of the MAC that was between EMU and Kent St, EMU came out on top in what appeared to be a tough match up on paper but EMU cruised to a win of 56-37. The MAC did turn out two other great games, the next game up on the slate was a Wednesday night game between the Bowling Green Falcons vs the Ohio Bobcats. BGSU finally managed to pick up a victory with a big win  55-33 over the Ohio Bobcats. The last MAC game of the week was Northern Illinois Huskies vs the Toledo Rockets. The game was a pretty close game the whole way through but NIU managed to stay ahead of the Rockets 38-27.
The MAC now enters its second to final week of their time as a conference. We have some more critical games of the season this week. The first game of the week is a Tuesday contest which will be a very important game in the MAC. It will be between Kent St. Golden Flashes coming into Doyt L. Perry Stadium to take on the Bowling Green Falcons. Wednesday a clash between The Ohio Bobcats coming in to face NIU who need the win, to keep pace and hopes alive to possibly get a shot at the MAC title with a  win if the chips fall the right way. The final game pits the leading EMU Eagles to head into the home of Toledo who are looking to be the biggest spoiler of the season for EMU and pick up their first win of the season. This week could have games that mean a lot to how the season and the last pages on the MAC could be written. 
Kent St. is coming into Bowling Green looking to right the ship after that upsetting loss to EMU. Even with that loss to EMU Kent St still has one of the least points scored against them ranked 8th. They are ranked 16th in total yards per game as well. The defense is still solid and looks to prove that their day against EMU was just one game. They still have a solid corner in Fr. Treyvon Jackson who has 18 total tackles, 2 TFLs, and 2 INTs. Their secondary has a dangerous and sure tackler in FS Fr Stevie Glades who has 43 total tackles and 2 TFLS. The leader of their defense is (RS) Jr. Aaron Heil who is having a great junior campaign with 43 total tackles, 6 TFLS, and 2 Sacks, and 1 pass deflection. Heil looks to get the defense back on track against a Bowling Green offense that looked great against Ohio and better than they have looked most of the season.
Kent St offense scored their second highest point total of the season but their outstanding Fr QB Almedin Colakovic looks to bounce back after a bad game against EMU. Colakovic is still having a great season with over 1800 yards of total offense and 14 total touchdowns, even though he had a very uncharastic game with multiple turnovers he looks to make less mistakes against Bowling Green. Bowling Green can't overlook him because he can make you pay with his arm and his legs. Also looking to make a mark against Bowling Green this week is Star (RS) Fr. HB Reign Reaux who has 92 yards on 18 carries and 1 TD on the ground and caught 6 balls for 16 yards. He had a little down game in total yards after the previous two games before the contest between EMU. Bowling green can't let him go unchecked because he can break off a run and come out of the back field and do damage. Calokovic, three top wideouts in the game against EMU look to continue their success against BGSU. The very talented Jeff Repport had a breakout game with 5 catches for 135 yards and a touchdown. His running mate last game was superb Fr WR  Adam Fregolle who had 8 grabs for 69 yards and one touchdown. The last of Calokovic target of a TD grab was sure handed Fr WR Alex Crosswell who came up with 5 catches 77 yards and the TD.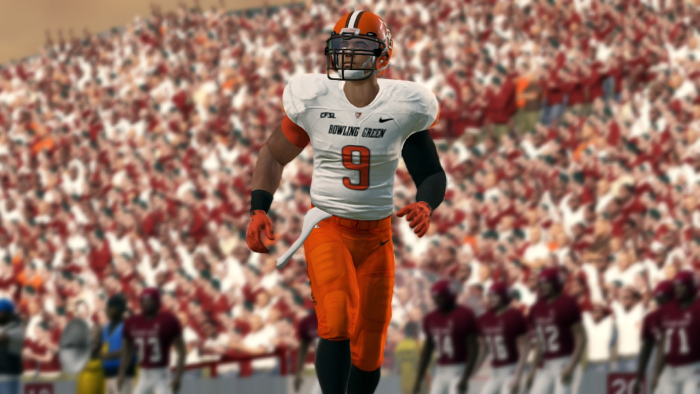 Bowling Green is finally at home at Doyt L Perry Stadium after being on the road since the first game of the season against NIU. BGSU looks to keep rolling and carrying some very big momentum into this game after their 55 point win against Ohio. Fr QB Vinny Mixon turned in the best statistical performance at the QB position of his whole season last week. Mixon completed 19 pass on 24 attempts for a completion percentage of .791 with 4 TD against 1 INT, he also scored another touchdown on the ground going 19 carries for 189 yards and the aforementioned touchdown. Can Mixon keep up the solid play against the tough Kent St defense we will have to see. Fr HB Joey Zaza had a pretty good game on the ground going for 161 yards on 24 carries with no touch down, he only had 1 reception for 4 yards. He did manage to rip off a 59 yard run in the last minute of the game which brought him over the 150 yard mark for the day. Kent St might have seen that Zaza could be stopped but that run showed them that they can't pull up even a little bit because he can make you pay. I say other than Mixon we had a hat trick day from Fr WR Jacob Martinez who had 8 grabs for 97 yards and 3 touchdowns!!!. The new kid on the block Fr WR Luke Brooks also grabbed 2 catches and a score. The duo TE of Shelly Wojack and Matt Scalley also hauled in important catches to help move the chains in the game along with grabs from WR Chris Leon, and Jordan Johnson. DJ Blackmon who is primarily a CB for BGSU got a rushing touchdown as well subbing in for Zaza late in the game. 
Just like Bowling Green's offense, their defense looks to keep up the great play against Kent St. They did allow 604 yards to Thor Savage and 4 Touchdowns but they managed to pick him off 3 times and return one back to the house for 6. They came close to returning another one but Myan Holt got tackled from behind by Thor Savage himself saving what could have been a second pick 6. I think the stand out on the day for the defense from last week has to be Fr SS Cedrick Collins Jr. who had 3 tackles and the pick for the Touchdown that changed the momentum of the game. The duo bash brothers Fr DE of Charles Davis and Scott Frank put pressure on Savage all day. Davis recorded 3 tackles, 2 TFLs, and 2 Sacks, Frank had 2 tackles , 1 tackle for loss and 1 sack. Both should have had more but Savage managed to squeeze balls out before going down. The Bash brothers look to have another great game of putting pressure on Calokovic but hope to not let him get the squeakers out. Myan Holt the Fr. MLB had a great game as well with 5 tackles, and an INT, which as i stated before could have been a touchdown. The MLB has performed solid all season and looks to keep his spot in the middle a no go zone for Kent St. Fr CB Zach Kahn was the other recipient of an INT. Khan also managed to have 7 total tackles on the day. Fr FS Xander Travelstead had 5 total tackles and a pass deflection that saved a touchdown. New comer Fr. SS Steele Ball had 8 total tackles and also a much needed pass deflection.  
Bowling Green has all the momentum heading into the game while Kent St is looking to bounce back from a tough loss to EMU. This game even if it didn't have enough stake going into it already has just one more wrinkle. It will be the last time for the foreseeable future that these two rivals will meet and battle it out for the Anniversary Award. The Rivalry sits at a win a piece with Bowling Green grabbing the first victory and Kent St grabbing the second. This one is for the ultimate bragging rights. So this is a game I wouldn't wanna miss tune and watch this Rivalry come to a close on Tuesday Night!!!