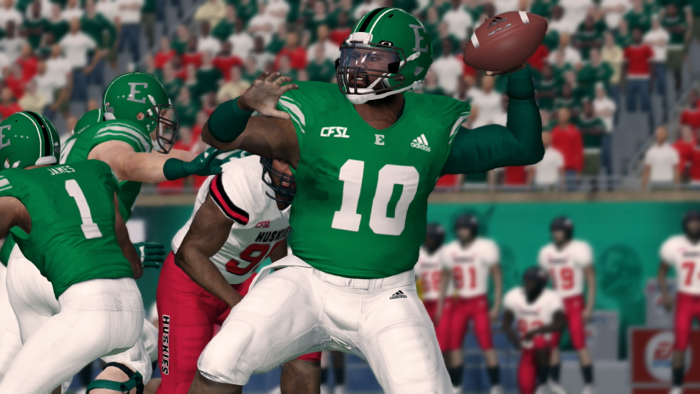 A lot of attention has been brought towards the end of the MAC this week. After 4 seasons of operation, the conference where new players got their feet wet and great players showed themselves to talent evaluators around the country is coming to an end. The last champion of the MAC, the team most viewers around the league know best, is a team that has always played a bit in the shadow, a team that can perfectly describe what playing in the MAC is like.
The Eastern Michigan Eagles have had, in all accounts, an excellent season. Playing in Rynearson Stadium just down the road from Ann Arbor in Ypsilanti, EMU has host to one of two different colored fields in the CFSL, along with Boise State. The grey field has played host to an excellent team, one that has stars on both sides of the field as well.
It wasn't a perfect season for Eastern Michigan by any means. Starting with non-conference play, EMU lost big in Week 1 to Miami (FL) and then even worse to Oklahoma in Week 2. Once entering MAC play, however, the Eagles got hot and won 5 straight. Until their loss last night to NIU, EMU looked unstoppable in MAC play, beating Ohio 73-55, and a few weeks later beating Toledo 42-7. Those 5 wins clinched the last MAC Championship to be awarded, though surely the last game being a loss stings a little.
On offense, this team was led and defined by true freshman Terrell Allen. Listed as 6'8", with a weight over 270, Allen is easily one of the largest quarterbacks we have ever seen. Using his huge frame, he can rocket balls downfield or power through helpless defenders, no matter if they are MAC or P3. Complimenting him is a well built cast as well. Halfback Richie James was a 5 star in recruiting last season and had 500 combined yards. Taylor Stewart is on his 3rd team as a redshirt sophomore, but found his stride here in Ypsilanti with 60 receptions and over 600 receiving yards. Again, all of these stats are for a team playing a 7 game season.
On defense, EMU had legitimate talent as well. I was able to catch up with FS Easton Spence for this story, and chose him to talk to for pretty good reason. The team leader in tackles, Spence has been an integral part of this team twice now. After playing in Ypsilanti his freshman season, he got an opportunity to play for Michigan up the road last season. However, "I felt like I lost myself a little bit and wasn't playing at the level that I knew I could." So as a redshirt sophomore, the former 5 star recruit from Houston, Texas, has found himself back on the Eagles, at least for now. He doesn't know where he wants to go to yet in the offseason, but the transfer market should be lively with so many MAC players now looking for new homes again.
As a team, Eastern Michigan has worked well. This team will be remembered for its explosive offense, especially in MAC play. In addition, Easton Spence is easily my pick for MAC defensive player of the year. His tackling and coverage skills we easily make him a star in the making wherever he ends up in the Power 3. Along with him and Allen, there are a few stars here and in the rest of the MAC to look forward to watching if you haven't yet if you are looking for people to scout going into next season.
Talking to Coach Hencerling, he had nothing but praise for this team. Like many, he came to EMU to prove himself as a coach who could move to the higher levels. "I knew I would have to prove myself as a coach. When I finally got the chance, I never looked back and ran with my opportunity." He specifically thanked his team in his conversation to me, and any team looking for a new coach surely has him on the short list after the excellent season.
It's unknown what the future holds for many players on this team. With no more MAC, we've certainly seen the end of these guys all on one team. Meanwhile, the memories, the moments, ones seen around the country, will last forever. Many Power 3 fans remember the upsets of their teams, but many missed some of the best football in the country. Stars were made, no better than EMU to use as an example of that.