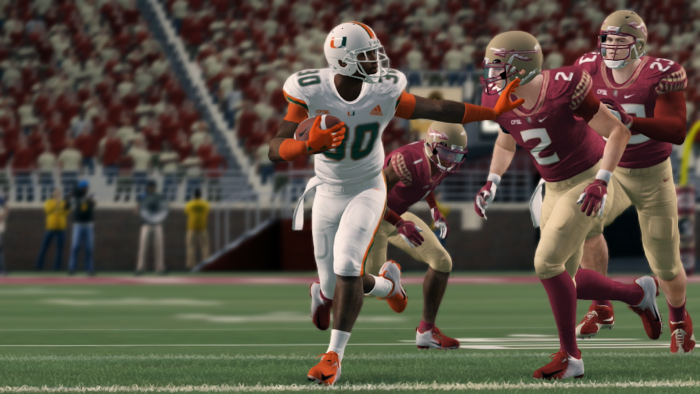 Week 8 in the CFSL! It's rivalry week. And the only thing better than rivalry games…rivalry games with major significance in the standings. Yes Florida State and Miami is a great game. But Florida State and Miami with the SEC on the line! Sure Oklahoma and Oklahoma State is Bedlam. But the Sooners and Cowboys with BIG 12 implications is beyond even Bedlam. And Michigan versus Ohio State….well this season is just that. But is always a fun rivalry matchup between two teams that hate each other.
So once again I asked my friends Vinny and Cole from the booth to grab their binoculars and help me look at week 8 and give me a game they are looking forward to.
FLORIDA STATE at MIAMI
Yes, I teased this a little in the intro. But Vinny's pick for this week was Florida State traveling down to Miami. Both teams enter the game 5-2 overall but the Seminoles are 4-1 in conference. A win and they claim the top spot in the SEC outright. A Miami win however makes things much more interesting depending on how the rest of the week plays out. Now there is a whole list of tiebreakers and scenarios that will be laid out by someone much smarter than me. But Miami winning could create a four team mash up at 4-2 in SEC play. Miami would have the best overall record of any of those teams though at 6-2 so that would bold well for them. However, a loss for Miami may not just end their shot at a conference championship, but at 5-3 they would be very much on the playoff bubble. And if rankings have been any indication this season I believe the 'Canes would be on the outside looking in.
So how does this game play out? Well it will be decided when Miami has the ball. Miami's defense gives up 38 points per game, which is fifth worst among P3 teams. So look for the law firm of Lacey, Lacey, and Younger to have big games. So it will be up to redshirt Freshman quarterback DaShawn Odie and do it all running back Mojo Rison to help the Hurricanes keep pace. They have plenty of help at the wideout position as well. But the question is will Odie have the time to throw the ball. Florida State has one of the best defensive lineman in the league in Isaac Frost. Oh yeah, and don't forget about Kiyoko Winter, I know receivers coming across the middle won't. I expect this to be a tight game. It could be one for the ages, and certainly is one for the SEC crown.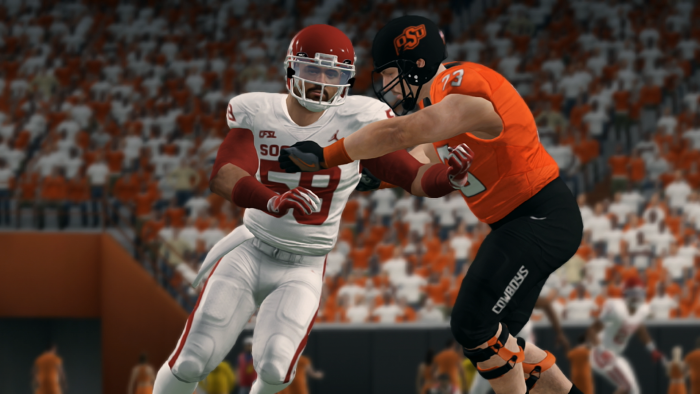 OKLAHOMA STATE at OKLAHOMA
Bedlam was Cole's pick, and for good reason. Cole said, "Call me a sucker for tradition but this week I am more interested in some of the rivalry games than playoff games. One of these games has both though. OU OKST is going to be a blast with a playoff spot on the line. Whoever loses is out and whoever wins likely is in. I love seeing the crowd and teams fired up for these kinds of games, and when you put playoffs on the line? It's gonna be fun." I couldn't agree more. Just like the SEC there is a mess of teams at 3-2 in conference play. Boise State and Missouri join the Cowboys and Sooners in this position.
The question in this one is how will Oklahoma State's offense hold up on the road. Michael Kruger lines up at DE for the Sooners. It is going to be loud in Norman. Kruger and the rest of that defense will feed off of that energy. But the Cowboys have the weapons to counter that and the big play ability to keep the crowd quiet. Harrison Murray will likely go over 3000 yards passing in this one. Rip Tuttle and Brandon Reichle are the big play threats in the receiving core but Ethan Martin is by far the go to target, leading the team in catches with 61. Can the Sooners secondary keep up?
For the Sooners offensively, as Jim Carr goes they go. Carr has thrown for 24 touchdowns and only 5 interceptions. He is also the teams leading rusher with 616 yards and adding another 8 scores. The Cowboy defense must put the squeeze on leading receiver Tomlin Clementine and hope that they can stop Vernon Mills and the rest of the receiving core one on one.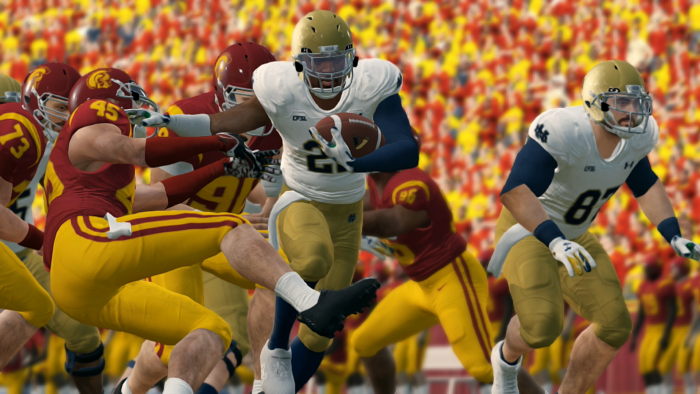 USC at NOTRE DAME and IOWA at WISCONSIN
The thing about week 8? We could go game by game and tell you why it is a big game. They are all that important. So for my final preview I am giving you a twofer. I could have easily gone with Boise State at Mizzou, as I mentioned above that will have a huge impact on the BIG 12. But I am going a different route. I want to look at the top of the BIG 10. It just so happened to work out that Notre Dame and Wisconsin did not play this season. And through 5 conference games they are both still unbeaten in conference, not to mention they are a combined 13-1 this season overall. They are arguably the two best teams in the CFSL, Texas also at 6-1 has to be in that conversation as well. So there is a strong chance that the Irish and the Badgers will meet in the Playoffs somewhere down the road and settle the score. But in week 8 both teams look to avoid an upset and try to stake their claim to the BIG 10 title.
Notre Dame hosts USC in the battle for the Jeweled Shillelagh. USC's offense is one dimensional and QB Scott Pinesaw has had problems taking care of the football. He has thrown 13 INTS on the season. Oddly enough that has been the lucky number for the opportunistic Irish secondary. They have 13 interceptions as a team, led by Sidney Banks Jr's 5. If USC has a chance, they must protect the ball. But this one feels like win number 8 for the Fighting Irish.
Wisconsin's road is a little tougher. Hosting the Hawkeyes they need to be on upset alert. While they are the better team, Hawkeye quarterback Lyle Fletcher has thrown for over 2100 yards this season. However, like Pinesaw, he has a tendency to turn it over, throwing 9 interceptions this season. De'Anthony Jones leads the Badgers attack. He is a dual threat QB that makes life miserable for opposing defenses. But it makes things fun for his teammates. It has created space for guys like Richard Fountain to rush for over 500 yards. And for WR Joshua Scheuren and TE Aaron Newsome to grab over 30 catches each. Middle linebacker Tyrone Hall leads the Badger defense with 62 tackles. They will certainly be jumping around in Maddison if they can come up with a big win and finish the season unbeaten in the BIG 10.
So thank you to Vinny Mixon and Cole Mantell for once again helping me out on my look ahead to rivalry week. I hope you enjoyed the article. And even more importantly, I hope you enjoy all the great games on tap for Week 8 in the CFSL. See you from the booth again soon everyone!