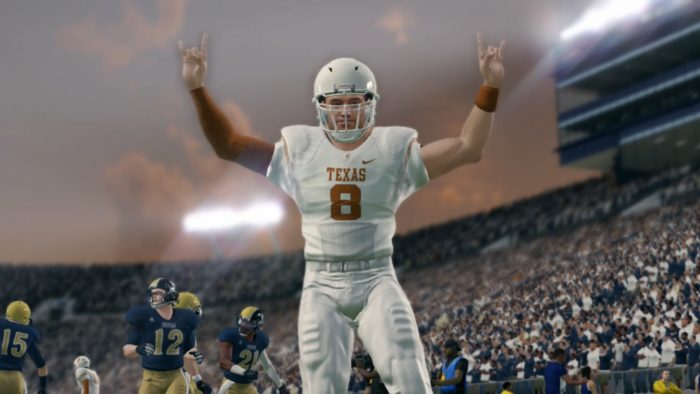 Much has been said about Texas and Longhorns this season. They would be my pick to be the team with the best chance of taking down undefeated Notre Dame. Jooby and the Longhorns sit at 7-1 in regular season play, including going 6-0 in the Big XII. The only loss they had this season was Auburn in Week 2 (funny how Pack keeps showing up like that) and unlike Notre Dame, they have faced (and beat 48-16) Missouri, the 2nd place team in their conference.
Though if you ask fans, players, and Jooby, this season is special for a more personal reason as well. Texas is celebrating the final senior season of 7 seniors, including 6 5 stars and within that 4(!) Elite 5 stars. Going in alphabetical order of their last names, the 7 seniors are:
Elite RB Brandon Black, Jasper, AL
5 Star CB Mark Cole, Red Hill, PA
Elite DE Nick Harley, Mansfield, OH
Elite WR Cash Jackson, Converse, TX
3 Star DE Brian Maltser, Brooklyn, NY
Elite QB Vito Pipino, Brooklyn, NY
5 Star FS Lorenzo Tosco, Philadelphia, PA
It would be impossible to do this group justice, and there is good reason why this senior class is getting so much hype. Nick Harley is probably the best DE to ever play, period. Vito Pipino has continued to break Ray Tatum's Texas records, and the debate now centers on which QB is the best of all time. Brandon Black and Cash Jackson have helped Pipino do this, and in the process have set some school records and aren't hard to find on national stat leaderboards either. On defense this season, Tosco, Maltser, and Cole have provided veteran leadership for this experienced Texas team, and along with Harley have made Texas an experienced and relentless defense against Big XII competition this season.
Another thing that pops out at you from that list is where these players came from. With the exception of Cash Jackson, none of these players are from Texas. This is no accident. On a deep Texas roster ranked #2 in the country at the moment, only 5 players are originally from the Lone Star state. This is indicative of Texas's recruiting strategy. They will go anywhere and they will recruit who they think will be the best players for their team. Anecdotally, in my talks this season as a broadcaster with Big XII coaches, this is something coaches are interested in emulating and could become more common going forward.
Still, no school in the country is as good as recruiting nationally as Texas, and they continue to prove it in their play. One of the better examples of this would be Nick Harley. As stated above, Harley is likely the best DE to ever play, and it will be a while before many of his records are broken.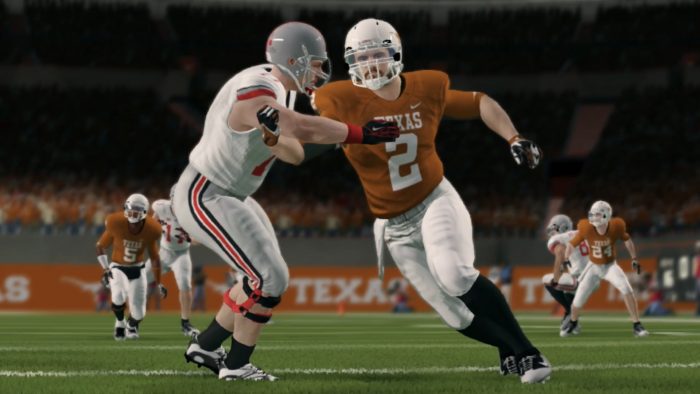 Harley wanted to play for his hometown Ohio State originally, but when they didn't reach out, he was willing to look around for schools around the country, and they came calling. While I won't disclose those schools, big name programs called. After a guarantee from Jooby that Harley could play his preferred side with his preferred number, Harley committed to the Longhorns and has done nothing but make history since.
In my conversation with the Senior DE in preparation for this story, the one quote that jumped out to me was "my goal has been to be the best every game". This has been echoed with every Texas guy I've talked to, from the AD on down. Texas has a history and expectation now of excellence. Playing in Austin means you will be great, nothing else. These Super 7, as I coined them, will go down as some of the most impactful players not only in Longhorns history, but in CFSL history as well.
Of course, the next question is how Texas replaces these so called Super 7. This certainly won't be the last we hear of Texas, who again can seemingly replace talent from anywhere. Still, just to recap, Texas will need a new QB, #1 RB (if Joey Cass doesn't take that spot), WR depth (looking at you to step up Quincy Meyers), and replace multiple spots on defense. This is all before transfers begin, which with the end of the MAC, and the introduction of Kentucky and West Virginia, should include more drama for all schools to follow. While I don't know if Texas will be #2 next season, don't count them out either.