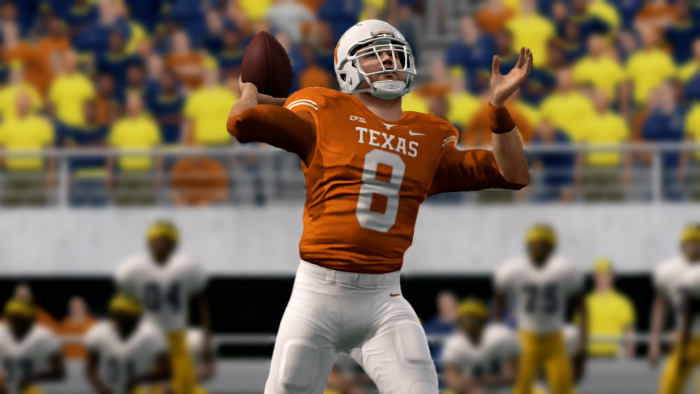 We are now down to two teams, congratulations to both the Texas Longhorns and Notre Dame Fighting Irish. Both of these teams will go head to head on Monday, October 25th for the right to call themselves a champion (again) in Season 12.
Not many people know about the Texas and Notre Dame history. As someone that has once lived it, it is important to talk about these two storied programs as they go to battle in the Orange Bowl.
Currently the Longhorns have won four straight over Notre Dame. Their last meeting came in Season Nine with Texas securing a 49-42 victory. Texas QB Vito Pipino passed for over 400 yards and five touchdowns while Brandon Black rushed for over 80 yards. Cameron Wolf and Al Walker both played for Notre Dame in season nine but did not produce to the levels they are at now.
Prior to their last meeting in season nine, Texas won three straight over ND by double digits, including a playoff victory in the Rose Bowl, 37-20. That same season, Texas went to the championship game, only to lose to Clemson in the final. They also played earlier that season with a 69-27 victory. Season seven was the first victory for Texas over Notre Dame ever with Texas coming in on top 28-21. Prior to that, Notre Dame owned Texas with three straight victories by seven points or less.
I can remember those early days as the Texas AD going up against Notre Dame. A fierce rival and even in our championship season, we could not beat them. The biggest heartbreak was in season five when Texas lost by a touchdown in overtime. That game was marked by the Horns taking a 10 point lead into halftime and then only scoring seven points the rest of the game.
While Texas has had some continuity at the AD position with Hornsnation and Jooby the ADs of Texas, Notre Dame however has switched a few times. four in fact. Wookie has been impressive as the latest AD with an undefeated record this season and a team culture that is rarely matched. Jooby however has been at Texas since season eight. He took the Longhorns to a championship game appearance in season eight with Pipino as his QB. Here he is in season 12 looking to win another championship for Texas.
With Notre Dame, they won the championship in season one and only have been back twice, losing both times to Tennessee and then to USC. If you look at their all time record, currently Notre Dame is on top with 70 wins and only 45 losses. Their net win differential of 655 is only second to Texas at 682. Speaking of Texas, they trail the all time leaders by nine wins, something that they can catch up to in a few seasons.
How important is this game? Well two historical programs with a ton of talent on both sides. Notre Dame greats and Texas greats both will be in attendance as we will watch one of the all time quarterbacks, Vito Pipino, play his final game. Not to mention the numerous records that can be broken. Pipino is about to pass Tatum in almost every category. Notre Dame is trying to do what no team has ever done before, run the table. Names on both sides are household names with Mo Kitches, Pipino, Black, Al Walker, Dorian Chase-Miller, just to name a few.
What you are going to witness is two programs that have been almost around as long as the CFSL go head to head. This game is going to be a tough one to call and a tough one to predict. Can Pipino etch his name among the greatest with a championship? Can Notre Dame quiet the haters and run the table? Monday night is going to be explosive, and I cannot wait.