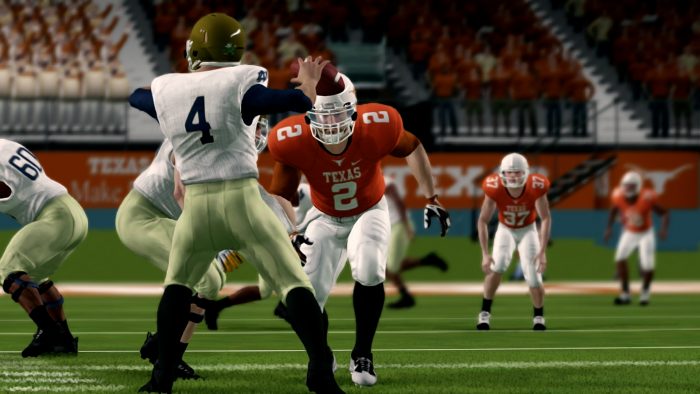 Welcome to National Championship season everyone! This is going to be a great one, and for those of you who haven't watched much of Texas or Notre Dame yet this season, let me give you a bit of a "crash course" on what to look for when these two heavyweights.
Texas comes into the game ranked #2 and on an 8 game winning streak. They have not lost since a 47-28 loss against Pack and the Auburn Tigers on August 31st, and with this momentum have posted one of the most complete team performances in the country. On offense, senior Vito Pipino leads a Texas offense that has since the Auburn loss scored at least 40 points every week except one (the Red River Rivalry against Oklahoma, a 30-14 win). Their defense has been a team effort, with stars such as Nick Harley and Mark Cole helping Texas keep some great offenses such as Missouri, Oklahoma, and Clemson under 20 points. Still, they also allowed 45 points to Boise State and 47 to Auburn earlier this season. It wouldn't be unheard of for Texas to allow a lot of points, and Notre Dame is plenty capable of putting points up on the board. Keep an eye on that point.
Still, as I wrote in an article last week about the "Super 7" senior class, this is the last shot for many big name guys on the team, and I know Jooby and the team have a solid plan for the game already. I would look to their blowout win against Wisconsin last week as a solid start for an idea of what to watch. Like Notre Dame, Wisconsin was built this season on a mobile QB and great run game, and Texas did a great job limiting the Badgers to under 150 rushing yards. With lots of pressure and making redshirt freshman De'Anthony Jones make lots of quick throws, Texas was able to get a great effort all around in the 51-21 win.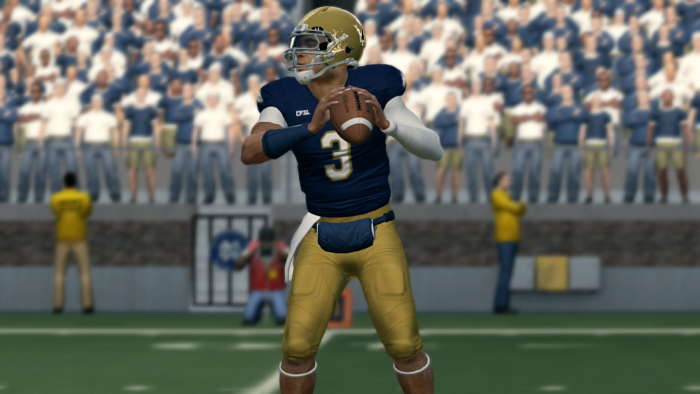 For Notre Dame, this is one of the more hyped up seasons any team has ever had in my time in the league. Led by true freshman QB KyShawn Williams, the Irish are just the 3rd ever team to go undefeated in the regular season, joining Season 5 Ohio State and last season's Oregon Ducks. Notre Dame has an efficient, if not quite as prolific offense as Texas. Where Texas loves the pass with multiple guys who can burn you down field, Notre Dame will beat you on the ground. HB Deuce Williams sits at 3rd nationally with over 1000 rushing yards, and excels at a physical rushing game that wears the opponent down as the game goes on. Notre Dame won't have as high a score week to week as Texas, but that doesn't mean they can't score.
Notre Dame only scored 36.4 points a game this season, but went undefeated by only allowing 19.4 points a game. This includes a 44-15 win over Iowa, a 62-14 win over Ohio State, and a 69-7 win over Auburn to open the playoffs. Notre Dame has easily one of the best defenses in the country, and while Texas might have more big names, Notre Dame has thrived on the team effort on defense. Still, stars such as Mo Kitchens, Rocky Dale, Al Walker, and Sidney Banks Jr. have not gone unnoticed either. Unlike Texas, Notre Dame relies first on a great coverage secondary. Then when they take away your ability to pass, the Irish excel at getting pressure. And don't forget the defensive backs when running the ball either, as Notre Dame will often send one of them to pressure the line of scrimmage. These guys in the back drive the defense, and have led to amazing results this season. Don't be surprised if ADs next season look to Notre Dame when trying to build a defense, especially in say, the pass happy Big XII.
So, what will the game come down to? Well, Texas has one of the best offenses in the country and Notre Dame in my opinion the best defense in the country, especially against the pass. For pass happy Texas, this will be the matchup to watch. How does Cash Jackson, Quincy Meyers, and Hollywood Mason pair up with Sidney Banks Jr. and Mo Kitchens? This isn't taking away from Notre Dame's offense or the Texas defense, both of whom have excellent playmakers and will be a factor. But the matchup, especially between the Texas WRs and the Notre Dame DBs, will decide this one, and will be one of the best such matchups ever in CFSL history. Keep an eye on, and I can't wait to watch with you all tonight starting at 8 PM Central!