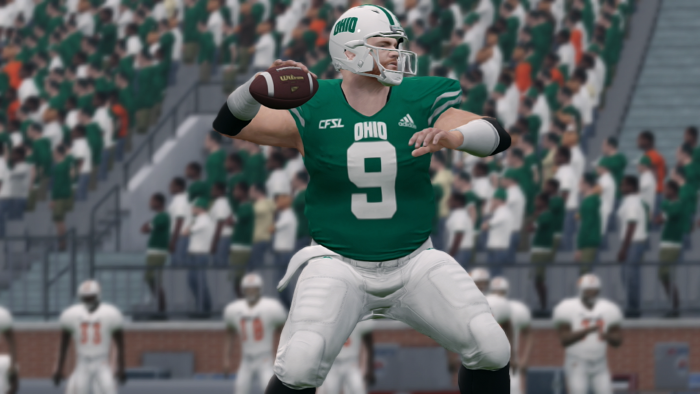 Well the MAC has come to a close, after all that has happened it has been a crazy season, the Mid-American Conference has had some very cool moments this season. They had a P3 upset, we had an offensive and defensive player of the week for the CFSL. It all culminated with EMU shutting the door against Toledo and crowning themselves the final MAC champions for the foreseeable future. The last week for the MAC now is just for respect and bragging rights for the rest of the season.
I decided that since the MAC always has talent that makes the jump to P3 to talk about some players that could make some noise at the P3 level and hopefully with the MAC closing down they will get a chance to shine.
Quarterbacks
Thor Savage FR. OHIO
Savage also had a very remarkable season as well, while he didn't bring home the MAC title to OHIO he put up impressive numbers along the way. Savage stands at 6,8 320 and is surprisingly quick with such a large frame. He prefers to stand tall in the pocket and look to move the ball down the field and can always uncork a long ball. Like Allen, Savage has broken and set every passing record for game, season, and career at OHIO. That speaks volumes because OHIO has been the breeding ground for great QBs that are performing at the highest level in the P3 one of them being player of the year front runner Ronnie Blevins. Does this mean that Savage is destined to be a star at the next level time can only tell. 
Terrell Allen FR. EMU
Allen has had a tremendous season and helped bring the Eastern Michigan Eagles the last title of the MAC. He also came away with a player of the week performance, with his week 3 performance against OHIO. Standing at 6'8 300 pounds. He is a tower of a Quarterback, he can hang in the pocket and make plays down the field but has all the touch to make the short passes as well. In his only season with EMU he has set all but 1 record for game, season, and career records. The only one he failed to grab was Longest Completion in a game. That is massively impressive for your first season. I don't think if he keeps this up he will have a hard time breaking school records wherever he goes.  It's easy for Air Raid quarterbacks to put up impressive numbers but watching him was great. I think he will make a great addition to any school at the P3 level. I'd like to see him in a system where they run just a bit more than they did at EMU to take some pressure off his shoulders to always have an amazing game. Can't wait to see what he does next season. 
Vinny Mixon FR. BGSU
Mixon had a bit of a rocky start to the season but has come on just as strong as Allen, and Savage has the last three weeks having a better completion percentage then Savage as well. Mixon comes in at 5'10, 180, not what you would say has the look of a traditional QB, he is the very definition of a dual threat. He can throw from the pocket, he can scramble outside of it and hit the receiver in stride. When he pulls the ball down has tremendous speed and good vision to make cuts and turn it up the field. It currently has him as the leading rusher for Quarterbacks in the MAC. While not setting records at BGSU he does appear on not only passing but rushing records as well. I think a team in the P3 that is looking for a dual threat QB can look to Mixon to lead their team to some very good wins. Get him the right playbook and the sky's the limit for him. 
Kevin Barnes FR NIU: Barnes had a solid season with some ups and some downs. He turned in a great week one performance against BGSU and was a player of the week nominee. Barnes stands 6'3 215, He has great arm strength and can work the ball down the field. He also has great quickness, being able to pull the ball down and take off making defenses pay for not spying him, he is second in rushing yards by a QB behind Mixon of BGSU. He has command of his offense. I think he would fit a system like a spread option which will let him see his receivers and after the first or second read he can take off and make plays with his legs. He has sneaky potential to be an exciting player to watch next season so keep your eyes open at where he might end up next year, I know I will be.

Almedin Colakovic FR. KENT ST
Colakovic turned in a great performance this season, had a rough game against EMU this season, but other than that has looked very strong this season. Colakovic stands similar to Barnes 6'3 215 pounds. For my money Colakovic i still think is a can't miss QB. If we take out the EMU game, he had 10 touchdowns and only 3 INT. Outside of a couple of fumbles when he throws the ball he generally doesn't make mistakes and that pays dividends for an offense. He can also pull the ball down and make plays with his legs as well but he seems to prefer to stand tall in the pocket and throw. I would love to see his command of the offense next season and his ability to not lose the game with turnovers for you will speak volumes in the P3 where we have seen in this season one mistake can cost you the game.
Halfbacks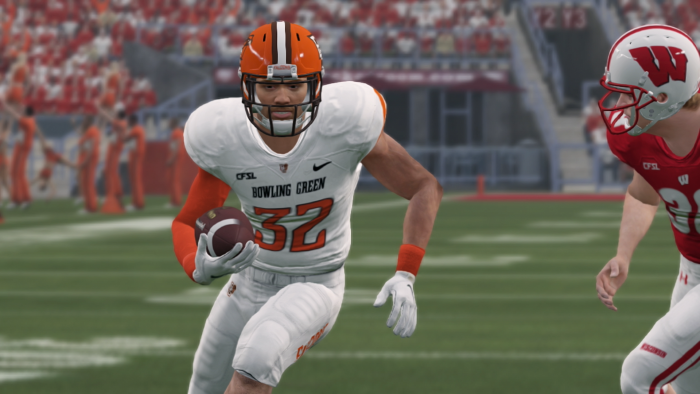 Joey Zaza FR. BGSU
Zaza has had an amazing season and did so all while missing the first game of the season.  He is currently second to Leroy Brown for rushing yards in the MAC, and is second in yards per carry behind Jaden Marroquin. He is currently leading in yards per game. Zaza comes in at 6'0 210 pounds. He is an all around back. He has the ability to break it to the outside, but also has the power to come up the middle and make guys miss. His ability to catch the ball was on full display in the first few games of the season but when BGSU went to a run heavy approach we got to see the rushing ability he had. Zaza has impressed in his last three games by rushing for more then 120 yards in all three games. The one downside is he doesn't seem to get into the end zone a lot only having 2 rushing touchdowns on the season. He will make a great fit into any type of offense being able to be utilized in both rushing and pass catching. Can't wait to see where he will land. 
Leeroy Brown FR. NIU
Brown has quietly turned in a superb season so far and is currently leading the MAC in rushing as is 8th in rushing yards in the CFSL. Brown is a healthy 6'0 210 and looks like a very strong all around back. Has shown the ability to really break some tackles and has 19 total on the year. He doesn't enjoy going down and it shows. He can help coming out of the back field and has soft hands to catch the ball and get some yards after the catch. He is a solid back and maybe isn't as flashy as Zaza is dependable and doesn't turn the ball over. Moves the chains and keeps his legs churning. He will be a great HB in the P3 and will look to be in the top of the rushing leaders next season as well. One to watch where he falls. 
Jaden Marroquin FR. TOLEDO
Marroquin has managed to do it all this season, he is the definition of does it all HB. He currently leads all HB in the MAC with yards per carry 6.9 yards per carry. Marroquin stands 5'10 195, he is built to be an elusive back and it shows. He has that first quick step and gets it to the outside in a hurry. He has been a solid target for his QB catching the ball out of the backfield. A true safety valve to help get pressure off him. He even has had a great job in the return game returning both Kicks and Punts. He hasn't broken one yet this season but I see for sure him having multiple returns to the house. While his team hasn't found a win, it hasn't been at the fault of Marroquin he has left all of himself on the field. He has a lot of upside being to utilize in the P3 and will be a tremendous asset next season. I'm sure a coach will love his production. 
Reign Reaux (RS) FR. KENT ST
Reaux old man of the MAC HB, while it is a joke Reaux def has shown the maturity of having a season under his belt and has helped his freshmen QB a lot during the season. He is third in rushing yards in the MAC for a halfback. Reaux stands 5'8 205, short and stout but has extreme quickness able to make a cut and break it. Great hands out of the backfield and can catch on the run with the best of them. Colakovic looked for him a lot this season and Reaux never disappointing hauling in 39 receptions. Reaux has already shown talent at the P3 level playing for FSU the season before this so they know he has the ability to get it done and is by far one of the less risky players hitting the transfer portal. Solid half back for whatever team he ends up on. 

Ritchie James FR. EMU
James while not rushing for a bunch of yards on the ground has been a monster in the receiving game.  While James didn't get a lot of chances to rush he did manage to put up 205 yards rushing on the season and averaged 5.3 yards per carry. James comes in 5'8 175. He has amazing speed, seems to be built to catch the ball out of the backfield rather than running the ball. He can carry the ball but seems to be more effective as a pass catcher. He is currently second in total receptions at 57 in the MAC. He gives the ability to run a hurry up quick offense with the ability to line up in the back field and carry the ball but also swing out and line up with the wide outs and make you pay catching the ball. He seems like a very interesting prospect at the next level and a few teams like to pass the ball and could use a half back that can be a primary receiver and still rush for yards. Keep your eye out for James in the P3.
Wide Receivers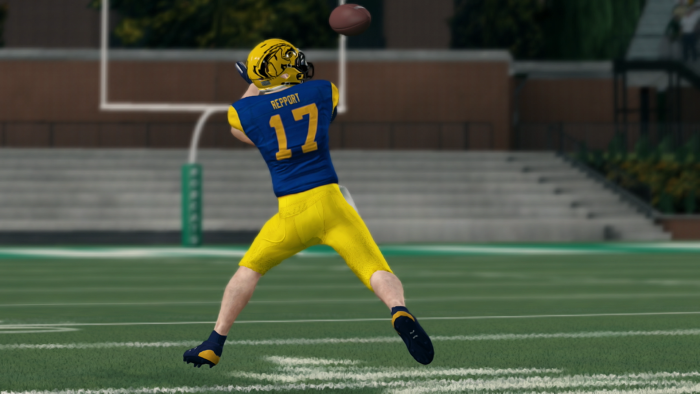 Tyler Steele FR. OHIO
Steele has been at the top of the receiving leaders all season and doesn't show any sign of slowing down. Steele currently leads the MAC with receiving yards at 716, and is averaging 143.2 per game. Steele comes in at 6'3 225. He is tall and athletic with an amazing height of his jump. He has great speed, but can just out jump the defender and high point the ball. He is a quarterback's dream and it is no wonder why he is Thor Savage's favorite target. He will more than likely finish atop the wideouts in yards for the season with one game to go. He seems to be a can't miss WR prospect that will come in and be a massive help to any team in the receiving. He might not come in and be number 1 right away but I have no doubt that he will be a favorite target. Can't wait to check back in after a couple of seasons next game and see how his season is going. 
Grant Gogis FR. OHIO
Gogis has been equally awesome this season second to only his teammate for yards on the season receiving. Gogis leads the MAC in receiving touchdowns with 8 total. Gogis 6 '0 185, has great route running ability and has a combination of speed and great catching ability.  He has had a few dropped balls on the season which could be a bit worrisome but his speed and ability to catch the ball for a touchdown will surely help him in making a spot in the P3 while not having the natural talent that some of his peers has, looks to show why a great work ethic and drive to help your team out will surely earn him a spot next season. Hopefully he gets his chance. 
EJ King FR. KENT
King has been a solid option for his QB and has been a safety net for his team. King turned in two games of over 125 yards plus, he showed that given a chance he can lead his team with a bunch of yards. King comes in at 6'1 210. Has a mix of speed and elite catching ability. He has a great first burst and a quick ability to reach his top speed quickly. If a defender hesitates for a second King is behind him with the ball on its way. He can work the middle of the field but I think prefers to be on the outside 1:1 and enjoys beating defenders. King was a reliable target all season for his QB. I think he will be a tremendous addition to any P3 program. Don't be surprised if a coach allows him to take the top off and he has multiple games going big. 
Jeff Repport FR. KENT
Repport has been quiet but when given the ball in space has shown that he can make some misses. While only managing 19 receptions on the season has managed to have over 300 yards. Repport stands 5'11 190, is one of the faster WRs in the MAC. He has great ability to catch the ball short and make moves after the catch. Very elusive in the open field and could be a monster P3 in YAC. I think given more receptions and targets he would be a strong help to many teams in the P3 especially in a West Coast style offense where its about getting the ball out quick and having your receivers make plays after the catch. Not sure what the P3 needs at WR next season will be but Repport shouldn't have a worry about finding a home for all of his talent.  

Luke Brooks FR. BGSU
Brooks has exploded onto the scene only playing in the last 4 games of the season for BGSU. Brooks has established to be the favorite target of his QB after a huge game against Kent ST. Brooks comes in 6'3 235. He has a big receiver, with electrifying speed and can go up and make the catch against almost any defender. He has shown the ability to take the tops off defense and when his QB is throwing Brooks can always make you pay. The question may be can he sustain his success over the course of the season. I think he has all the ability in the world and next season clearly might be an early favorite for a breakout season. I may be a little biased though. P3 defense needs to watch the tape or gonna be looking in the rear window as Brooks drives by.
Tight End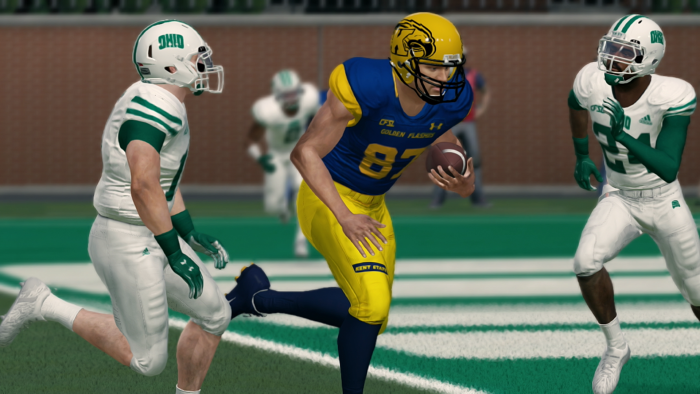 Taylor Stewart (RS) SO. EMU
Stewart is of the new breed of Tight End that can line up next to the Tackles and block with the best of them, or he can line up wide and make plays down field. Stewart comes in at an impressive, 6'6 235. You would like maybe a few more pounds so he can show his durability a little more but he has been a beast this season. Before week 7 started is currently leading the league in total receptions on the year at 60. 624 yards, not many scores at 2 but has proven to be his QB favorite target. He has 6 pancakes on the year so he has proven he can block. He has been in the P3 previously so returning after this season with the season he has had. He should find no problem in finding a great spot to add to a team that needs a dynamic player at the TE position. 

Gary Kehn JR. KENT STATE
Kehn has been an efficient target this season and a reliable safe outlet for his QB and is reliable to help move the chains and take care of the ball. Kehn is much like Stewart that I spoke about previously. He stands at 6'6 235, can line up on the line next to a tackle or outside as a WR. While not being as prevalent as Stewart. Kehn has been just as help putting up career high with 29 receptions, 249 yards with 3 touchdowns. He also has been in the P3 before but wasn't used to his full potential. I think after this showing on the year a team can pick him up and utilize his skills just as he has proven himself at Kent St.
Defensive End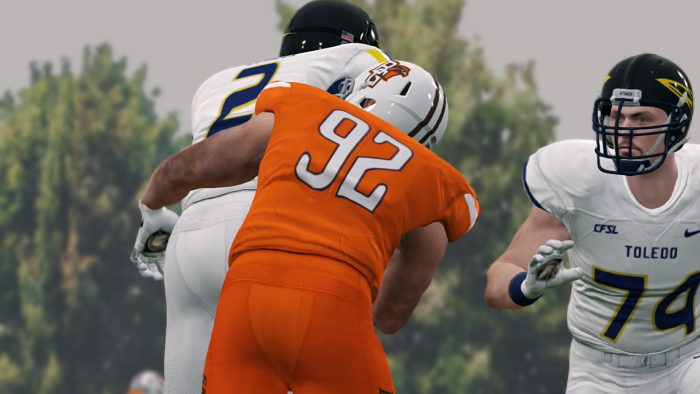 Scott Frank FR. BGSU
Scott Frank is a speedy DE that can beat an O-Linemen with a variety of moves. Frank has a combination of speed and power. Scott is a bit on the shorter side at 5/11 but comes in at 295 pounds. He has gotten 5 sacks, and 10 TFLs on the season. He has been impressive at stuffing the run, I don't think he is in the right defensive scheme currently in 3-3-5. When he makes the move to the next level I think he will feast in a traditional 4-3 line with the DT taking a bit of his pressure and allowing him more 1-1 opportunities. He will be a must add on lines that have had a rough time getting pressure on opposing quarterbacks. I will be following how he turns out in the P3.
Charles Davis FR. BGSU
Davis has got to be one of the more exciting players in the MAC right now. In two games he has put up impressive stats. 13 Tackles, 9 tackles TFLS, 7 Sacks, and 2 Forced Fumbles. He has just been voted Week 6 Defensive Player of the Week. Davis stands at 6'5 300 pounds. He has a quick explosive first move, he tends to bull rush the line rather than be quick by the line men. He seems to be a can't miss prospect to go to P3. The big question is can he keep up the pace he has set or will the P3 prove to be more difficult then the competition he currently has been facing. Only time will tell.
Linebackers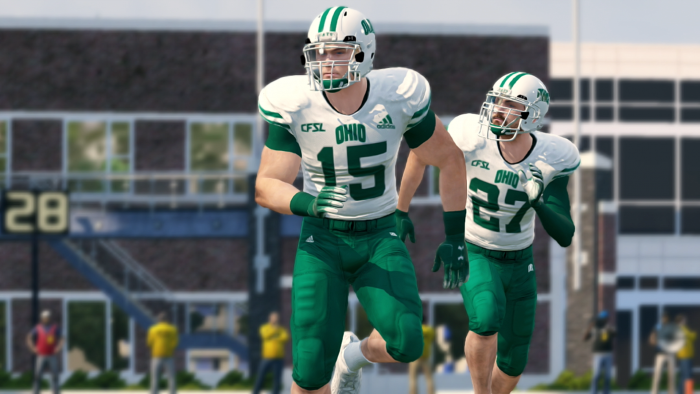 Weston Wimberly FR. EMU
Wimberly is a solid OLB that has a good mix of speed and power coming off the edge and is probably best suited in 3-4 scheme playing more of an edge rusher that can drop back in coverage. He comes in at 6'3 245, he has sneaky quickness and can use it to get around the blockers to get pressure on the QB or hold down the run. He had a quiet first few games of his season but had a stand out game in week 6 totaling 12 tackles, 1 tackle for loss, and 1 pass deflection. Given the right fit I think he could be an exceptional edge rusher. Look for him to help plug up the run, and get a few sacks at the P3 level and has plenty of a lot of upside talent potential. 
Dakota Montana FR. OHIO
Dakota is very similar to Wimberly and is an Edge rusher/run stopper that has ability for coverage but excels in the pass rush. He has similar measurables standing at 6'3, 245, a great combination of speed and power. Montana had a bigger impact on his defense with impressive totals, 46 Total tackles, 9 tackles for loss, 2 sacks, and 1 pass deflection. He might be a slightly higher choice that is moving on simply because he has shown that he can be effective on the field. Has more upside and I think has a chance to get a lot of experience and increase his skills. He will be a great addition as an edge rusher, so let's see if a DC or AD at P3 sees what I see and brings him in. 
Aaron Heil (RS) JR. KENT
Heil is a very skilled and versatile MLB, he was the sure leader of his defense and has been in the league for a while, and has even been P3 before. Heil measures in at 5'10 235, He is a certified run stopper but has surprising zone coverage skills that can confuse a QB if he shows blitz then drops back which could lead to pass deflections. Heil turned in a solid performance this season. 58 total tackles, and 8 tackles for loss, with a sack and pass deflection. He only has his senior season left but would be a great addition to bring in as a veteran leader at the P3 level to lead a linebacking core and pass on experience and wisdom.
Cornerback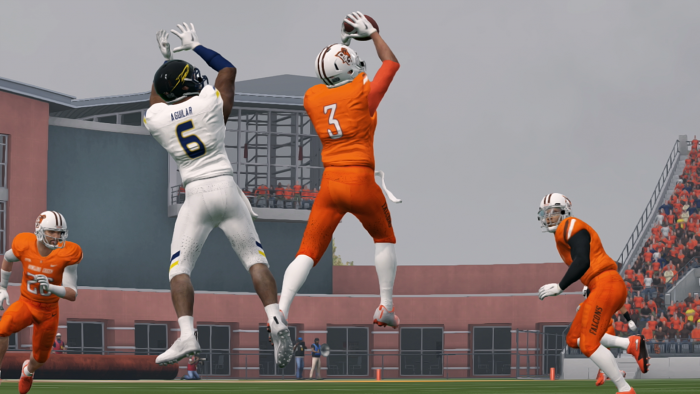 Jalen Watts FR. TOLEDO
Watts is a bit of an unknown because he just hasn't played in that many games, but has put up decent numbers so far. Watts comes in at 6'0 205lbs, he has great speed and can keep up with most WR in coverage, he has the ability to play safety as well. He managed 14 total tackles, 4 tackles for loss, and 3 pass deflections. He can come up and help in the run game as it shows with his tackle for loss. I think he accels at playing the boundary corner and matching up with whoever is on that side and locking them down. He should be a pick up and start for sure at the P3 levels. I could be wrong as he only had 3 games, but he has all the potential and talent to be a nightmare at the next level. 
Nate Craig FR. OHIO
Craig had a solid season at the corner position, showing the ability to cover well in many areas of zone and man. Slightly excels in man but can drop back and play the zone well. Craig comes in at 5'11, 190 quick and lithe has great hip movement and plays the ball well in the air against receivers. He had 3 interceptions on the season, and can have deceptive speed that makes a QB think he can fit in a window that closes seemingly out of nowhere. He will be a great addition at the P3 level. I think he could play the slot well, and shut it down. It will be fun watching him at the next level. 

DJ Blackmon FR. BGSU
DJ is an exceptional corner, and has the ability to play both sides of the ball and excel, Blackmon is a do it all player, he is a great corner, can be a change of pace back that can stretch the defense on the outside and can line up and catch a couple of passes. He has the talent and skill set to do it all. Blackmon comes in at 6'0, 195lbs. He has explosive quickness, and the ability to run with any receiver in the league, he only did come up with 1 interception on the year, but if you watch the tape, they just didn't throw to his side of the field much. He showed his ability to be whatever his coach needs, he rushed, caught passes, and returned kicks along with his duties in coverage. He will most certainly find a home in the P3 and will be someone to watch next season.
Safety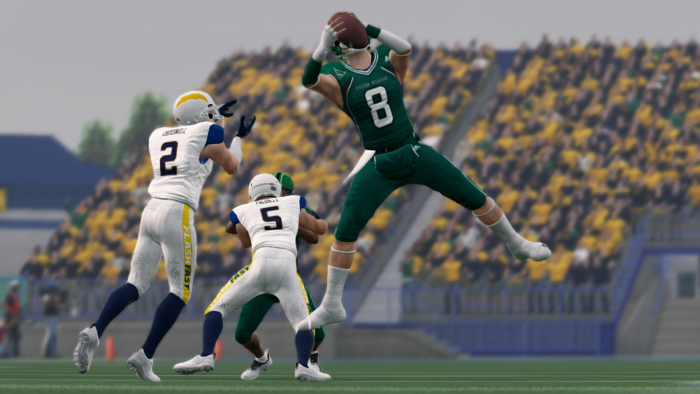 Brandon Vieyra (RS) SO. TOLEDO
Vieyra is an experienced player that took some time away from the game and came back to the game. He has some truly crazy hit power from the SS position. Vieyra comes in at 6'2 215, you would swear he is a middle linebacker when he plants his feet and unloads on a receiver, or ball carrier but is the size of Safety. He only played in 3 games so this season was only a small sample size of what he can bring to a whole season. I see him being a must add to bolster a weaker secondary at the P3 level. He brings power, experience and coverage skills. I can't wait to see where he will land. 
Stevie Glades FR. KENT
Glades has been a solid FS and along with Hiel was the other leader on a strong Kent St. defense. He excels in playing a deep zone and has excellent zone coverage abilities, he isn't afraid to play in the box and get after the running back, coming up with 4 TFLs on the season, had a crazy number of total tackles at 61 and 2 pass deflection. He comes in at 5'10 200 pounds. He has all the talent and showed plenty of leadership that would be a sure fire addition to any team. He can go out there and play ever down and be a core member of your 11 on defense. Can't wait to see if he puts up crazy tackle numbers next season as well. 
Easton Spence (RS) SO. EMU
Spence put up crazy numbers this season and has some pundits calling for him to possibly be an all american. He has the experience you want to lead a defense. He has a skill set that not many players have. He comes in at 6'0 210, he has good speed, great tackling, and excels at coverage. He put on a clinic with 76 total tackles, 7 tackles for a loss, and 3 pass deflections. The crazy thing I find interesting is Spence never made the move to P3 having played all of his time at EMU, the question will be if he can perform at the same level in the P3 that he has in the MAC. We will certainly find out because there is no doubt that he will find a great home in the P3.

Denton Jackson (RS) SO. EMU
Jackson has been a force at SS for EMU along with his FS Spence, Jackson put up arguably a better season then his very first with a lot less tackles for loss, but more total tackles and 3 INT, with 1 of them being a pick six. Jackson stands 6'0, 200lbs has great speed, and natural ball hawking skills, even though in his first season he seemed to be more of a play in the box safety totaling 14 tackles for loss, i think this season showed that he can play suburb in coverage and come away with game changing picks. Jackson was voted as a league defensive player of the week as well this season. He seems to be a star in the defensive secondary and will be a must add at some program P3.
That is it for more of the notable stars of the Mid-American Conference, there are some that weren't shining standouts but contributed to their teams success. Every single player past and present has made the MAC more than the CFSL thought it could be. I hope every player in the MAC can find their home and have success because we are the MAC!!!!!