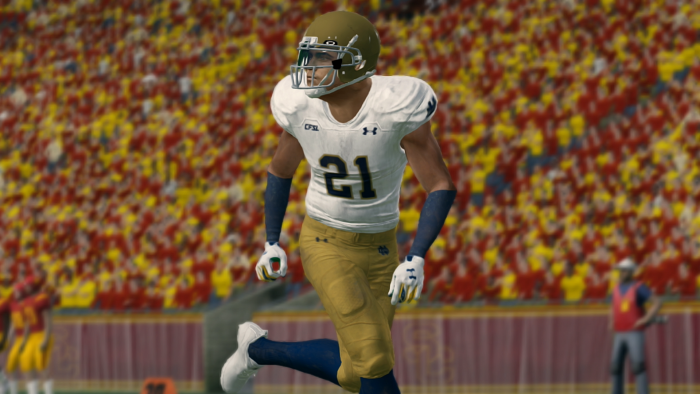 It's been a minute, hasn't it? Welcome back everyone to the new and improved website! Recruiting is now in full swing, and congratulations to Notre Dame for their first championship since Season 1. As we turn the page from Season 12 to Season 13, I decided to look at each team and see what position group they need the most as seniors graduate and transfers occur. Please note I will not include West Virginia and Kentucky, since as expansion teams they need everything. The list is also in alphabetical order, so sorry in advance Wisconsin fans. In addition, transfers are still ongoing and fluid, so I am assuming for now everyone stays on their roster, though that certainly won't be the case.
Alabama – Defensive Backs
Alabama returns almost everyone as one of the youngest teams in the country. They are a team to keep an eye on, as they make progress from an up and down season towards this upcoming one. However, with 3 former Seniors at CB, including 5 star Richie Carreon, both the CB and S positions could use some upgrading behind Shane Yost. Look for that to be the number 1 target for the Crimson Tide staff this offseason.
Auburn – Halfback
The biggest story from Auburn for recruiting is the graduation of star running back Loki Lawler. Ron Newman, Auburn's #1 WR, also is graduating, but Auburn has some quality depth to replace him on paper at least at the moment. The biggest challenge for Pack and the rest of the Auburn staff is finding someone to effectively replace Lawler. Chris Black, the #2 guy behind Lawler last season, could be the answer, but he is also a Senior this season and that would leave a lack of depth at the position. Look for Auburn to aggressively target a freshman HB this cycle.
Boise State – Wide Receiver
Austin Gombas was a talented receiver for the Broncos and moves on to the pros after 3 seasons in Idaho. Boise State has always been a team that loves the pass, and this season had 3 5 star talents or better at the position. Boise native Matthew McCray is an elite talent at the top of the depth chart at the moment, but Boise State will likely be looking for guys to play with him as well. The solution could also be internal as well with guys such as Dice Dickerson and Jordan Tyler still on the roster as well.
Clemson – Tight End
After one season in Death Valley, Brandon Maynard II leaves Clemson and now the Tigers have a big hole on offense at a position that their offense has used frequently in big play situations. While there are also defensive holes to fill, Clemson needs, for the second season in a row, to address the TE position. Ben Carlson is a rising Junior on the roster, but only had 2 catches on the season in total. I wouldn't be surprised if Clemson goes to the transfer portal as well here, just like they did last year with Maynard.
Florida – Linebacker
The easy answer here would be for Florida to find a Levi Temes replacement, but that likely isn't even possible considering Temes's record breaking season. Florida likely picks one WR up, but Chael Covington and Fozzy Brown are both already on the roster and are 5 star talents. At Linebacker, Florida loses Jordan Earp and has much less depth at the position. Bernard Frazier III is an elite talent, but also a Senior. Florida's #1 target in recruiting should be a freshman for the linebacking core, as outside of Frazier there isn't much, and he won't be here for long either.
Florida State – Defensive Backs
Much like Alabama, the Seminoles will be losing 3 defensive backs this offseason at least. Alijah Toro, Nico Vanzetti, and Jason Burton Jr. were all seniors. Priority #1 is easily replacing them, and with the lack of depth look for Florida State to recruit both the transfer portal and for freshmen to replace the depth.
Iowa – Halfback
Iowa has no seniors on the roster, so for now while there may be transfers there shouldn't be too much player movement from the Hawkeyes, at least compared to other teams. Still, starting running back Tanarius Harris will be a senior in Season 13, and there currently is no one listed as a second string for him on the roster. Look for Iowa to target someone to be the #2 guy this year, and then the starter in a post-Tanarius Iowa.
LSU – Depth
Like Iowa, no Seniors are graduating from LSU this season. Pending transfers and early pro exits, LSU should return almost everyone. This leaves LSU tasked with filling the back end of the roster. Specifically, TE, LB, and CB are all positions that could see some lower ranked recruits being recruited. LSU still boasts one of the most talented rosters in the country, so their offseason will be less about recruiting and more about tactics for the upcoming season.
Miami – Wide Receiver
Jay Nathaniel leaves Miami as their all time yardage leader and tied all time best receptions leader for the school. Rising sophomore Zeus Thomas returns as Miami's clear #1 guy, but behind him Miami will need to target at least one, maybe two guys to support him. Jon Dowd, the CB/#2 HB, also will need to be replaced.
Michigan – Defensive Line
Michigan loses Logan Simmons and A.W. Thorton on the defensive line, both big contributors last season for the Wolverines. While WR Tim Benjamin will also need to be replaced, the #1 priority will be on the defensive line. Adonis Drakos and Jacob Hill remain and could be switched around, but two holes at DT and DE are still big weaknesses that new AD Horns will need to correct.
Missouri – Defensive Line
Missouri is another team on paper returning everyone before transfers and early exits are taken into account, and the fun to watch offense I anticipate will likely stay intact as much as AD BeaverAchilles can make possible. On defense, last season the lack of stars on the defensive line was an issue, and I think Missouri's #1 objective will be to try to correct that as much as possible.
Nebraska – Defensive End
Rury and the Cornhuskers had an up and down season to say the least, but a good takeaway for them is that they return almost everyone. However, they lose senior DE Thomas Noble, and only have 3 star rising senior Tyrone Casey as the only DE on the roster currently. Look for Nebraksa to refill and upgrade, not only at DE, but likely elsewhere on defense as well. Nebraska struggled to get pressure, and will need help likely at not only DE, but I could also see them go after guys all over their front 7.
Notre Dame – Defensive Backs
The reigning National Champions return most of their offense, but lose multiple key contributors on defense, including multiple guys in the back end. While 3 5 star talents remain on paper (CB Sidney Banks Jr., SS Nick Hopper, FS Mo Kitchens), Wookie still is going to likely try to improve depth at the position. A great secondary led Notre Dame to the promised land in Season 12, and look for it to continue to be a key part of future Notre Dame squads.
Ohio State – Linebacker
Ohio State only loses one guy on defense to graduation, MLB Allen Mack. OLB Cassondra Requena and MLB Hunter Miles-James are both excellent talents, but don't be surprised if the Buckeyes target at least one more linebacker to backfill their defense and reload. In addition, WR Brad McFadden also graduates, meaning bigger roles for Jeremy McMann and Tee Lowe. Ohio State still will also likely target another depth piece there too, however.
Oklahoma – Defensive Line and Safeties
With the graduations of Michael Krueger and Dameko Brewer, Oklahoma only has Caiden Womack and Jamal Shaikh on the roster currently at DL and S, respectively. It will be a total rebuild effort at those two position groups, and look for Oklahoma to aggressively target not only freshmen, but transfers as well to fill the big holes these graduations leave. The Sooners on offense seem set to compete in the offense-happy Big XII, returning almost everyone from last season, so getting the right guys on defense will be even more crucial for new Sooners AD dthall.
Oklahoma State – Defensive Backs
The Cowboys will lose a lot of guys, including 3 defensive backs. Like many other teams, this leaves Oklahoma State competing for a position that has less guys than usual. Expect the competition to be fierce around the league and expect it to be the #1 priority not only for Oklahoma State, but for many other teams as well. Thor Brown will return at CB to lead this unit, but it will look very different next season. Depth positions on offense such as #2 HB and #2 TE also will need to be filled.
Oregon – Left Side of the Entire Defense
Oregon returns most of their offense, but has a lot of work to do on defense. While they don't always play on the left side of the field, Oregon will need to replace LDE Trey Simpson, OLB Jedidiah Longree, MLB Afu Loto, and SS Tutu Longtree. Again, Oregon in particular likes to move guys around in different defensive formations depending on the opponent, but I just listed four of their biggest contributors on defense. In short? Oregon has a lot of work to do recruiting on the side of the ball. We know Oregon has and will continue to be excellent on offense. But to have a chance at avenging their semi final loss to eventual champion Notre Dame, Oregon needs to rebuild their defense, fast.
Tennessee – Defensive Line
Senior DE Gilbert Wilkerson is the only graduation on the Volunteer roster, and the position group as a whole has notably no 5 stars or better talent wise. Look for Tennessee to target this position group in particular during recruiting. I wouldn't be surprised to see a big infusion of talent at this group, especially after a season in where the Volunteers consistently had issues on defense, including generating pressure for opposing QBs.
Texas – Everything
I mean, what else am I supposed to write here? Texas lost so many impact seniors I wrote a whole article on how historic their senior class was and what they were about to lose. Texas will need to do a lot of replacing to stay a contender, and will be a big pick to fall back with so many guys leaving. To start, Texas will need to find a new QB. Don't worry though, any freshman who comes in will only be replacing Vito Pipino, and judged on other recent freshmen QBs like Phillip Camit and KyShawn Williams. Have fun with that.
Texas A&M – Tight End
Like Clemson, the Aggies return most of their team for Season 13, with the notable exception of their star Tight End. CB Brent Mills also leaves, but the loss of Ray Guerrero is the biggest story going into recruiting for Texas A&M. With not many other holes to fill, Texas A&M will look to develop the guys on the roster and keep transfers to a minimum as well. They'll need a new guy at TE and if they can rework the offense, this could be another team that makes a big jump next season.
Washington – Offensive Depth
With only two graduating seniors, Washington will be able to focus more on replacing any transfers over replacing guys graduating. On offense, Washington had issues against contending competition. Look for Washington to target depth at the WR, HB, and maybe TE too (although there are already two TEs on the roster right now). Cairo Croft has shown talent for the Huskies, but getting more support for him and the rest of the offense should be objective #1 for Washington AD ejruiz.
Wisconsin – Wide Receiver/Tight End
And as promised, last but not least, Wisconsin. The Badgers lost multiple seniors from their surprise semifinal run last season, and their biggest losses are at depth positions at WR and TE. With Oliver Fields and Aaron Newsome graduating, the Badgers will need to target at least two, if not more guys to fill that production gap. De'Anthony Jones had an impressive year for this young squad, and the Badgers should continue to be one of the more exciting teams going into Season 13.