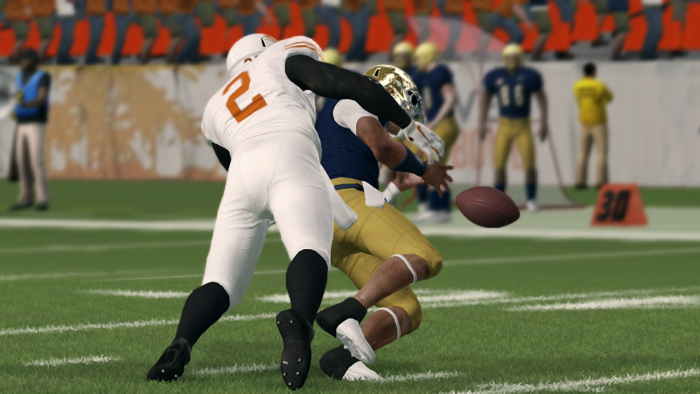 Recruiting is now complete, and with most of the recruits committed, I wanted to take a look at how each team was shaping up. However, for this story I realized just hearing my opinion wouldn't be the best idea. Instead, I decided to try something new.
I sent each staff in the CFSL a poll that one of their staff members (could be AD or someone else, just had to be one guy) could fill out anonymously. This poll only had a few questions, and we will go over the answers down below. The idea behind the survey was simple. I wanted to hear what the thinking was in each locker room regarding their competition going into Season 13. Specifically, I wanted to see what each staff thought about the directions of certain teams, and what they thought were going to be the tough and not so tough opponents this upcoming season. For this survey, because I'm asking about the direction of the program, I specifically excluded expansion schools West Virginia and Kentucky from both answering the poll and being included as a choice to select. Everyone else was fair game, and after getting a response from over ⅔ of the teams in the CFSL, there is a lot to gather from this experiment.
Question 1: Choose up to 3 non-expansion schools you think will have a better record this season.
To start with teams that the league staffs think will improve, while I am not surprised with the teams who led, I am surprised how much of a consensus there was for those teams. Michigan clearly leads anyone else, a good sign for the work new AD Horns has done this offseason for a team that went 3-5 last season. Ohio State (1-7) and Alabama (4-4) followed behind as well.
After this question, I asked the responders to explain their picks. For Michigan, there was a large consensus that Horns's experience as well as the great recruiting seasons the Wolverines are currently enjoying will make them a much better team. Ohio State was a similar story with AD Jmel, though there were noticeably less responses that were positive on the work the Buckeyes have done this offseason. Something to look for when rivalry week comes around, as it seems Michigan has taken the lead in the eyes of the league staffs so far after the two hires. Alabama also was very frequently praised in the poll. Specifically, with a change in recruiting rules, Alabama was mentioned as by far the biggest beneficiary of relatives being able to play with each other. While it remains to be seen how big of an impact this will make, Alabama easily should be a team to look out for as well. After these three, the other teams mentioned by name with multiple staffs thinking they will improve include Washington (2-6), Missouri (6-3), LSU (3-5), and Oklahoma (5-3).
Question 2: Choose up to 3 non-expansion schools you think will have a worse record this season.
So we can get the obvious out of the way. Notre Dame, who went perfect last season, obviously has a supermajority (but not unanimous) thinking they will fall back (for the record, Notre Dame was not one of the few teams who said they would go perfect again). Beyond that, however, I think we can glean some of the most interesting results from this question, along with the follow up asking for the reasoning. Texas (9-2, lost to ND in the National Championship) being by far the #2 surprised me, though it probably shouldn't have. Then Wisconsin (8-2), after a surprising season that saw them make their first playoff appearance, was a clear #3.
For both Notre Dame and Texas, predictably the most common response talked about how it will be hard to have a combined 2 losses all season and playoffs next season. Adding to this, however, more than a few ADs think Notre Dame and Texas will regress further than this.
"Notre dame will have an average season. A blind squirrel will find a nut every once in awhile."
"With the way (Notre Dame) played last season I feel there will be some complacency this season"
"Teams in their conference (Referring to Notre Dame, Texas, and Wisconsin) will be better."
While these are some of the more fun comments, the consensus for Texas and Notre Dame is that they will still be good to great, just not almost perfect as they were a season ago. Some other teams that notably were mentioned to get worse this season by name frequently also include Texas A&M (2-6) and Florida State (6-3, SEC Champions).
Question 3: Who will be your toughest in conference opponent this season?
Finally, with most of every conference answering, I was curious who would be seen by the teams as the toughest opponent in their conference schedule this season. Unsurprisingly, Notre Dame led with 5 mentions by name, followed by Texas with 4. Wisconsin, Oregon, Florida State, and Alabama all had 2 mentions as well. Finally, teams with 1 mention were a bit surprising, but still interesting. These teams were Kentucky, Auburn, and Oklahoma State. The Cowboys seemed much lower than I thought they would be, and I'm surprised an expansion team was mentioned at all. Wisconsin, despite being the third most popular choice to regress, is still tied at 3rd for being the toughest opponent.
What conclusions can we draw from this? Well, at a baseline we have a basic idea of what team staffs think of their competition as we get closer to Season 13. Notre Dame and Texas being so popular to regress wasn't too surprising, though especially towards Notre Dame I'm surprised how many think they will fall far. Wisconsin still has a lot to prove to other teams to prove they are for real this season. Finally, the SEC as a whole seems to still have a feeling of uncertainty, as they were notably chosen less over other conferences to have their teams improve or fall back. The exception to that is Alabama, who if I asked probably would be a popular pick to win the SEC. Still, this is still the offseason, and I probably will circle back to this poll at the end of the season to see how true these assessments were.
And for the record, if you asked me, I would choose Alabama, LSU, and Washington to improve, with Notre Dame, Texas, and Missouri my choices to have a worse record next season. I have many of the same reasons as well as the ADs. As we get closer to the season opener, expect me to go into more detail on team previews as the rosters are finalized and preseason prep begins in earnest.