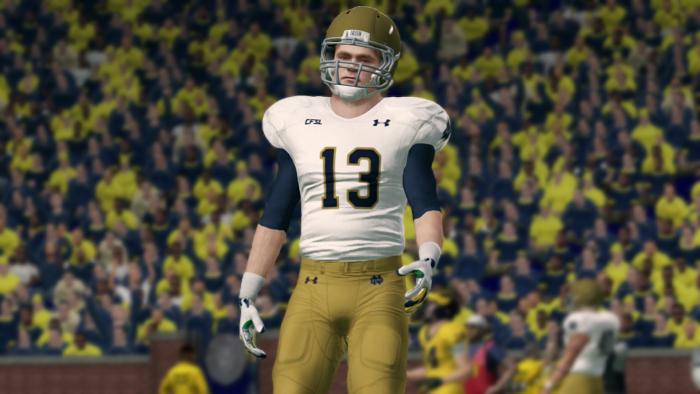 Well, the time is certainly near. It is time to get excited for Season 13 of CFSL action! While we still are awaiting the full schedule release, on Wednesday we got a look at the first three kickoff games that will happen to start Season 13. Let's take a look at what to expect and look forward to for the first three games of Season 13.
Notre Dame vs. Texas – Chick-fil-a Kickoff Game
The biggest game of the night easily will be this one, a rematch of the Season 12 championship with two teams that have significant changes and still sky high expectations. For the Texas Longhorns, we will see what they look like after experiencing the most turnover of any team in the country. That starts with new starting QB Kai Kohko, new starting HB Axel Riggs, and new CB Koby Harrison. All 3 are Elite level players who transferred from various schools in the offseason portal, and should be three immediate impact players to look for. Notre Dame, meanwhile, returns as the undefeated champions looking to continue their league best 13 game winning streak with new additions such as MLB Teddy Tate, OLB Cassondra Raquena, and CB Jalen Watts. All three Elite transfers look to help refill defensive holes made by graduation for the Irish, and expect another great team to play in what should be easily the premier game of Week 1.
Wisconsin vs. Florida State – Texas Kickoff
In a game featuring two playoff teams from last season, we will get a great look into how both the SEC and Big Ten will play out as well. Wisconsin returns with one of the best recruiting classes in the country, boasting 10 5 stars, 8 of them Elite level. I mentioned in my recruiting needs article Wisconsin needed to reload on offense, and they did just that. Look for new faces WR Tee Weary, TE Bobby Moss, and HB John Carroll to make big impacts early. For Florida State, the Season 12 SEC champions focused on defense in recruiting, with the big names being Elite CB Phillip Morris and Elite DE Mathew Powell. The biggest question here is who pulls ahead, Wisconsin's offense or Florida State's defense?
Miami vs. Oklahoma – Allstate Kickoff Classic
This matchup puts two 5-3 teams who did not make the Season 12 playoffs against each other in a fun matchup that should have plenty of fireworks. With both teams having a rival who made the playoffs last season as well (Oklahoma State and Florida State), look for both teams to make a statement for the ADs who will once again look at two teams who were playoff contenders who fell short. For the Miami Hurricanes, their recruiting class is led by Elite HB transfer Reign Reaux, followed by 5 new faces at WR and TE. This is a new look offense for Miami, and they will face a loaded Oklahoma recruiting class. We talked about Wisconsin's 10 5 stars or better, but Oklahoma brings 11. This includes HB Joey Zaza and SS Johnny Ray, two guys with big impacts on other teams last season. This one is a loaded matchup, and while all three games have big implications, I'm going to go out on a limb and say this one might be the most fun to watch for the viewers of the three.
Still, all three games have loads of interesting storylines to follow and anticipate. Also, since all three of these games are out of conference matchups, they all will be critical for ADs who are ranking the teams to see not only what teams have improved, but what conferences might be the toughest to play in this year as well. There is something for everyone opening night, so make sure you tune in when Season 13 kicks off!