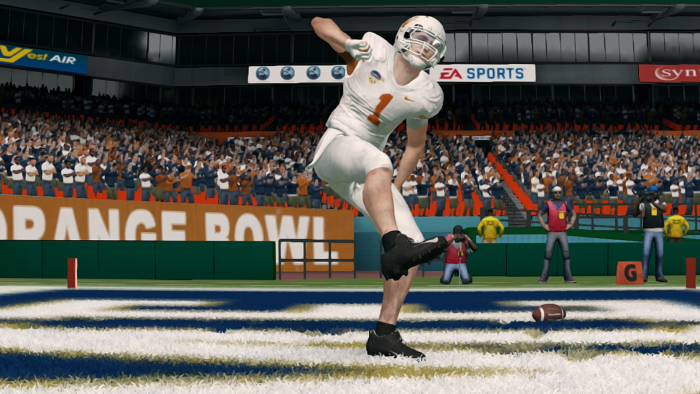 Season 13 is almost upon us. It is crazy that we are already 13 seasons deep in this league. New teams, fresh faces and a commitment to excellence yeilds another very exciting and interesting season. No AD has won two titles and only one school has won two in their history. This league brings parity but with new changes this offseason with recruiting, who really stood out? Lets take a look at the always questionable Horns Rankings.
1. TEXAS LONGHORNS
The runner ups last season narrowly edge out the champions as Texas was able to "get everything" and completely rebuild. Quarterback addition Kai Kohko has enormous shoes to fill after Pipino graduated but showed some flashes while he was at Missouri. HB Axel Riggs is another massive addition on offense and easily gives Jooby another weapon to use. Texas ended up with their favorite playbook in Generic Spread, but will this be the season that Jooby gets over the hump and brings another title to Texas?
2. NOTRE DAME FIGHTING IRISH
Before I get hateful DMs from the Notre Dame team in my inbox, hear me out. It could be worse. A writer could label you as tenth best and you go out and never lose a game. Notre Dame was scary last season and made a great defensive effort in the championship game that Texas just gave away. No worries, this Irish team went out and took it and crushed it in recruiting as well. Defense was the focal point as linebackers Teddy Tate, Cassondra Requena and Jalen Watts, joined this team from the transfer portal. Not much attrition during the offseason and this team was able to nab the Tulsa book, which isn't the worst book in the world. The target is bigger in South Bend this season, can they go back to back?
3. OKLAHOMA SOONERS
I am no OU fan. You can pretty much say that I hate any team just north of the Red River, but you need to give respect where it is due. While the Boomer Sooners are not the biggest trash talkers in the world, DTHall nailed the recruiting class. Absolutely dominating the transfer class by nailing nine elite players. The offense is still led by Jim Carr at quarterback and with the Louisville book, he should be Lamar "Jim Carr" Jackson. Look out for OU this season as well as that massive Red River Shootout in Dallas. Can Sooners keep the wagon upright? Or will they be flipped over?
4. WISCONSIN BADGERS
Another team that absolutely dominated recruiting was Wisconsin. Eight elite players were recruited with defense the main focal point for the Badgers. Their front seven are probably the best in the CFSL and they still have more years with Jones and Fountain on the offensive side of the ball. Another pistol style option was their playbook choice but its not as strong as their playbook of Clemson last season. The Badgers really wanted Notre Dame last season and really went out in recruiting in an effort to dethrone Wookie. Can they do it?
5. OKLAHOMA STATE COWBOYS
The Pokes fell short last season but looked good in any game not matched up with Texas. The recruiting violation hurt them a bit but this is still a very strong offense. The defense took a hit with some departures and their secondary looks a bit suspect. But again, this is a very well coached squad with a lot of experience. Harrison Murray returns with a wealth of options at wideout. Can Okstate get all the pieces lined up and shake the Jooby monkey? Or will this be another season of unmet expectations?
6. OREGON DUCKS
The Ducks were finally able to recruit after a season off and had to fill some key pieces as most of the talent went east to Kenducky. Linebacker Bradford Dexter was a big key pickup and will need to fill the void that one of the Longtree brothers left. Oregon went with mainly defense as only three of their signings were on the offensive side of the ball. Oregon went with a one back offense, which has not been seen in quite awhile, so no more Frosty settings jokes from this writer, mostly just prayers they are able to make it work. Can Venmo prove he can win without a Longtree? Or will this be a trying season for the Ducks?
7. ALABAMA CRIMSON TIDE
Alabama is interesting and filled with question marks. Their top two targets wanted nothing to do with the Tide during transfer season but ended coming back home anyways. Doug Day wants to prove that he is the best QB ever but will need a massive season to 98% erase doubts. While offense looks good, their defense is scary. Eight elites will roam the defensive side of the ball, with a ton of experience. They did pick California as their playbook which makes you question why the two elite backs. But maybe their AD has a plan to finally get Doug Day the respect he deserves. Can they finally have success in this league this year?
8. MICHIGAN WOLVERINES
100% biased and no cap, I truly believe that Michigan can make some noise this season. A new AD equals new hope and this roster on paper looks solid from last season. New additions Thor Savage, Kayce Alexander and Benny Beukeboom are a large part of this offense and that's just their weight. Running with the Georgia book, Michigan will be one of the few teams to see if they can get a pro-style book to work. Can Hornsnation turn into Wolverinenation and bring Michigan to glory? Or will 3-5 still be the norm up in Ann Arbor?
9. FLORIDA GATORS
Florida has to be one of my favorite teams from the offseason. Coming into this year, there hasn't been much hype about the Gators. They won a couple of awards last season and Blevins will need to find someone else not named Temes to throw the ball to. Defense might be a question mark going into this season but the offense will need to prove that they do not need to play Mac teams, unless you are Florida State, in order to score points. I full believe Smitty can get this team momentum from last season and make some noise in the SEC.
10. LSU TIGERS
The team that talked a ton of smack talk only to have reality hit them in the face last season. This team does still have Justin Morris Jr and three elite wideouts but you have to at least question why the Virginia Tech playbook, but maybe Tink knows something we don't. Anyways, a really solid looking defense on paper can give the Tigers some really good chances this season. Can they return to glory?
There you have it, my always appreciated and never questioned rankings that are normally 100% incorrect. What did you think? Any teams that I may have missed that should be up here?