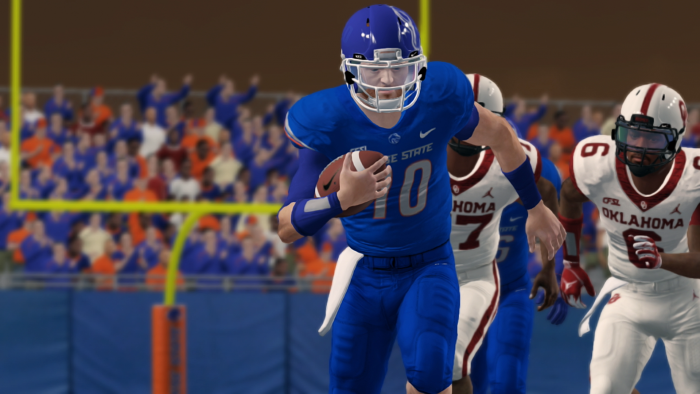 'Tis the season everyone. And the CFSL has been in the holiday spirit since Season 13 kicked off. Weeks 1 and 2 were kind of like Thanksgiving. It fed us 24 tasty treats and sent us into Christmas break ready for more. Christmas is now upon us (Merry Christmas everyone!) and all be it a couple of days late, CSFL Santa will be delivering us some outstanding football once again as Conference play kicks off. While there are a lot of great games in week three let's take a look at how the three defending conference champs start their conference seasons.
B1G
Notre Dame (2-0) at Boise State (0-2)
Boise State is back in the Big 10, sorry Broncos. Boise has struggled to get things going offensively in the first two weeks of the season while trying to implement a new option attack. While the execution looked better in week 2 it was still lacking in enough big plays to spark the team and earn a victory. So Boise heads back home in week three ready to start conference play and who is there to greet them? Yeah, the Irish of Notre Dame. The Fighting Irish are on a roll stretching back to what seems like forever. Going back to season 11 Notre Dame has lost just 1 regular season game in what is now two (almost) full regular seasons. So needless to say Boise has a tall task in front of them. If there is one silver lining for the Broncos it is that Notre Dame also struggled offensively in week 2, though that was against a better than good FSU defense. The winner of this game will be the team that controls the line of scrimmage and allows their running game to get the job done.
BIG XII
West Virginia (0-2) at Texas (0-2)
There is one thing that I can guarantee is true: at the end of this Big 12 game, someone will have their first win of the season. WVU comes into this game hungry for the first win in program history. And they have been close, but have failed to put 4 quarters together and have come up short. Running back Jerry Filbin had a career day against Alabama, breaking the 100 yard mark for the first time in his career. Sophomore QB Kevin Barnes also hit a career mark with 4 TD passes in a game. That combination is going to have to continue to produce if the Mountaineers are going to find success this season. While WVU being 0-2 may not surprise many Texas being 0-2 certainly does. But if Texas has anything to hang their hats on, it is that they went unbeaten in conference play last season. Well that, and that they lost by a combined 6 points to two teams that are a combined 4-0. Kai Kohko and Axel Riggs are the backfield tandem now, replacing Pipino and Black, and have found success at times. Texas has found a way to score 61 points in two games. That means it is time for the defense to step up and find a way to keep their opponents off the scoreboard on one more drive during the course of the game. That task falls on defensive leaders Stewie Peterson and Joey Cass.
SEC
Kentucky (1-1) at Florida State (1-1)
The defending SEC champion Seminoles host the other new-comers to the league to start the conference slate (so welcome to conference play new guys, you both get the defending conference champs). In week one Florida State jumped all over Wisconsin to start their season off right. Then lost a defensive slugfest against defending national champion Notre Dame. But is anyone truly surprised that Florida State is only giving up 19.5 points per game? Their defense is (bad pun incoming) cold as ice, lead by Isaac Frost and Kiyoko Winter, they have had offenses frozen in place most of the season. And don't expect too many performances like you saw in week 2 from Rocko Lacey and Co. This is a group that can light up the scoreboard and they will look to do just that against Kentucky. The Wildcats come in here just a couple of plays away from being 2-0 instead of 1-1. Lead by QB Scott Pinesaw the 'Cats will be in every game this season. Pinesaw is averaging just under 400 yards per game through the air. But he has turned it over 4 times (3INTs and 1FUM). If Kentucky is going to find a way to pull the upset they must take care of the football.
Thank you for joining me in the booth again for a little peek at what lies ahead in week three. All three defending conference champs could have tight games on their hands. I can't wait to see how it all shakes out. Happy Holidays everyone!!