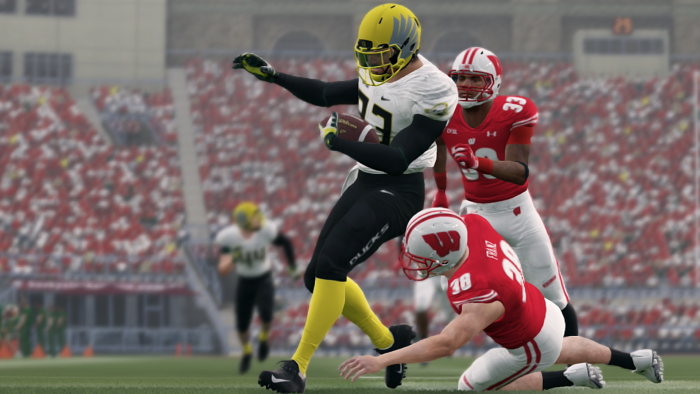 When you look at the week for line up there are plenty of games that could prove to be great matchups. Notre Dame has to travel to Seattle to take on the Huskies as they try to extend their more than impressive win streak. Nebraska gets a chance to see just how good they are at home against LSU who is coming off of a HUGE road win against Oklahoma. Everywhere you look there are teams trying to build off of their early success, and there are those that are trying to find success for the first time this season. But when it comes down to it there are two games that really stand out this week. Let's take a look.
Wisconsin at Oregon
Last season in Camp Randall Wisconsin came out on top of this matchup by 17. This was on the way to a perfect Big 10 season. But the last time these two teams met in the Zoo Oregon was the team to roll. So here we are again. Back in Eugene Oregon with two teams looking to get to 2-0 in conference play.
Wisconsin is buoyed offensively by QB DeAnthony Jones. Jones has accounted for 843 total yards and 6 total touchdowns in the Badgers' first three games. But the Ducks can't solely focus on DeAnthony Jones. If they do, they leave themselves vulnerable to the other half of the high powered rushing game of the Badgers. Richard Fountain has also amassed yards in bunches through three games. Fountain averages better than 120 yards per game so far and is a great "second" option for the Wisconsin offense. But don't think Oregon can't make plays defensively. Even with some big names no longer there the Ducks defense is still flying high. Oregon is tied for second in the league in forced turnovers with 7. Only Alabama with 8 sits ahead of them. Oregon has only allowed 65 ypg rushing through three. In fact 2 of the three Oregon opponents failed to break 50 yards rushing in the entire game. OH YEAH! And Oregon blanked Miami in week two, so they are more than capable of slowing down an offense like Wisconsin.
But what about when Oregon has the football? Can they Score? Well, once again ask Miam (sorry Hurricanes), they put up 51 in that game. Oregon is also spearheaded by their quarterback play. While not as big of a threat on the ground as Jones, Phil Camit gets the job done through the air. Already over 1,000 yards passing Camit is averaging 363 ypg and has thrown for 9 touchdowns. The Ducks will get it done on the ground however. Brandon Thomas has proven hard to bring down and averages over 130 ypg so far. To slow down the Oregon offense Wisconsin doesn't need to look much further than the big guy right in the middle of the line. Iman Porter has recorded 19 tackles, 14 tackles for loss, and 9 sacks. His nine sacks in three games is already half of his 10 game total from a season ago. If Porter has another big game in the middle it could spell trouble for Oregon.
This game is the Monday night opening game for a reason folks. It should be entertaining, it should be exciting, and it should be much closer than the last two times these teams have met. If this game is decided by double digits I would be very surprised.
Texas vs Oklahoma (Cotton Bowl)
This game is number two on my list. Just on the surface one may not think much of this game. Oklahoma is 2-1, their one loss coming last week to a very good LSU team. And Texas is 1-2, their one win coming last week against a struggling West Virginia squad. But Texas is the defending Big 12 champs and their two losses are by a combined 6 points to combined 6-0 teams. So to be fair Texas may be much better than their record states.
In week 3 Texas looked as if they got right against WVU. The Longhorns out manned the Mountaineers pretty much all over the field. Things will not be that way in the Red River Showdown against hated rival Oklahoma. Quincy Myers and Hollywood Mason lead a receiving corps that has hauled in 10 of QB Kai Kohko's 13 touchdown passes. Throw in the talented TEs of Oliver Kabat (1TD) and Jason Jax (2TD) and it is pick your poison when Texas throws the football. With Brandon Black now gone the bulk of the carries have gone to transfer Axel Riggs. Riggs is averaging 86 ypg this season. He would love to see his workload increase, and it may have to if the Longhorns are going to find the same success they did a season ago.
Defensively Texas is anchored by Safety Joey Cass. Cass is a leader in the secondary and loves to play downhill and put huge hits on ball carriers. Cillian MacBride leads Texas in sacks with 6 and Stewie Peterson leads the team in tackles with 27. These three are going to have to be at their best come game day because they are up against a very high powered offense.
The Sooners are led by QB Jim "Air" Carr. Carr has thrown for 854 yards and 9 touchdowns, and is also the second leading rusher on the team with 251 yards. He leads the team in rushing touchdowns with 5 and carries with 55. Joey Zaza is the Sooner HB, and while he has attempted fewer rushes (48) than the teams QB he is the leading rusher with 281 total rushing yards. Zaza is averaging 5.9 yards per carry but has yet to find the endzone this season for the Sooners. He would love to see this change against Texas Saturday. Tyrone Hall is the unequivocal leader of the Sooner defense. Hall has a team high 33 tackles. But it will need to be a group effort to shut down Texas, and look for the secondary to play a huge part in this one. Safeties Johnny Ray and Mitchell Lott along with Cornerbacks Madison Nicole and the team leader in interceptions Khamil Sanders are going to have to be lock down players on the back end.
Thank you again for joining me. I hope you enjoy the view from the booth as much as I do. See you next time and I hope you enjoy the two games we looked into as well as the other 10 amazing games we have set for week 4.