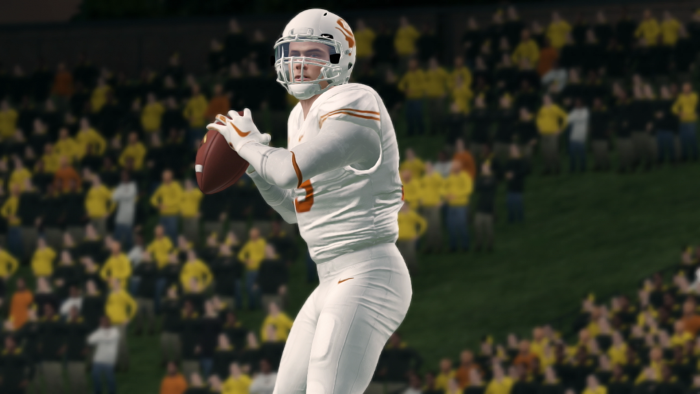 What a time to be alive.
The season 13 playoffs are now upon us with new hopes and dreams and in this case, a opportunity for revenge.
The Longhorns and Cowboys meet in their 6th installment in this much anticipated rivalry. Jooby vs OkState, friend vs friend, B12 rival vs B12 rival.
Every matchup in this series has been within seven points or less, with Texas beating Oklahoma State, and their only loss this season, 56-49 earlier this season. These teams have met in the playoffs as well with Texas beating the Pokes 44-37 last season. Texas has won the past three meetings, can the Cowboys finally shake off the Longhorns? Or will Jooby and company be too much? Lets take a look.
PAST MEETINGS:
S9: OKSTATE 48 – TEXAS 45
S10: OKSTATE 48 – TEXAS 41
S12: TEXAS 41 – OKSTATE 37
S12 PLAYOFFS: TEXAS 44 – OKSTATE 37
S13: TEXAS 56 – OKSTATE 49
OKLAHOMA STATE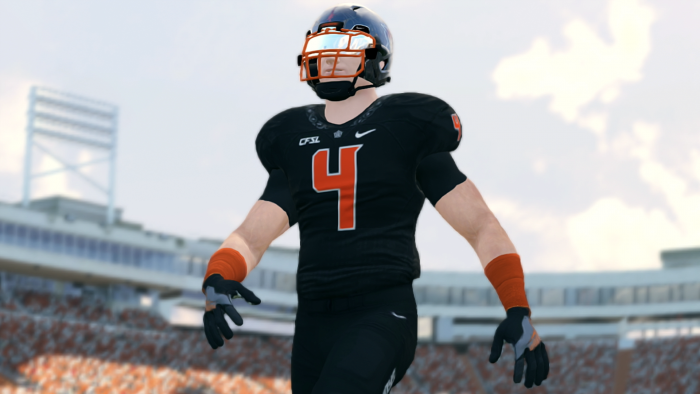 Oklahoma State comes into this game on the strength of their offense. Leading the league in offensive yards per game at 529.4, they are also third in points per game with 43.1. This offense is built around the pass as QB Harrison Murray averages 454 yards per game in the air, which leads the league. The Junior Quarterback was named OPOY candidate earlier this week, and is having his best season ever with 3,633 passing yards and 29 touchdowns thrown. His top receiver is Ethan Martin, who leads the team with 71 catches and 833 receiving yards and five touchdowns. If Oklahoma State is going to have success on offense, its going to be deep shots to Martin and the red zone threat of Brandon Reichle and Rip Tuttle, who both have nine receiving touchdowns.
While known for their offense, the Pokes defense is about average at best in terms of stats. Not much pressure up front as they have only sacked opposing QBs 17 times, which is tied for second worst. The defense keys in on turnovers as they have 18 turnovers this season which is third best with corner Thor Brown pulling in four interceptions to lead the team. This defense is going to need superior coverage of the Texas wideouts if they want to keep their offense in this game.
TEXAS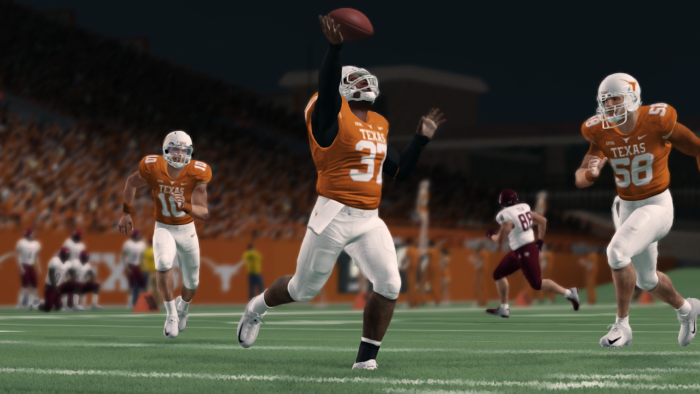 The runners up last season, the Longhorns come into this game hungrier than ever to eliminate any doubts if Jooby can close the deal on a championship. The Longhorns are lead by their own OPOY candidates in QB Kai Kohko and WR Quincy Meyers. The Kohko-Myers connection has averaged over 126.6 yards per game and 14 touchdowns. Texas is also the only school ever to put up over 80+ points twice, even in one season. Not as shiny as Brandon Black from a year ago, Axel Riggs has held his own with over 600 rushing yards and 200 receiving yards. The dual threat HB has scored two touchdowns in each of the last two games on the ground and he alleviate any mistakes that Kohko might make against this OSU secondary.
While the Pokes struggle getting to the QB, Texas has had no issues with a league leading 47 sacks on the season. The Horns D is led by Cillian MacBride with 17 sacks and the only Horns player with double digit totals. Make no mistake, Enrico Pipino and Ellis Emery also get to the QB with seven sacks a piece. This secondary will be tested but will be led by safety Joey Cass who has 69 tackles and 14 tackles for a loss to go with five interceptions.
WHAT TO WATCH FOR
The big thing to watch for is turnovers. We all know how both teams can put up points and defense will be a nice dessert for the main course of offense, however, both teams rank in the top-6 of turnovers with Oklahoma State second and Texas sixth. We all saw Murrays game of seven interceptions but there also has been Kohkos three straight games of a fumble and he threw for three interceptions against this Oklahoma State squad in their last meeting.
WHAT THE LEAGUE IS SAYING
"It was a fantastic game the last time they played, scouting this game I really feel this game though Texas walks away winners again. Texas had no answer for Murray but that was all they had show up. Texas was dangerous in the air and on the ground, with a balanced attack I just don't see them stopping them." -Stephens7890
"We gonna mess em up" -Stmac15
"Texas and Okst is an interesting game because it shows 2 of the greatest Minds in the CFSL Going head to head" -Bigtinktink
"My secondary still has whiplash from watching Texas receivers run by them. And I still have nightmares about blowing a 24 point lead to OkState. The key to this game will be defense. Which ever defense makes the most plays wins. The offenses will get theirs. Which defense can make that big stop or force that one big turnover is the question. Houston is desperate to beat Jooby it seems. I am predicting that he gets this one…but it is going to be close. OkSt 48-45" -Bigmurph23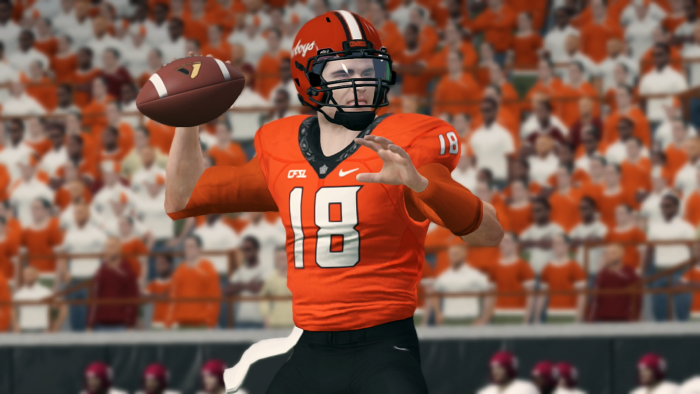 HORNS PREDICTION
If you know me, you know my predictions are always wrong. I couldn't make the right prediction even if I knew the score and was told exactly what to write. Anyways. I like Oklahoma State in this one. No hatred to Texas, especially from a guy named HornsNation, but Texas has been hot against lower teams. The Longhorns are 2-3 against teams above .500, which does include a one score game over the Oklahoma State squad. These two teams always play down to the wire and Jooby has gotten the best of Okstate the past couple of matchups, but you figure he is due. The Pokes win a close game, 52-48.