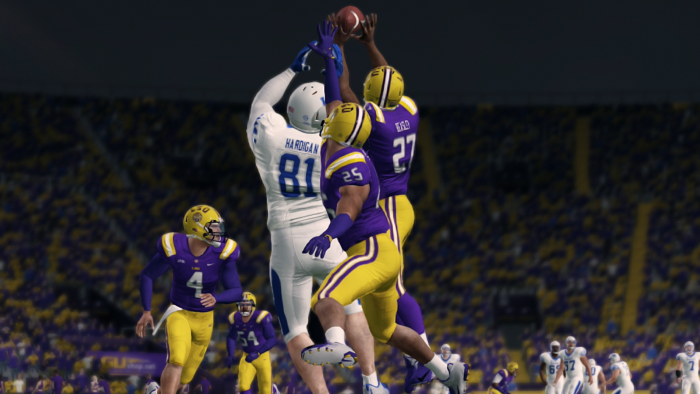 Notre Dames quest for a second championship in back to back years lives on after their win over Wisconsin, 13-6. LSU continued their march to a perfect season with a big 34-19 win over Kentucky. Both LSU and Notre Dame met once before in season two, with Notre Dame winning 31-24. Both of these teams would love nothing more than to prove that they should still belong in the playoffs. For Notre Dame, my questions have come up regarding their ability to keep momentum, even though they have lost one game the past two seasons. LSU wants to continue to prove that Tink knows what he is doing and should be taken seriously.
PREVIOUS MATCHUP
Season 2: Notre Dame 31 – LSU 24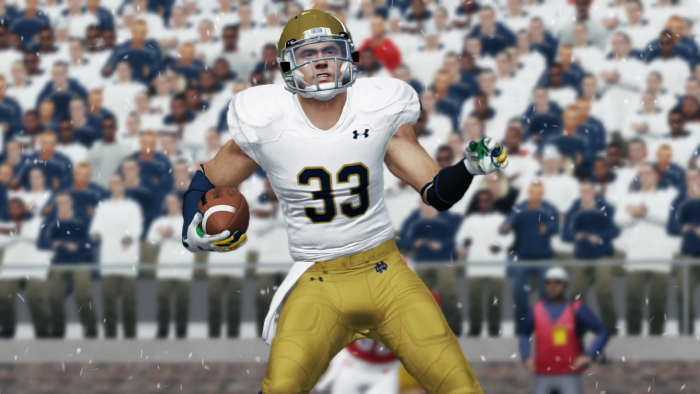 NOTRE DAME
After getting their butts kicked in their prior matchup, Notre Dame played a physical, Big10 style of football with a 13-6 win over Wisconsin. While it wasn't the greatest game in the world, the Irish did what they do best, just win. Both offenses struggled but Notre Dame was able to score late to ice this game. Only 281 yards of total offense, Notre Dame is counting its lucky stars that it doesn't need to play in the North anymore, which should increase their odds even more, while getting back to their brand of football. HB Duece Williams will need a big game tonight and this offense has to find the endzone against a really good LSU defense.
LSU
A lot of people thought that LSU would lose to the upstart Wildcats but Tink proved again that LSU is here to stay. 466 total offensive yards to go with pure domination with their offensive time of possession double of Kentucky. The offense just clicked with Justin Morris Junior passing for over 300 yards and three touchdowns. DPOY candidate, Dillon LeBlanc, let the defense with eight tackles. Tristan Tate was huge with four tackles for loss and three sacks. LSU can win this game if they continue to burn clock and convert their third downs.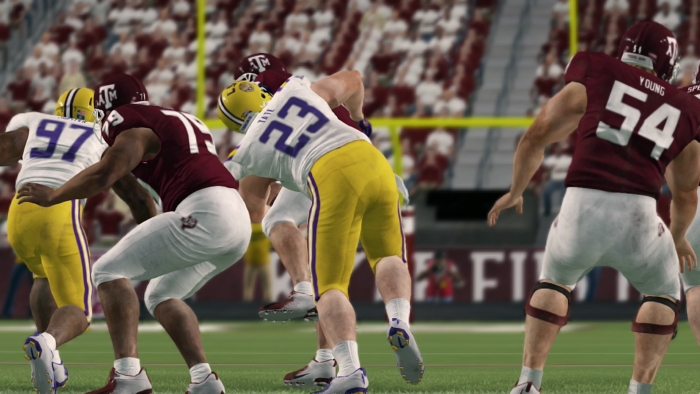 WHAT TO WATCH FOR
Notre Dames offense is going to be tested against this front seven of LSU. We have seen Notre Dame struggle before with quick defensive tackles and now they get to go up against a DPOY candidate in LeBlanc. LSU's defense has only given up 26 points in a game at most, against TAMU. If I am the Tigers, I am licking my chops after seeing the stat line from last week for Notre Dame. Thankfully this game is in Southern California, which should help the Irish out.
WHAT THEY ARE SAYING

"LSU has a great defense, gonna be a tremendous challenge. Hopefully our running game decides to show up" – Wookie
"This year's LSU is definitely one of the best defenses ever. Wisconsin and Texas have also been REALLY good." – EjRuiz
"LSU's defense is the best in the league without a doubt." – StMac15
HORNS PREDICTION
I like LSU and Notre Dame. Considering I was on the field for their last matchup in season two, this game can come down to either team. LSU has surprised many here, including myself, and went undefeated thanks to some big wins over playoff opponents. Notre Dame is also the reigning champion and has only lost once in two seasons. I really think this game comes down to the final possession and I can see Notre Dame making another trip to the championship, Irish by three, 28-25.