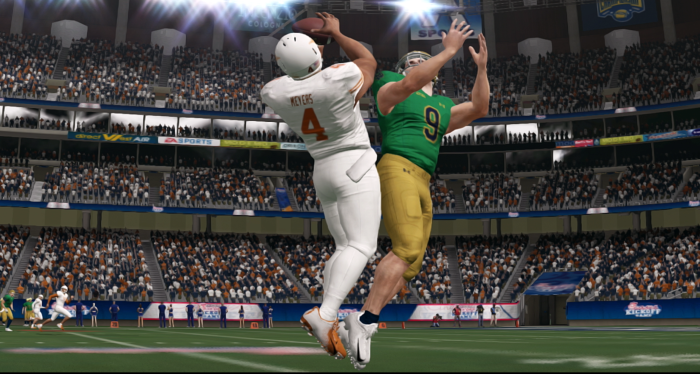 The tickets are punched and the season 13 championship game has been announced! No need to refresh your screen as this is the exact same rematch of the championship game a year ago. Texas Longhorns take on the Notre Dame Fighting Irish for another highly anticipated match-up. For Texas, they will look for their second championship trophy and Jooby's first as an AD. For Notre Dame, they are looking to become the first school with three titles and Wookie would be the first AD with two titles of his own!
PRIOR MATCHUPS – HornsNation
This will be the 10th matchup between the two schools. Notre Dame leads the series 5-4.
S4: Notre Dame 38 – Texas 33
S5: Notre Dame 34 – Texas 27
S6: Notre Dame 31 – Texas 24
S7: Texas 28 – Notre Dame 21
S8: Texas 69 – Notre Dame 27
S8 Rose Bowl: Texas 37 – Notre Dame 20
S9: Texas 49 – Notre Dame 42
S12 Championship: Notre Dame 44 – Texas 41
S13: Notre Dame 33 – Texas 30
TEXAS LONGHORNS OVERVIEW – Stmac15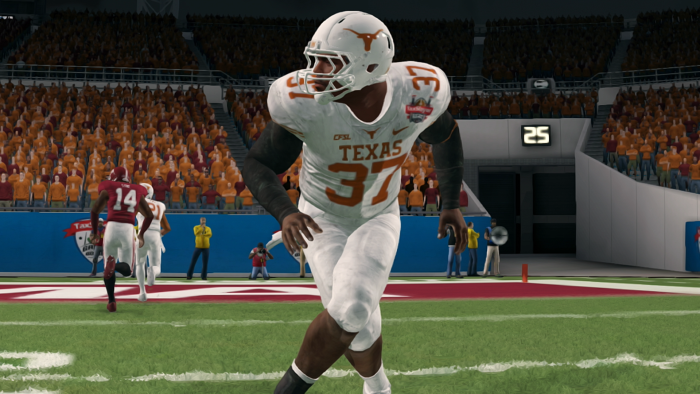 The Longhorns head into the National Championship with a 7-3 record (5-1 Big 12), undefeated in their last 5. Their 3 losses came to Notre Dame in week 1, Auburn in week 2, and LSU in week 5. Their biggest loss of the season came at the hands of LSU, an 11-point margin. Jooby's Longhorns come into this game boasting the highest-scoring offense in the league. Their defense, led by Joey Cass and Cillian MacBride, leads the league in sacks and takeaways. There are multiple Longhorns looking to break records as they head into the final game of the season. Quincy Meyers is currently tied for the Texas single-season TD record(16), and is likely to break that this evening. His roommate, Joey Cass is tied for the CFSL single-season INT record (7). MacBride is currently chasing Nick Harley's sacks record (25), and could break that record, as he currently has 25.
The key for Texas will be their offense. While their defense has been good, their offense has been great.They'll be put to the test, as Notre Dame has the third-ranked defense in the league, allowing only 22.5 points. Jooby will need Kohko and company to be perfect. If they can run the ball and win the possession game, they'll have a chance to avenge their season 12 National Championship loss.
NOTRE DAME OVERVIEW – Hornsnation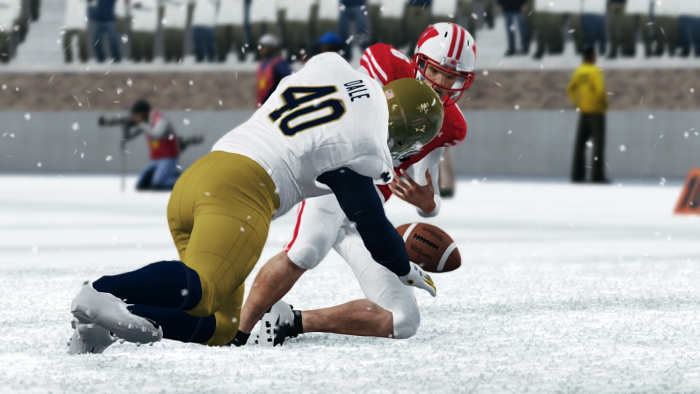 Notre Dame comes into this championship game on the heels of another successful season. We saw Notre Dame lose their first game in two seasons to Wisconsin, but they quickly picked it back up after beating the Badgers in the playoffs. The Irish this season is more of a balanced attack than seasons before. Their defense is lead by superstar Rocky Dale. Dale collected 117 tackles, 23 tackles for loss, two sacks, and two force fumbles. If there is anyone that can stop the Texas rushing attack, it would be Dale.
On offense, the team is led by five star QB, KyShawn Williams. Williams put up respectable numbers this season with over 2,000 yards passing and 16 passing touchdowns. He has struggled down the stretch but the team has been able to lean on Duece Williams more as he amounted to over 800 yards rushing. Jase Nicklebury is the wideout to watch as he has over 700 yards receiving to go with five touchdowns. He is averaging over 15 yards a catch, and is the big play wideout that Notre Dame needs to get going to open up the run game.
In all most all their wins this season, Notre Dame has won by 10 points or less. So if this is a close game, the Irish have made a habit of spiking blood pressures in South Bend with their ability to win by one score.
WHAT TO WATCH FOR – BigMurph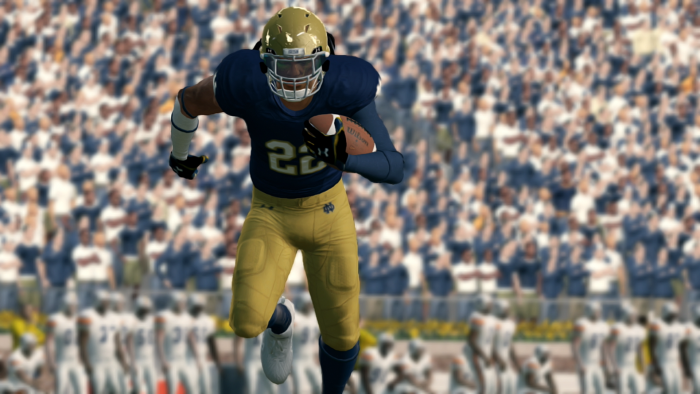 When ND has the ball:
There is no secret to what makes the Fighting Irish tick. The law firm of Williams and Williams (Kyshawn and Deuce) have spearheaded the Notre Dame attack for the past two seasons and as they go the offense goes. Deuce opened the season with three consecutive 100 yard rushing games while Notre Dame surprised teams by just how committed to the run they were early in the season. Once Notre Dame shifted focus back towards the sky Kyshawn took off. In game number four of the season he exploded for over 400 yards passing and threw 3 or more touchdowns 4 times this season. If these two can get it going on Thursday night it could spell T-R-O-U-B-L-E for the Longhorns.
Stopping ND will have to be done at every level. Luckily for Texas they have playmakers at all three levels on defense. Cillian MacBride, freshman DE, will have to start by getting pressure on Kyshawn and helping hem in Deuce. Stewie Petterson, Senior LB, will have to cause problems for receivers in the middle and track down the Notre Dame runners. And Joey Cass, Junior SS, will have to do what he does best…seek and destroy anyone with the ball. If those three make plays for the defense Notre Dame could have trouble putting up enough points to win.
When Texas has the ball:
One name, Quincy Myers. That's it. That is the key when Texas has the ball. Yes, they have to protect the man assigned to get it to him, Kai Kohko. But Quincy Myers has caught the ball 59 times and has over 1200 yards this season. In case you're curious and you don't feel like doing the math I did it for you, that is nearly 21 yards a catch. Twenty-one every time he touches the ball!! Not impressed? Okay, what if I told you that every fourth catch not only goes for 21 yards, it goes for 6 points. That's right, Quincy averages a touchdown every 3.6 receptions. Yes, Texas has other weapons, including Axel Riggs. Riggs has rushed for over 700 yards and 6 touchdowns on the season. If Notre Dame shuts down Myers it may be up to Axel Riggs to help pick up the slack this time around.
Notre Dame is no stranger to shutting those two down however. In week 1 Notre Dame beat Texas. Myers had 2 catches for 48 yards and Riggs rushed for only 44 yards. Neither of them found the endzone. Texas did score 30 that game, but ND out dueled them (see above 100 yard performance by Deuce). While some have said the Irish defense isn't as good this season they are 3rd in the CFSL in points per game allowed and second against the pass. So something has to give. Rocky Dale will lead the charge as he has all season. While Sidney Banks Jr will attempt to shut down Myers once again.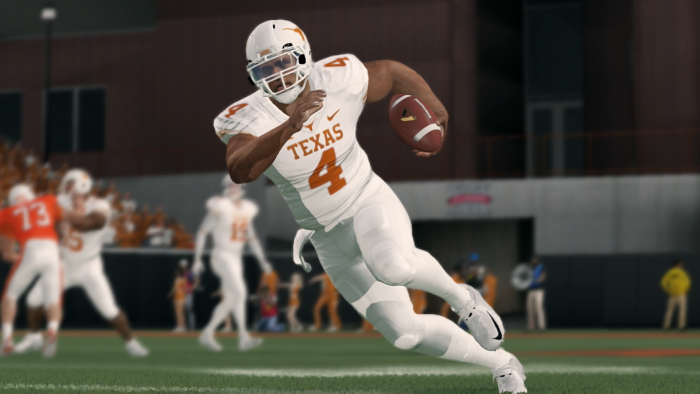 WHAT THE LEAGUE IS SAYING
"I know Jooby feels like he needs to win The Big One to earn his place among the best ADs in CFSL history, but at least for me that's like a cherry on top of an already Hall-of-Fame-bound sundae." -EJRuiz
"From his leadership roles at Clemson and TAMU, through his baptism by fire as an HC at NIU, to his triumphant homecoming in South Bend: it hasn't always been pretty, but his passion and determination have earned him this special moment in CFSL history." – EJRuiz
"I think it's about time we make "Playoff-Jooby" a real household moniker, he's been to 3 national title games in 6 seasons at Texas. They say that you wish you knew when history was unfolding before you eyes; you better look right now or you are going to miss one of the most storied AD careers in CFSL history. A national title in Austin in imminent with Jooby as AD. It's not a matter of if, it's a matter of when.
The man deserves credit, a tip of the cap, a moment of appreciation; Wookie has, in spite of my initial doubts, turned Notre Dame into a program that this league deserves. His run in the MAC at NIU was an indicator of the high energy he can bring to a team, and as the seasons have gone on, he's been able to learn how to turn high energy into top results. The reigning national champions are back for more, and it is likely we'll be repeating the ole cliché "defense wins championships." – OkState
PREDICTIONS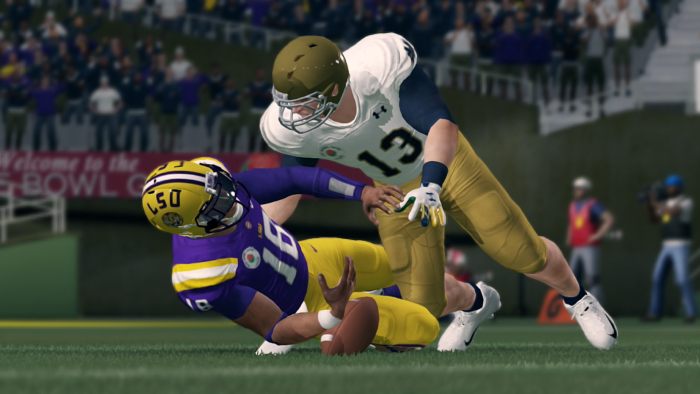 I have been on record as saying that this was Notre Dame's title to lose. They are the defending champions. They went through the fire last season and came out the other side without a scratch or a single burn. This matchup should be as good a way to end Season 13 as it was to start season 13. This should be another close, last possession type of game. In the end I'm going with the Fighting Irish of Notre Dame 31-28. – BigMurph
This is another hard game to predict. Notre Dame has kept games close and has had the luck of the Irish on their side. Texas has had question marks regarding their offense this season and in the ending of the Alabama game, seemed to finally make that final big play after a couple of punts. Jooby really wants to win a title and Wookie wants to cement himself as the greatest AD ever. I think this is going to be a close and low scoring game, but Texas and Jooby finally beat Wookie, 24-21. – Horns