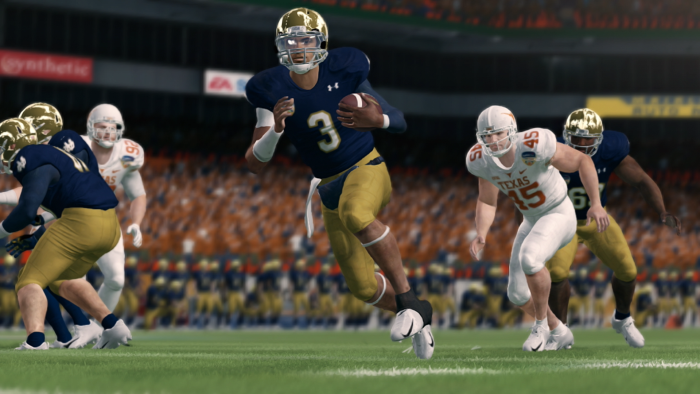 Texas: Everything. Those two words definitely caught me some flack, but to their credit Jooby and the Longhorns got everything they needed and thus were able to return to the National Championship, even if they did fall short once again to Notre Dame. With Season 13 now officially in the books, I knew this popular article needed a sequel. Once again I will look at each roster and find a position or group of positions that each team needs to target in recruiting, just solely looking at who is graduating. Since transfers and early exits as usual will be in flux, I do not take those into account for this exercise. Also, after not including them last season as they built their teams, welcome to the list this season Kentucky and West Virginia! To shake things up, this time around the teams are listed in alphabetical order, but by conference so that Wisconsin isn't last again.
Big Ten
Boise State – Cornerbacks
This season was a disappointment for the Broncos, and I do think they'll need to target much more than CBs on the defense. However, with Senior CBs Wayne Finnegan and Ryan Garner leaving, along with star CB Payton Parker entering his Senior season, Boise State will be on the hunt for new CBs. Expect at least one big name to come to Idaho in the position, if not two.
Iowa – Quarterback
Iowa might be one of the most interesting teams this recruiting season not only in the Big 10, but the country as well. The headline starts with replacing Senior QB Lyle Fletcher. Not only is he leaving, but so is HB Tanarius Harris and two 5 star WRs. Iowa will be targeting offense hard this offseason, and while there is quality depth already on the roster for the skill positions, all eyes will be on who is the next QB in Iowa City for Season 14.
Michigan – Linebackers
While Michigan also is losing skill at WR/TE and at CB, I chose Linebackers to focus on because of who is leaving there. Mickey McGuire, Freddy Tramel Jr, and Aaron Heil all leave, and that is a lot of star power to replace for the Wolverines. With a bunch of openings, look for Michigan to be one of the most active teams in the country on both the freshman and transfer recruiting scene, with maybe a push for some experience here at Linebacker as well as some new faces.
Notre Dame – Defensive Line
Notre Dame has 5 seniors on the defense alone graduating, but I chose to focus on the line as that is where there is the least depth currently for the Fighting Irish. DT CJ Freeman and DE Cameron Wolf (maybe one of the best 4 stars ever) both graduate and leave half a front 4 for Notre Dame to replace.Freshmen Demarcus Young and Ben Craig have talent, they had 4 sacks combined this season compared to Freeman and Wolf's 26. Notre Dame might go transfer here and get some experience, but expect this to be a big position of focus for them regardless.
Ohio State – Tight End
The inaugural PIT Champions return almost everyone possibly, with the biggest name graduating by far being TE Blakely Radloff. The only other TE on the roster is 3 star freshman Cameron Mills with 11 catches total this season, so while the Buckeyes might not be as active as the team up north in recruiting this offseason, they will have a clear focus on what they need to replenish going into Season 14.
Oregon – Outside Linebacker
Oregon is another team with very few holes to fill from those graduating, only losing two seniors. However, similar to Ohio State they lose one big name, Elite OLB Bradford Dexter. Dakota Montana and Matt Walker remain big pieces on the outside and inside respectively, but Oregon will likely make getting a new partner on the outside for Montana their biggest goal going into recruiting. CB David Ritta also leaves, and with that there is space to add in the back of the defense as well for the Ducks.
Washington – Halfback
While Cornerbacks are also a concern with two graduating, by far the biggest name leaving this team is HB Dion Hawkins. Leeroy Brown was the second string and is elite himself, but the rising junior only got 9 carries and 12 receptions on the season and I don't think the Huskies stand pat here. Either a freshman will come in behind Brown or maybe they go for the transfer market, but another HB will be the biggest story in Seattle recruiting-wise.
Wisconsin – Safety
With only one senior graduating (WR Daniel Banaszewski, 0 receptions this season), Wisconsin will be quiet on the recruiting front, at least when it comes to freshmen. However, their biggest position of need to restock this offseason is at Safety. The position group had no interceptions and it is an area Wisconsin should be looking to upgrade. Look for them to try to find a big fish on the transfer market likely, and I wouldn't even be surprised if Wisconsin tried getting two big names at this position.
Big XII
LSU – Defensive Backs
While the loss of Dillon LeBlanc hurts, LSU has 3 elite freshmen on the D-Line, so I think they're going to be ok. More importantly, the Tigers lose 4 seniors on the back end of the defense, including Elites such as CB Aaron Whitten and SS Derrick Freeman. While some production will be handled by guys already on the roster such as Elite CB Coby Wiersema, there are too many guys graduating for LSU not to target this position group hard this offseason.
Missouri – Middle Linebacker
Both of Missouri's MLBs, Sean Moore Jr and Jon Rolon, are Elite 5 stars who graduate. Missouri has a few other smaller needs, but the headline this offseason for them will be replacing two of their biggest stars on defense. OLB Damian Lewis also is a rising senior, so depth on the outside couldn't hurt either for a Tigers team looking to rebound next season back into playoff contention.
Nebraska – Quarterback
Similar to Iowa, Nebraska is going to be a big story in recruiting as the Cornhuskers look to find their successor to Courtney Harris. This is a big offseason for Nebraska for the rest of the offense too, with Gary Kehn and Ezekiel Williams also graduating at WR. While on paper Nebraska has some depth to work with on offense, look for Nebraska to be one of the more active teams recruiting offense this offseason.
Oklahoma – Offensive Depth
Oklahoma is another young team with very few graduating seniors, just HB Thomas Welch and WR Andrew Jordan. With some talent at those positions already on the roster as well, the Sooners have a relatively simple job this offseason when it comes to recruiting. Replenish and reload on offense to supplement Jim Carr and help Oklahoma retool for another big season. Carr only has 2 seasons left of eligibility, so Oklahoma will be aggressive these next two years in trying to get him further in the playoffs.
Oklahoma State – Wide Receiver
Oklahoma State fans knew this one was coming from a mile away. Not only do the Cowboys lose one of the greats in Ethan Martin, but Rip Tuttle and Dylan Smith also graduate from one of the CFSL's most pass happy offenses. Stillwater will be a popular place for transfer WRs, and add to that a focus likely on getting some more freshman in the room, and while Oklahoma State has their work cut out for them, I also think they have the ability to reload as rising senior Brandon Reichle takes the presumed #1 WR spot.
Texas – Wide Receiver/Tight End
Well, Texas, you don't need to replace everyone this offseason. While Texas was able to get everything they needed to repeat a run to the championship game, the Longhorns still couldn't get a win once again against the Fighting Irish. This offseason, in pursuit of their third straight appearance in the big game (and hopefully first championship since Season 5) Texas has a few spots to reload at. Notably, WR Hollywood Mason and TE Oliver Kabat will need replacements. Texas has been a team that loves to go for a flashy transfer (Kai Kohko anyone?) and I wouldn't be surprised if that is the route Texas takes this offseason.
Texas A&M – Linebacker
The Aggies lose a few key pieces to graduation this offseason, but none are as important as MLB Allie Peters. Peters is another all time great moving on, and the group as a whole loses OLB Ty Linker as well, another 5 star. A&M is going to be busy on the defensive side of the ball in recruiting, and with 3 total spots open at the very least in the Linebacker position group, the challenge to reload at that position begins.
West Virginia – Defensive Back
While the Mountaineers had a tough first season, this is a young team with some interesting talent. Specifically, West Virginia had issues with pass coverage and compared to their Big XII rivals only have 1 5 star Cornerback (rising junior Jammer Moore). West Virginia's #1 goal this offseason should be to improve the talent on that side of the ball, and expect Nate Murphy and his staff to be busy this offseason improving talent on every facet of the roster.
SEC
Alabama – Quarterback/Wide Receiver
While it didn't end the way they wanted, Alabama remains maybe the best stories of this season in their turnaround and great play. The headline is Doug Day, fresh off setting almost every passing record possible, graduating. While that will be a big hole to fill, the bigger issue might be that 3 of the 4 top receivers by receptions this season for the Crimson Tide offense graduate. Rising sophomore Carlos Shapovalov and rising junior Ryan Torrance both have talent and experience, but besides the new QB Alabama will need at least one (if not more) WRs to help whoever tries to succeed Day in Tuscaloosa.
Auburn – Defense
Pack might have one of his biggest challenges in recruiting yet this offseason. 3 of the 4 Defensive Linemen, 2 Linebackers, and 2 Cornerbacks all graduate this offseason. Most of these guys were 5 stars or better too. Among the stars leaving, Auburn now must aggressively recruit just to keep up with their rival Alabama, let alone catch them. It's about the toughest challenge any team in the CFSL has this offseason, but no one has a better record on these challenges than Pack. Look for Auburn to be maybe the biggest recruiting story this offseason.
Clemson – Defensive Backs
While Clemson has a bunch of notable pieces to replace this offseason, the Tigers lose CB Will Stephens and SS River Madison, both Elite 5 stars, to graduation this offseason. That's not to say that Clemson doesn't have great talent at that group already on the roster, but many teams, Clemson included, like to have as many great guys on the back end of the defense as possible. Many teams are looking for help at this area as you can infer from this article as well, so Clemson will be in hot competition this offseason to reload at this position group.
Florida – Quarterback/Halfback
As a broadcaster, Florida has been one of the most fun teams to call the last few seasons. Their high flying offense set some records and needs no introduction. But this offseason, the biggest story is the loss of both QB Ronnie Blevins and HB Doc Smith. Florida's offense is entering a new era, and it goes without saying the Gators will be focusing on finding Blevins and Smiths' successors as their biggest priority once recruiting gets underway.
Florida State – Tight End
On the other side of the state, the Seminoles' defense this season was a blast to call, and Florida State now looks towards building upon a good season to make it into a great season in Season 14. The biggest need for Florida State for recruiting is at Tight End, where seniors Haden Pettijohn and James Bayse leave no remaining TEs on the roster at the moment. With not many other holes to fill, expect a push for Florida State to get one, if not more guys at this position on the roster for next season.
Kentucky – Middle Linebacker
Kentucky was another great story this season, with an excellent expansion season that took the Wildcats well above preseason expectations. No graduating seniors is also a big plus for this squad, so instead Kentucky will be more focused on filling depth instead of replacing. At MLB, 4 star Cliff Davis is the only guy currently on the roster, so look for Kentucky to try to target that as maybe their biggest goal to improve this offseason.
Miami – Defensive Backs
No doubt about it, it was a rough season in Miami as the Hurricanes went 1-7. There is hope for the future, however, on this young team. The biggest area for the Hurricanes to replace when it comes to graduations is at DB, with seniors David Anderson Jr and Hunter Watson depleting an already thin group. The Hurricanes have their work set out for them, and I expect it will start with big recruiting pushes on the back end of the defense.
Tennessee – Wide Receiver
Another team that had a rough season, the Volunteers are also another young team with not too many guys to replace from graduations. WRs Reese Elliott and Shawn McLaren leave an offense that had issues this season, and with not a bunch of guys on the roster currently, expect Tennessee to work hard in replacing and replenishing multiple groups on the offense, not just at WR.