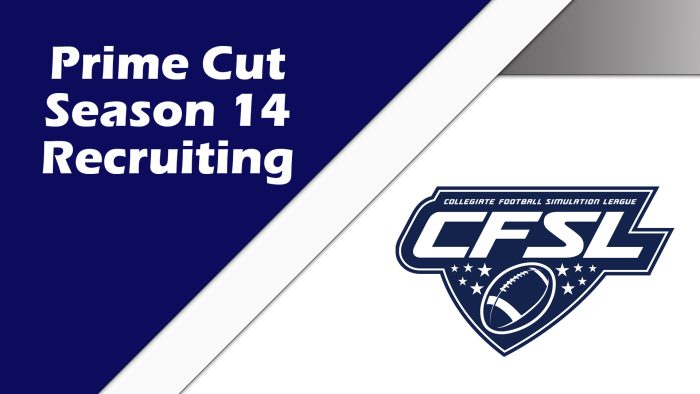 by WorldClassMatt
Typical of an exciting CFSL offseason, this year was no different. A massive influx of talent, including more than 100 new players created, allowed many teams to fill all their needs. Some did more than others. A few jumped at the opportunity to retool their team to Elite status. A couple of others missed the boat and will have to settle with far less. Either way, here is a look at the winners, losers, and a look at Prime's unofficial class rankings.
The Winners
There are several teams that did well recruiting, and it is difficult to choose just one winner of this off-season's recruiting cycle. It seems that AD Grin311 along with Aaron Ike, m.scally, jbayse, gspwannabe, and his other staff down at Florida State University went above and beyond recruiting this cycle. FSU was able to sign 10 players overall so far (I'm told they are still on the hunt): six of them at Elite level, three of them at Five Star level, and one at Four-star level, and a three star. This "coup" of top-tier talent will translate into wins for the veteran AD and his staff. Will it be enough for them to be established as the leader in their conference or for them to make the playoffs is yet to be seen.
Michigan under new AD Vennom and Oklahoma under dthall79 seemed to have done well in recruiting also. They filled most of their major holes and were even able to ensure they have significant depth. This could become a championship-level decision they made for recruiting this season. Their teams should have fresh faces that are not walk-ons late in games. These two teams should see a lot of close game victories this year because of it.
The Reloaders
There are several teams who reloaded after losing talent that will be movers and shakers as well. Ohio State, Florida, and defending national champions Notre Dame all made great strides in replacing lost players. Each team should remain in the hunt for playoff contention. Notre Dame AD Wookie said he was very happy with how his reloading has gone in the off-season. The defending champions were able to restock with mostly five-star and Elite level talent. They did add some depth as well that they did not have before.
Teams such as Alabama, Texas A&M, and Oregon had productive recruiting seasons as well. Time will tell whether their retooling and reloading will earn them a spot in the playoffs. Alabama arguably lost the most during the offseason of last year's playoff teams. It will be a true test of their staff if they can continue to find the success they had been enjoying under the gun of Day and the NWO. AD Dobbins has a lot of experience and that should be seen on game day.
The Losers
While you may call them losers, you can't say for sure that they lost anything. The term loser here is just in this off-season's recruiting. These teams are young, tooled, and ready to go. However, not everyone can win at recruiting every year.
Auburn, who at the time of this writing, had zero recruits and is what we will call the loser of this draft. Take that very lightly. Matt Pack is the most established AD in the league. He is known as a Hall of Fame game planner, has vast experience in most situations and you cannot count him out. Do not write off their season. However, for Season 13 recruiting, it was disappointing.
Kentucky and Washington were also relatively quiet during this offseason. I don't think this is from the lack of trying though. Both are young teams that didn't have many scholarships to give out. Sometimes adding just one or two crucial pieces can be the difference between watching the playoffs from home or lacing up for the championship game. Do not count the "losers" out by any means.
Squakbox
I asked several Athletic Directors how they thought they did this offseason in recruiting. Here are some of their responses:
JMel – The Ohio State – "I think the coaching staff did great this season. We got a lot of potential upsides in the 3 stars, We got Radloff another Elite WR to make 3 on the roster. I added a RB who could potentially be awesome. We got better at Linebacker, replaced Blakely with Adams"
HornsNation – Oregon – "I think we were able to add some missing pieces on defense that can really elevate our squad. We want to be the best defense CFSL has ever seen and now it's up to the players. On offense, we wanted to be multidimensional, and I think we hit it out of the park. I really like our team, active, etc. these guys are hungry and want another championship."
Grin – FSU – "To be honest, I know we killed it, but I feel like I could have done better. There are a couple I really wanted that I lost out on. I think we as good if not better than anyone in the league and that is not having an ego. Anything less than a very deep run is a failure for me. We want the Natty and that is 100 percent the target."
ejruiz – Washington – "We came into the off-season with extremely limited needs. We graduated only 4, lost 1 to transfer and 1 to retirement, and only 1 was a starter. That allowed us to be very selective about who we talked to about joining our program, but the competition was obviously fierce for those recruits! We're still looking at our playoff berth from last season as the floor for our performance this coming season!"
smittyth240 – Florida – "We are excited about this off-season. The team has bought into the culture we are building here. We had a great season, showing the league Florida is making its way into the upper echelons of the league. That momentum allowed us to have the kind of off-season we were looking for. Truly though, I owe it all to the Coaching Staff. They did a great job explaining our team and our vision and they truly deserve all the credit for such an amazing class."
Roggie – Season 13 Fan of the Year – "It was a little shocking to me how few DTs there were in this freshman class. We've got a TON of WRs and CBs (which is fine, teams have 4+ of them) but there's a severe lack of DTs and to a lesser extent OLBs and safeties.  Also, I'm pretty impressed with the activity of this class as well. We don't have a group like last year shouting the same stuff 10 times a minute but we've still got the activity, which is really nice."