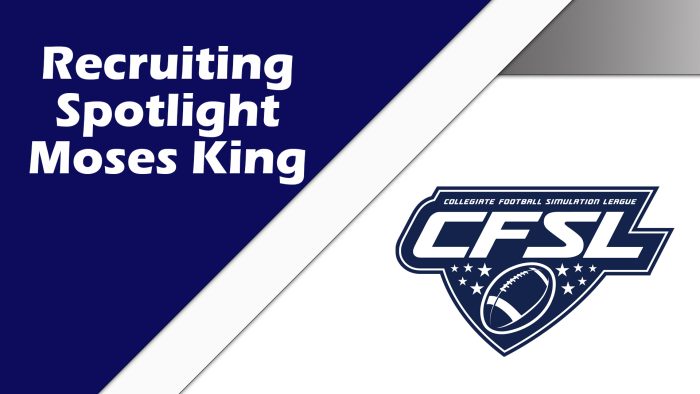 With season 14 of the CFSL approaching quickly, the league has many new faces joining the ranks soon. Season 14 will be as competitive as ever thanks to the high-level talent joining this season. The CFSL wants to help you get acquainted with these potential future stars, so starting today we will be doing a series of interviews with incoming players to help the fans get acquainted with the new faces of the league. If you are a new recruit who would like to be featured in a spotlight, or you know of a player you'd like to see feature, reach out to me on Discord.
For our first spotlight, we are featuring new LSU Quarterback Moses King. Moses has been a vocal recruit so far, and is joining one of the best teams the league saw in Season 13. We sat down with Moses to get to know him, and to see what he plans to show the league this season.
---
Moses, I wanted to thank you for agreeing to this interview, I'm glad to have you here!
I'm always here for my people.
How does it feel to finally be starting your CFSL journey? How do your friends and family back in New York feel?
I've felt for a very long time that the CFSL was one of my goals. I've seen the talent that has come through and is currently in this position. It feels right that The Monarch can finally come in and show the world he is the new ruler of this kingdom.
Tell us about life growing up in New York City. (edited)
It was glorious! Being a part of a prestigious family often time put me in places that most couldn't go to. It's fast pace and a land of endless possibilities. I learned quick that I had to stand out to be seen in anything I did. I prevailed, obviously.
How young were you when you and your family realized you could become a great ball player?
When my mom was pregnant with me, when she burped she use to say "Hut Hut!" and I would move….
Wow, I can 100% say I've never heard that before. Did you start playing football young and did you always play Quarterback?
My father groomed me to be a leader. I have always been a Quarterback. Luckily, I'm gifted in it.
What are you some of your other likes and interests besides football?
Talking to my subjects. Being their leader. Watching rom coms. Knitting.
You sound like quite the Renaissance man. Let's talk about your recruitment. What schools really interested you? Who made your short list?
Once Tink called…. No other team mattered, honestly. I wanted to go to a kingdom and Baton Rouge had a throne waiting for me.
Well speaking for the entire league, we can't wait to see you rule your Kingdom down in the Bayou! Is there a certain team or player that you can't wait to go up against?
Alabama. There was a certain QB ranked higher than me. Notre Dame, because I want to face the best. DJ Brooks in Washington. Whoever we go against in the championship game as well.
I'd love to see those matchups! Tell the CFSL fans what they can expect from Moses King. What kind of Quarterback do you plan to be on the field? Is there a past CFSL QB you want your game to emulate?
Must see Tv is what you can expect. A Passing QB that can run a little. Moses is One-of-One.
Well Moses, it has been great speaking with you. I'll give you one last comment. In a sentence or two, what would you tell the rest of the teams and players in the CFSL before your career begins this season?
The Monarch Moses King of Baton Rouge is here, subjects. I would like for all of you to know that I will be a gracious ruler of CFSL. Fair and fit for the Throne. Please act accordingly. Respect my authority and watch me work. Rings and Blings coming to Baton Rouge soon.
---
Season 14 of the CFSL begins on Monday, April 11th. Tune in to see the debut of the CFSL Freshmen in Week 1! Again, if you'd like to be in the next Recruit Spotlight, or you want to nominate someone to do the same, reach out to Jathan on Discord.