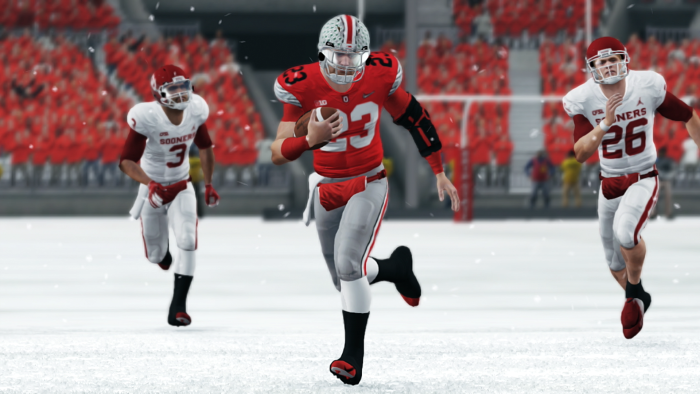 With Season 14 only a few weeks away and the Week 1 schedule announced, everyone has their eyes on the big matchups planned to open up the schedule. With this excitement brewing, I thought it would be good to take a look at each Week 1 matchup, and go through one thing to watch for those games as teams look to get off on the right foot starting April 11th. In addition, I've also ranked the games in terms of how excited I am to watch the games, from least to most, and that is the order I'll be discussing them. Finally, just for fun, I'll make a prediction that'll look horrible in a month you guys can laugh at me for in league chat.
12. Boise State vs Nebraska – New Offenses
My apologies to Clutch and Rury, the respective ADs in this matchup. It was hard to pick a game I'm least excited for, but on the bright side, fans of these two teams get to be the first talked about! Boise State almost certainly is rehauling their offense after a putrid showing on that side of the ball last season. They've reloaded in recruiting and will look to get Season 14 off on the right foot. Nebraska, meanwhile, also is going to look new on offense as this will be the first Cornhusker game in the post-Courtney Harris era. I'm taking Boise State in this one just because I think Boise State has made enough additions this offseason to rebound offensively and win a few key games.
11. Iowa vs Miami – New QB vs New AD
Coming into this season, Iowa and Miami both are looking for better days after going 2-6 and 1-7, respectively, in Season 13. For Iowa, their hopes are pinned in new QB Justin Morris Jr. coming over from LSU. He'll get Miami and their new AD, JTD, in his first matchup in a Hawkeye uniform. Both teams had moments last season where they showed their respective talents, so this Week 1 presents a golden opportunity for both teams to get a win and start their seasons right. After Miami struggled in non-conference play last season, I have Iowa taking this one and starting the JMJ era with a bang.
10. Missouri vs Michigan – Battle of the New ADs
Similar to Miami, both Missouri and Michigan debut new ADs in big ways. For Missouri, the Tigers see the return of Doma and debuts a recruiting push that has 11 new faces, though only 3 of them are rated 5 star or better. Conversely, Vennom starts his tenure at Michigan with 13 offseason additions, including 6 Elite 5 star rated players. It'll be a fun one in Ann Arbor, but with more additions as well as a home opener in Week 1, I like Michigan in this one.
9. West Virginia vs Tennessee – Who Shows Progress?
The headline for this matchup is two teams facing off who both went 0-8 last season. That includes West Virginia, an expansion team in Season 13, looking for their first win in school history. Both teams have made intriguing additions in the offseason, and while it is easy to write this game off from a national perspective, as we saw with Kentucky last season, there are always surprises in store for who is in the mix or even makes the playoffs. I have a rebuilt West Virginia getting their first ever win in this one.
8. Texas A&M vs Clemson – Defense, Defense, Defense
Last season, both the Aggies and Tigers went 3-5. Despite this, both teams had notably suffocating defense, and were a trouble even for the best teams last season in the CFSL. With both A&M and Clemson getting some big names in the offseason on defense (as well as offense, well get to that in a second), I think this has the potential to be the lowest scoring Week 1 game. In addition, Texas A&M debuts transfer QB Terrell Allen, so I think the Aggies will need to rely on their defense more than Aggie AD Hencerling would like. With a home loss 45-22 to Michigan to open last season, I think Clemson doesn't repeat history and takes this one.
7. Auburn vs Washington – Change is Overrated
This matchup has two of the better teams in the CFSL last season. So why is it ranked in the bottom half of matchups I'm excited for? Well, first off there are a bunch of great teams and matchups for Week 1, so one had to go here unfortunately. But interestingly for this matchup, these two teams had the smallest recruiting classes in terms of the number of players added. So with their rosters returning with mostly guys you saw last season, we see what the guys who remain are capable of. I like Washington defending home turf in their opener with a big season in store for them.
6. Oregon vs Florida – Transfer Time

Oregon and Florida both were big teams in the transfer portal, with Florida possibly being the biggest and landing former FSU QB Rocko Lacey to replace Ronnie Blevins. Oregon also brought in former FSU (and Miami) HB Reign Reaux, making this one heck of a matchup for the former Seminole teammates. Other big transfer names in this game include Florida's WR Zeke Lacey (FSU) and DE Michael Skillman (Auburn) along with Oregon OLB Brock Hoskins (Iowa), this should be a fun (and weird for longtime viewers) game. I like what Oregon has done under new AD Horns and think I'll pick them in this one.
5. Oklahoma State vs Kentucky – No Surprises This Time
Before Season 13, I polled team staffs in the CFSL, and looking at those results I mentioned in an article earlier this offseason that Oklahoma State and Kentucky were two of the more surprising teams in Season 13. Well, now both teams face off in Week 1. With excellent records and expectations coming into this season, will it be Oklahoma State and their high flying offense or Kentucky's well balanced defense taking the edge in this one? Personally, I like what I've seen in recruiting from both teams this offseason, but will give the hand to experience in AD Houston Freeman and Oklahoma State.
4. Texas vs Wisconsin – Who Runs it Back?
Fresh off their second straight championship loss, Texas faces a tough matchup Week 1 on the road against a Wisconsin team that knows playoff losses all too well these last few years. Both teams feature some of the best talent the CFSL has to offer, and with both the Longhorns and Badgers wanting to run it back and achieve glory in Season 14, this matchup presents a huge first test for both teams in their respective journeys. While both teams have excellent QBs, Kai Kohko and Texas continue to be dangerous and Wisconsin might not be able to keep up defensively. I like the Longhorns in this one.
3. Notre Dame vs Florida State – Reloaded and Ready
While numerous teams got great talent in recruiting, it is tough to argue out of any matchups in Week 1 there is more new talent than in this one (LSU-Bama possibly, more on that in a bit). Notre Dame start their quest for 3 straight championships with 7 new 5 stars or better, including big name transfers MLB Haikili Arroyo, CB Rev LeBoucher, and DE Ethan Shoemaker. Florida State lost some guys in the portal, but responded with a recruiting class of 9 5 stars or better, including 6 Elite 5 star transfers, headlined by former Oklahoma QB Jim Carr. Still, Notre Dame has lost one regular season game in the last two seasons combined, and I trust Wookie here.
2. LSU vs Alabama – Battle of the 8-0s
There is good reason this will be the first game of Season 14, instead of featuring Notre Dame again. The big reason is the obvious one, both teams going 8-0 in the regular season last season. LSU brings in a monster recruiting class with 5 Elite 5 stars including new starting QB Moses King. Alabama returns with a salvo of 6 5 stars or better, including new starting QB Ryan Ravenhill taking the Tide into their first game post-Doug Day. This is gonna be a fun one to watch, and it is almost impossible to choose a winner, but I'll take LSU edging with a fearsome defense that debuts as well.
1. Ohio State vs Oklahoma – PIT Championship Rematch
While both teams are significantly different (a combined recruiting class of 26 new players between the two teams) there is a lot to get hyped about on this matchup. The PIT Championship was the last game I called last season and was possibly one of the best games I've had the pleasure of calling (before the Season 2 Pro League Championship anyway). This game will feature QB Vinny Mixon returning to the position to replace Jim Carr with Ohio State debuting freshman QB Logan Radloff. Both teams seem poised to provide another great matchup in this series, and with the pure amount of freshman recruits alone, I think I will take Ohio State once again in this game.