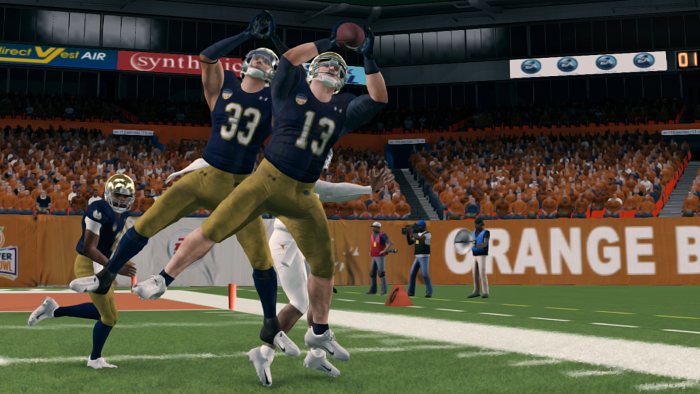 Well, well well.
Here we are again. Another season, another round of Horns Prestigious Preseason Predictions. While most people hate my predictions, announce that I am just satire or come from a family, I enjoy doing these. The playbook draft was about a week ago, so it gave me some time to reflect on if I should say taking a spread playbook with four 99 wideouts was a bad thing, or go another route.
Anyways, lets get cooking.
1 NOTRE DAME FIGHTING IRISH
Well this is an easy one. What am I supposed to do? Rank the Irish 2nd or 3rd after repeating AGAIN as National Champions? (Is Notre Dame just good or Texas bad?). Anyways, the Irish are geared up for another run. Adding linebacker Haikili Arroyo and corner Rev LeBoucher will certainly increase this defense to even higher levels. (as if Nick Hopper needed any help). With the pick of North Carolina playbook, expect a much more heavier dose of running the football, which will make Deuce Williams an early threat for OPOY.
2 FLORIDA STATE
Last season I ranked FSU low. Then was bombarded with messages about how I need to redo the rankings again. I held off, and as expected, FSU tumbled. This past offseason, Tom went to work after dealing with some attrition. Adding seven elites helped and FSU should be back on the up this next season. The only major question will remain, can someone in this league make a FB viable? Or will the pro style doom another team?
3 ALABAMA
4 TEXAS LONGHORNS
Look, you have to feel bad for Texas and team Jooby. Three championship appearances and no title in Austin, the seat down there must be hotter than water in a hose in the sun all day. Texas went with quality over quantity and added some big names such as WR Anthony Delano and Brandon DeMoura. A few more elites to the secondary should put Texas in a really good place in the Big 12. Texas needs to win the championship this season, if not, it might be time for a fresh old face in Austin.
5 OKLAHOMA STATE
Just think of how good the Pokes would be, and how many championships they would have, if Houston did not have to play Jooby every season. The career of Harrison Murray enters its final chapter as the Pokes look to avoid Texas in the playoffs. Seniors Brandon Reichle and Tim Smith look to end their career with at least a playoff win. The Toledo playbook should give Murray OPOY consideration if he can keep the turnovers down. Is this the year Houston escapes Jooby's shadow?
6 OHIO STATE
I dislike Jeff on a CFSL schedule. Only because I know his potential. This season Jeff built up a three star Army and created a great storyline between Trey Woodard and the GOAT up in Michigan. Logan Radloff will have plenty of opportunities starting his career out with elite wideouts and Luke Hall. This Ohio State team won the PIT last season and would love to make some noise in the playoffs.
7 OREGON
I ranked my Michigan squad last season and what a disappointment I had in the AD. This year is different as Oregon is built after having added eight elite players, mainly on defense. OLB Brock Hoskins was likely one of the top defenders in the transfer portal and now makes a home in Eugene where he teams up with all-star freshman DT Tristan Paul and Mo Lloyd on the defensive line. This team is primed with the GOAT playbook in TAMU, can Horns complete the job and win another title?
8 LSU
I usually don't like it when people self appoint themselves GOAT or Kings, but LSU was able to move on from JMJ and pickup Moses King. King will need to fill some high expectations as LSU went undefeated in the regular season but could not get the job done in the playoffs. A rebuilt secondary should help elevate LSU higher on this list but will their choice in UL Lafayette playbook haunt them to another undefeated season?
9 MICHIGAN
Michigan in the top ten again? What is Horns thinking? Okay well maybe not thinking but Michigan looks good this season (but maybe not their playbook choice). The Wolverines go from the "SnackField" to the "Pillsbury Cannon" as new wideouts Bobby Barrett and now elite Derrick Pendleton will be recipients to Thor Savages leftovers. Conner Darian also returns for his final season in a Wolverine uniform but the question will be the defense. Did Venmo do enough on defense to help this offense? And can he break the curse?
10 KENTUCKY
No one expected Kentucky to make the playoffs last season but in their first year, they did it. Pinesaw and company now have loftier goals, like making the championship, and they should be able to do that with their playbook selection of Utah. Not many additions during the offseason but Jackson Miller Sr and Timmy Schneider should help this defense out. Can 14rDavis catch some of that magic from last season or will the sophomore slump strike?
There you have it! Feel free to discuss, hate, appreciate, or just plan call me dumb but I am ready for this season!