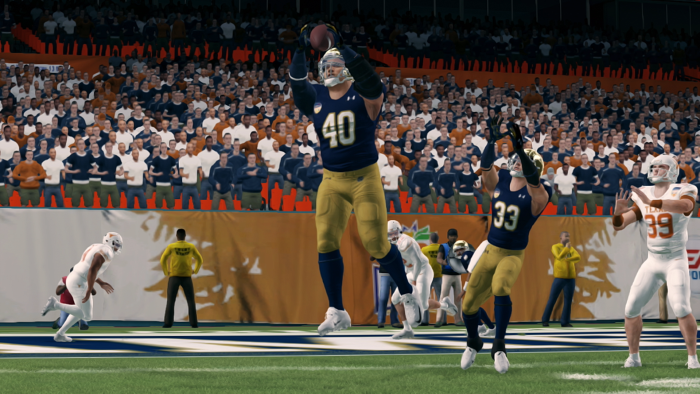 By Jathan
With Season 14 kicking off soon, all eyes will be on the BIG 10 conference. The BIG 10 conference has produced a handful of the best teams in the league over the last few seasons, and I don't expect anything to change in Season 14. The talent level in this conference gets higher every season, but is this finally the season we see a new conference champion arise? In this article, we are going to break down each teams previous season, their offseason changes, and will predict their performance in the upcoming season. Each team will be placed in one of three categories: Top Tier, Middle Tier, or Bottom Tier. Enough talking, let's get into it!
---
Boise State Broncos
Starting us off is the Boise State Broncos. Boise had a disappointing season 13, with only 1 win coming on the season. The Broncos defense was solid all season long, but the Boise offense left a lot to be desired all season. Boise scored less points on average than any other team in the conference. The Broncos needed to add some firepower in the offseason to help the offense catch up to the defense. They added a couple pieces in Tight End Ron Johnson and Wide Receiver Garrett Warner. These are good additions, but I'm not sure it is a big enough change to make a massive difference. We need to a see a new level of play from Quarterback Ryan Smith this season if the Broncos are going to be competitive in the conference. I don't think Boise has a one-win season again, but I definitely don't see them winning this conference either.
Season 14 Prediction: Bottom Tier
---
Notre Dame Fighting Irish
Maybe the closest thing the CFSL has ever seen to a dynasty, the Fighting Irish have been kicking butt and taking names for two seasons straight. I would love to give the rest of the league some good news, but I'm sorry, Notre Dame isn't going anywhere. The Irish did lose some big names in the offseason, including Banks Jr., Freeman, and Henderson. However, the Irish did what they always do in the offseason. Their new Head Coach in World Class Matt brings experience to the Notre Dame coaching room. The Irish also added seven 5-star or better players to the defensive side of the ball. All signs point to Notre Dame being back in the championship hunt this season, led once again by a stellar defensive unit.
Season 14 Prediction: Top Tier
---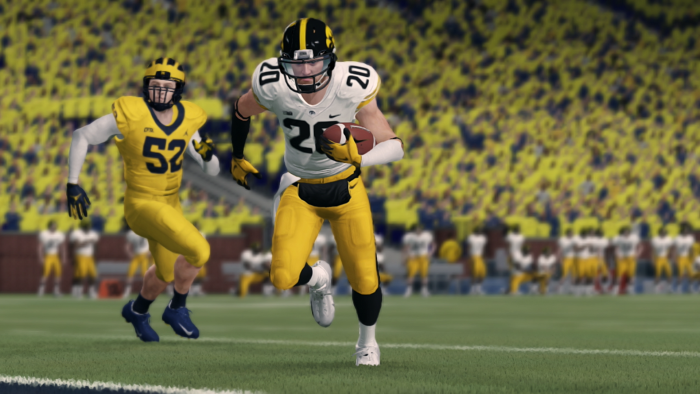 Iowa Hawkeyes
The Iowa Hawkeyes were left unsatisfied after season 13. It was the senior season of CFSL great Quarterback Lyle Fletcher, but they didn't send him into the sunset on a good note. The Hawkeyes only found two wins on the season, with only 1 coming in the conference. Iowa had a very solid defense, but lost leader Brock Hoskins to the transfer portal. The off season wasn't all bad news, however. The Hawkeyes picked up former Offensive Player of the Year in Justin Morris Jr. to play Quarterback for the Hawkeyes. However, last season, their talented Quarterback wasn't good enough to get the job done, coming in 6th in the conference in Points For. The tough Season 14 schedule really cements my pick here. Iowa has success in their future, but that future doesn't start in Season 14.
Season 14 Prediction: Bottom Tier
---
Wisconsin Badgers
If Notre Dame didn't exist, Wisconsin might be in that position. The Badgers have been statistically one of the best teams in the conference for two years straight, coming in as the best defense in the Points Against category last season in the BIG 10. Wisconsin could've done nothing this offseason and they still would've been scary. The Badgers staff still put some work in, adding two Elite players to the offense and four Elite players to the defense. Wisconsin is again going to have as much talent as anyone in the country. The Wisconsin offensive looks a little more dynamic on offense this season in my opinion, but the defensive will no doubt be the heart of this team. The real question is, can Wisconsin finally get over the Notre Dame hump as the best team in the conference?
Season 14 Prediction: Top Tier
---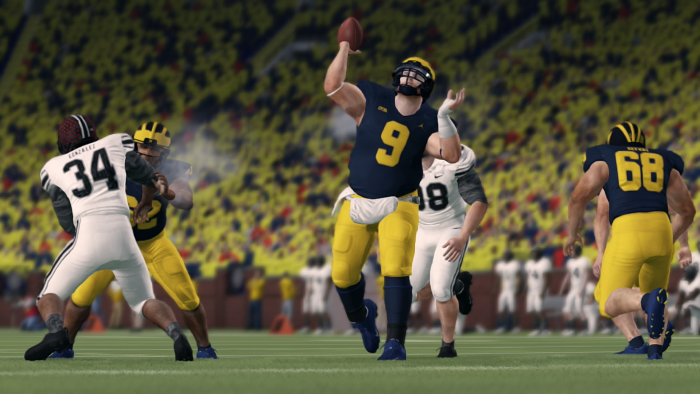 Michigan Wolverines
A lot has changed this offseason for the Wolverines. Former Oregon Athletic Director Vennom moves across the country but stays in conference as he takes over the Wolverines. A new era means a lot of changes for this team. Michigan had a rough season 13, but I don't think its fair to count that against the new AD. Vennom has shown to be an effective game planning AD, so that's a plus. Michigan added a slew of Elite and 5 star talent this offseason, headlined by Elite Safety Brian Mount and Elite Defensive End Charles Davis. Michigan seems to be stuck in a cycle of trying to get to the next level of play. I don't think that we will see Michigan make a title run this season, but I think that they finally will take a step up in both the conference and the league.
Season 14 Prediction: Middle Tier
---
Ohio State Buckeyes
Ohio State is one of the harder teams to evaluate in the BIG 10 Conference in my opinion. The Buckeyes were so night and day on the field last season. The Buckeyes offense seemed to always be firing on all cylinders. The Buckeyes only scored less than 30 points twice all season long, and I believe the offense gets even better this season. The two big offensive additions of Quarterback Logan Radloff and Wide Receiver Jae Holstick are going to thrive in this Buckeyes offense, and I think Radloff has a heavy chance to be the best Quarterback to come out of this class when all is said and done. The main issues I see with the Buckeyes are on defense. To compete for the conference title, Ohio State is going to have to take one the statistically worst defenses in the conferences from last season and make them one of the best. That seems like a tough task to complete in one offseason, so I predict the Buckeyes to once again fall into the middle of the pack once again.
Season 14 Prediction: Middle Tier
---
Oregon Ducks
If you were waiting for a hot take in this article, you've arrived. Oregon fell well short of their expectations last season, finishing 4-5 overall, and an even 3-3 in the conference. This doesn't mean that Oregon was a bad team, this conference is just really tough to play in. However, this isn't the same Oregon team we saw last season. Horns takes over as AD this season, an experienced leader in this league who had a disappointing season at Michigan last year. In his short time as the Oregon AD however, all signs point to Horns improving this team from last year's finish. By my count, Oregon picked up 8 Elite signings this offseason. Horns and his staff also selected an extremely good playbook midway through the playbook draft. Oregon also has the benefit of a decently easy schedule, by BIG 10 standards. It's been a hot minute since Horns was at the top of his game, but I'll say this: The Oregon Ducks can be as good as the Oregon Ducks want to be this season. Do they want it bad enough? I think yes, but only time will tell. I have Oregon challenging for the conference title in Season 14.
Season 14 Prediction: Top Tier
---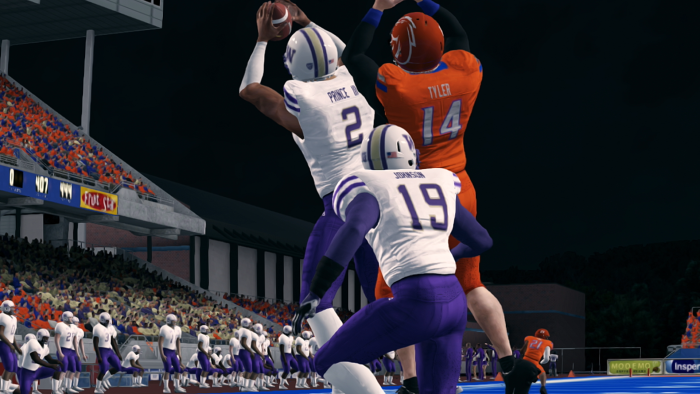 Washington Huskies
Washington is another example of a good team that got swallowed up last season by an extremely difficult conference. We can't forget that Washington had a fantastic offense last season behind All Americans Cairo Croft and August Alexander. They benefit from bringing both of these players back for Season 14, so expect another exciting offensive product from the Huskies. However, the offseason from the Huskies seems a bit lackluster compared to other teams in the conference. Even the more talented teams in the BIG 10 seemed to have exciting off-seasons, but Washington was a bit slow in their recruiting efforts, at least where the upper level recruits are concerned. However, the Huskies were already talented. I don't expect a bad showing from Washington this season, but I see other teams taking leaps where UW is not. I predict another of the middle of the pack finish for the Huskies.
Season 14 Prediction: Middle Tier
---
How do you feel about the predictions? Are they spot on, or are they terrible? This is a tough conference to figure out, so have some grace for me and my predictions. Let us know how you feel in league chat! Season 14 kicks off next week, so stay locked into the Discord to stay up to date on all things CFSL.