LSU vs Alabama!
After a month of off-season preparation, what better way to start off Season 14 than with this epic matchup! Both teams looking to start off with a win, and have big dreams of aiming for another undefeated regular season, while one team walks away with a 0-1 record right out the gate. I fully expect both teams to come out guns blazing and hungry for redemption after each of them ended last season with a devastating playoff loss, each team falling short by only one posession. Another exciting thing to be on the lookout for is the debut of two fantastic freshman quarterbacks!
Alabama:
All eyes will be on the freshman quarterback from Memphis, as Ryan Ravenhill comes in with a tough matchup in Week 1 against a stacked LSU defense. Ravenhill showed glimpses of greatness during his newcomer game for sure, and I expect him to only improve throughout his freshman season, but with that being said, it'll be interesting to see Alabama's plans for this season. Coming off of a record-setting passing season with graduated quarterback Doug Day, will Alabama take the same approach and continue attacking defenses through the air, or will they take a more balanced approach and take some of the pressure off of their young shot-caller? I look forward to seeing what Ravenhill can do against this stellar Tiger defense, and how he handles the pressure.

While we can surely expect Ravenhill to put up points on the board and keep his team in the game, it'll take more than that to overcome such a talented team! I had the opportunity to speak with Coach Gunn, and he thinks this team has what it takes to go all the way this season. "We're expecting to have the best defense in CFSL history. We are bringing back our entire defense minus two starters, who we replaced with some of the best talent in the transfer portal. Last year our Offense was all people would talk about, and for good reason, Doug Day and the NWO are Bama legends – but this year it's all about the D! We are going to take this league by storm." In the next couple of weeks, we will see if Coach Gunn's vision of Bama having the greatest defense in CFSL history is something they can truly achieve, but Week 1 is going to be a challenge from the start. Coach Gunn knows it's not going to be easy, but believes that one thing will put them above the Tigers, and that's leadership. "I believe it will be the leadership of Dobbins that will get us the win. He is a fantastic AD who brings out the best in everyone on this team. He constantly has the players motivated to perform their best and challenges his coaching staff to come up with the best game plans. Our team will leave it all out on the field for him, the AD's leadership will be the difference in the game." My final question for Coach Gunn was asking which player on this Bama defense is an absolute gamechanger, his answer came as no surprise. "I don't know how to answer this. I am the luckiest defensive coordinator in the league, we are loaded at every position on the field….but if you twist my arm and make me choose just one, I'd say watch out for Jessica Narvaro. She's looking to build on her 22 sack season and I feel bad for any O-Lineman that has to block her. The "King" better get used to dirt, cause Jess is coming for him."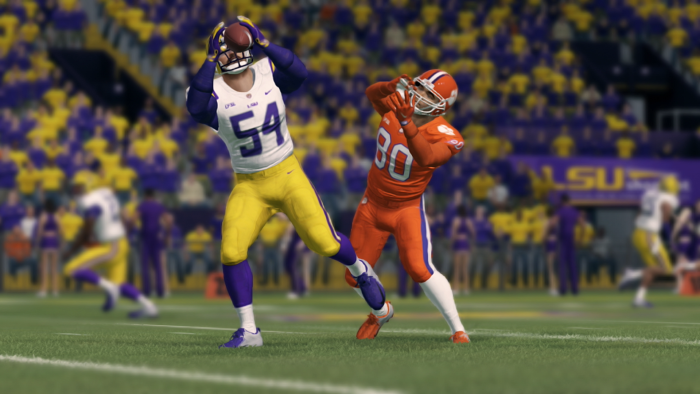 LSU:
When looking back at the Season 13 Tigers, surely everybody's mind goes straight to the defense. There's no way that could get any scarier, right? Wrong. Coach Tink and the LSU coaching staff went hard during the off-season, and had what some would call arguably one of the best off-season recruiting classes in the league this season. LSU added 12 players to their roster during the off-season, with only 3 of them being on the offensive side of the ball. I sat down with Coach Roggie and got to ask him a couple of questions about the Tigers this season, and he knows they're not to be taken lightly. As far as this game against a tough Alabama team, he knows they've got their work cut out for them. "We're going to have to play a damn good game. They're loaded with talent all over the field and have one of the best coaching staff's around. But I think we're just as talented and have a fantastic coaching staff too. It's going to be a close game and it's going to be whoever keeps mistakes to a minimum and takes advantage of every slight opening they get." What did he have to say about the Tiger defense overall? "There's no replacing someone like Leblanc, but I truly believe that this defense is overall even more talented than last years was."

On the offensive side of the ball for LSU, we'll get our first look at Moses King dawning the purple and gold as he leads his fellow Tigers into battle. I'm excited to see how he handles himself on the field, and I think he'll have no problem adapting to the league. Some would argue that his cockiness is too much to handle, but I would argue that the confidence he displays shows that he knows he's talented, and he's here to prove it. Coach Roggie described the young man as "phenomenal", and believes that he's talented enough to be the best QB that LSU has ever seen, while Coach Tink has no doubt that he's got what it takes. "I expect him to be calmed and poised. This isn't his first football game. We are running a system he's familiar with. Gonna play our brand of football. He just needs to focus on not turning the ball over and everything else will fall into place."

Final Thoughts:
I think that this opening matchup has the potential to be Game of the Year. Two teams coming off extremely successful seasons that ended with heartbreak, both looking for revenge, a chance to redeem themselves, and are now led by freshman Quarterbacks. Will Alabama's powerhouse offense be able to dominate the Tiger's defense? Is the Tiger's defense too much for young Ravenhill to handle? I think it's anybody's game, and this game will be remembered for seasons to come.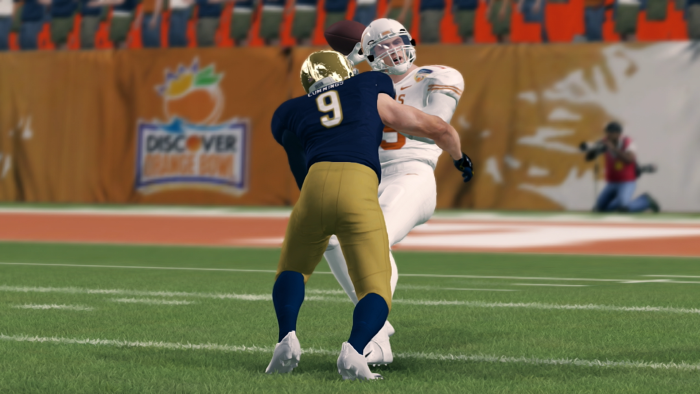 Notre Dame vs Florida State
Heading into another exciting opening game, the question we all have is do the Seminoles have what it takes to dethrone the back to back defending champs? Notre Dame looks to continue their winning streak, losing only one game in the last 2 seasons while the Seminoles are coming off a season that didn't quite meet the goals they set for themselves. This will be a fantastic matchup between two outstanding AD's, and I expect a hard fought, old-fashioned football matchup between two fantastic teams.
Notre Dame:
Junior Quarterback, and 2x National Champion KyShawn Williams looks to lead his team into another winning start with his eyes set on reaching his third championship. When asked what we can expect to see out of him he promised to show both growth and development, and wants fans to know that he is confident heading into this season. Returning alongside Williams are multiple offensive weapons such as powerhouse running back Deuce Williams, and deep threat receivers EJ King, Jeff Repport, and the veteran wideout Jase Nicklebury. Making his first start with the Irish, and the only offensive player signed by the Irish this off-season is freshman wide receiver Chris Foster. I got the chance to speak with him for a while earlier, and while confident, it's safe to say that he's feeling some pressure right off the bat. "Being a high ranked recruit, there's a lot of pressure on you to perform already, but thankfully our locker room has been able to remind all of us in there that as long as we execute our game plan and do our job this season, success will come easily. Having a lot of veterans around you elevates your gameplay."

We all know that the Season 12 & 13 Fighting Irish are teams for the record books, but after the successful off-season recruiting of Wookie and crew, they've added even more depth to the squad, and they look to be aiming for that title game once again. While interviewing Coach Matt, he made it known that the offense isn't the only thing to fear from Notre Dame this season, this is what he had to say when asked about what to expect of the Season 14 defense. "Nastiness is the word that comes to mind. As much as everyone thinks otherwise we are a defensive-minded unit. Our biggest strengths are going to be stopping the run, stopping over-the-top throws, and limiting the higher-powered offenses to as few 3rd down conversions as possible. I feel like the game against the Noles will have playoff implications. An argument could be made that we are two of the best teams in the league. We are really well prepared so I am confident we will walk away with the win." Will the Notre Dame defense be able to keep Florda State out of the endzone, and let KyShawn work his magic? I guess we'll find out what they can do once the game kicks off Monday night!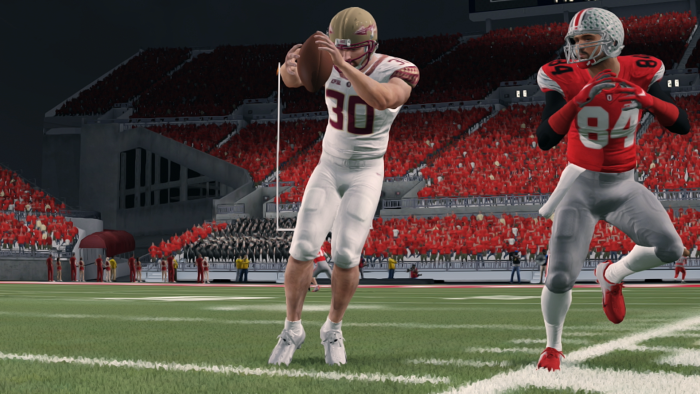 Florida State:
Coming off of a rough season, I think we can fully expect to see big things out of Florida State. Newly acquired veteran quarterback Jim Carr is out for blood as he looks to lead his team into a week 1 victory over the defending champs in his Florida State debut. Along with the addition of Carr, the Seminoles stacked their offense with weapons all over the field during the off-season acquiring multiple high targeted recruits such as fullback Benny Beukeboom, wideout Vernon Mills, and tight end Matt Scally. When asked what he's expecting to show the world week 1, Coach Grin made it very clear that they are competitors and they're not the same team as last season. "Carr is ready to show the league why he is one of the top tier QB's in the league. It's not just an air show here at FSU, we have a three headed monster in the back field also and our defense is primed to give offenses fits. It's going to be a great battle and should come down to the wire just like last season. Just no pick 6 from ND this year to get them the win."

The one thing that Florida State must do in order to get a victory week one is stop KyShawn Williams and keep the points off of the board. While we will see several star players returning for the FSU defense, we will also see some new players taking the field. A key player on the defense, Isaac Frost, is entering his senior season and wants a trophy to show for it. I got the opportunity to sit down with the Future CFSL Hall of Famer, and this is his response to being asked what we can expect of him in his senior season, and the season 14 Seminoles as a whole. "Definitely looking to kick off where I've left off the last couple seasons, a National Title is the ultimate goal for us as a team and the defense has the talent all around to lead us there. Personally I've also got my eye on a couple a big career records that would be cool to finish with before heading pro." When asked what sets them apart from the Season 13 roster and what it'll take to beat the defending champs, he knows it's no easy task, but believes it can be done. "Gotta work together and stay resilient and fighting for 4 full quarters. Belief in the coaching staff to put us in the best position to win. The coaching staff was really able to focus on and bring in some new Elite talent at positions where players graduated or just to fill stronger depth from last season. Will be up to us players to find the chemistry with our new QB and his WRs/TEs. I definitely expect our defense to hold their own and give the offense a lot of opportunities this season."
Final Thoughts:
While many people believe that LSU vs Alabama will be the game of the night, I truly believe that this game will be just as good and down to the wire. These two teams have history, this isn't their first meeting and certainly will not be their last. We'll see Wookie and his legendary squad of Fighting Irish face off against an all new Florida State team that's out for blood and itching to carve their names into the history books as well. Can Jim Carr and the new FSU hand KyShawn Williams only the second loss of his young career, or will the conquering Irish continue their streak of success? After what we've seen from Wookie and the Irish the last two seasons I think it's safe to say that they're the favorites, but until we see what Florida State brings to the table this season, I wouldn't count them out.