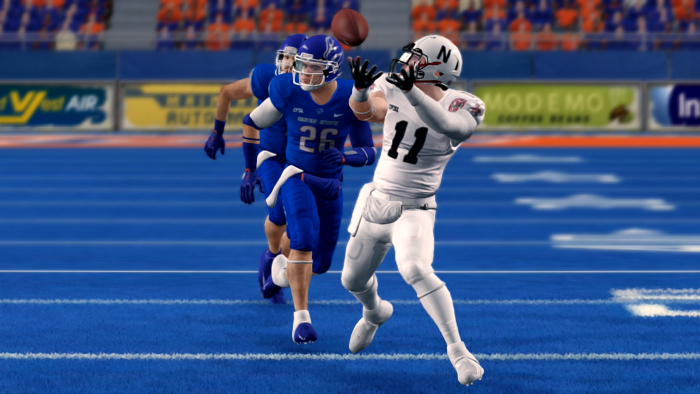 When the offseason ended and the rosters filled both ADs and players alike were ready to return to action. But week one of season 14 didn't only see the return of CFSL teams to gridiron. It also marked the return of the CFSL version of ESPN2. That's right, YouTube games were back! The PX1 Sports YouTube channel was home to some satis-MACtion for multiple seasons before the MAC was folded and only the P3 remained. The MAC was thought of as P3's little brother and YouTube was a place for the MAC to shine. Many ADs cut their teeth in the MAC, and many great players transferred from MAC schools and more than proved their worth when given a chance to play with the big boys. It was also a place for people like me to learn to call games. A place to hone my skills in the booth and to eventually become one of the voices of the CFSL.
So what does that say about the current YouTube games? There is no MAC, no "little brother" left. Well with the CFSL administration trying to eliminate Friday and Saturday games where possible the only way to get sets of games on one night is with YouTube. And when some may look at the YouTube games as "lesser" games I feel like they can turn into the proving ground for P3 teams looking to make a name for themselves. I mean, there was a time last season WVU was referred to as a MAC school. Ironically it wasn't until they played their first game on YT that WVU won their first game. So with that I would like to take a brief look at the four week 2 games slated for CFSL2…YouTube.
MIAMI @ MISSOURI
This game could be game of the week caliber. Remember the Florida and Miami contest that went 5 overtimes and had what seemed like 1000 combined points and a million combined yards? I know you do, it is talked about all the time. Judging by the way the Hurricanes and the Tigers both scored and gave up points in their week one games we could see a shootout in this one as well. Miami was my pick for SEC's most improved, and their offense showed up against Iowa. And Missouri went blow for blow with Michigan. Unfortunately for them they couldn't stop Michigan enough times to get a win. The question here…which defense makes a play. It may only take one. I don't know what the over/under is going to be set at in the sports book, but as of now i'm already leaning towards the over. Prediction: Mizzu 52-49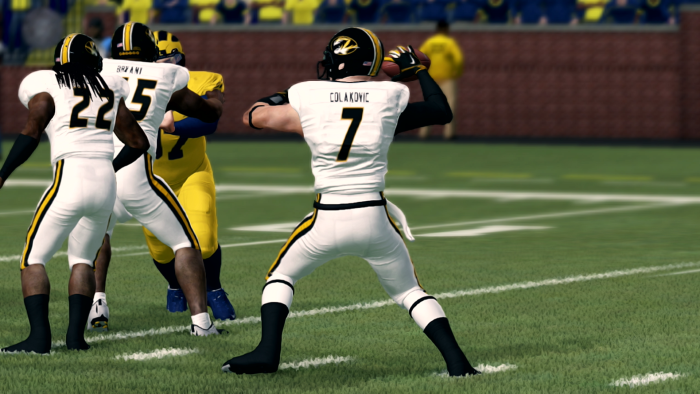 FLORIDA STATE @ NEBRASKA
Florida State travels to Lincoln to take on a Cornhusker team that was boat raced in week one. The only positive thing you can say about their trip to Boise was they won the second half 6-3. Unfortunately they lost the first half 42-0. The 'Huskers get to play their home opener against a Seminoles team that is coming off of a big win against Notre Dame. FSU was better or even with the 2 time defending champs almost all game. They were outscored 17-0 in the second, but if they put 4 full quarters together this week watch out Nebraska. Florida State has revamped their offense with the addition of Carr at QB and Mills at WR, both transferring from Oklahoma. They have also beefed up their backfield with Benny Beukeboom coming in to block for Anthony Younger. This is not the FSU team we have seen in the past. Their defense is still great, their offense is better than in recent memory, and that spells bad news for Nebraska. Prediction: FSU 49-10
WVU @ IOWA
This could be just as close as the Miami and Missouri matchup but a little bit lower scoring. Iowa rolled up over 500 yards on offense. They had more than 225 yards both rushing and passing. And they were able to put up 35 points against Miami. But West Virginia's defense is much improved from last season and looks to pose more of a challenge for the Hawkeye offense in week two. The Hawkeye defense is also hoping to improve from week one. They gave up a ton of points and a ton of yards both on the ground and through the air. Can they make some plays and slow down the Mountaineer offense? And it is an offense coming off of their best game…EVER. Jerry Filbin had better than 150 on the ground and 2 scores, Kevin Barnes threw for better than 400 yards and 2 scores, plus scored 2 on the ground. This game should be close and lower scoring than some of the other YouTube games this week. Well slightly lower scoring anyway. Prediction: WVU 38-28
BOISE STATE @ TENNESSEE
Tennessee heads back home for its home opener after a tough loss on the road week one. They had a 10 point lead at one point in the second quarter, leading 13-3. After that they were outscored 45-7. The Vols are hoping for a little Rocky Top magic as the Broncos come to town. Boise State ditched the triple option offense from season 13 and scored seemingly as many in their opener as they did all last season. Ryan Smith however did show that he could still do it with his legs as he ran all over Nebraska. I expect Ryan Smith and Tennessee's Xander Travelstead will know each other quite well at the end of this one. Travelstead had a team record 19 tackles last week and if the Bronco offense gets rolling like they did week one he may need to make more than that this week. If Tennessee has a chance in this one they will have to try and keep up with Boise State. That won't be an easy task for Potter and the rest of that offense. Prediction: Boise State 42-28.
Well I hope you enjoyed my tour of the YouTube games. And I hope that you enjoy the games themselves as much as I will. While they may not be the most hyped games of the week they have the potential to be great. They give the teams in them a goal outside of just winning this game. Performing well gives you a chance to prove yourself and get back to the Twitch lineup. And it gives new guys in every role to relax, and improve their skills whether it be in game planning, or on the mic. And don't forget, let me and the rest of the CFSL know what you think about these games. How close am I? And I'll see you next time from the booth.