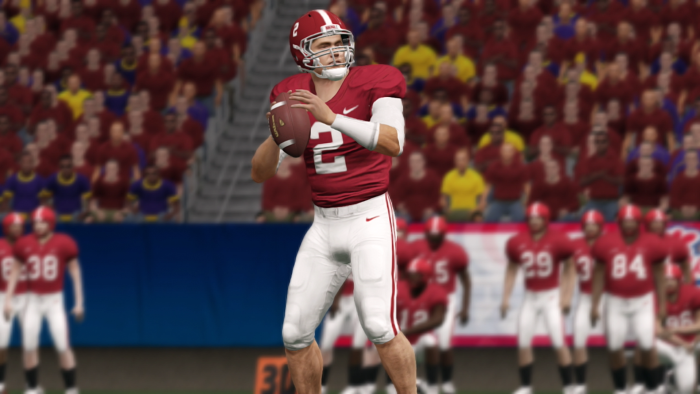 Week 1 is in the bag and that means it's time to recap and get excited as Season 14 is underway! New this season, I'll be publishing a mailbag recapping the week and answering questions you send in as we look forward to the upcoming games! Each section are things I'll be trying out, and I'll be tinkering with them as well on a week by week basis.
3 Winners, 3 Losers
Biggest Winner: Alabama – This one is obvious. Alabama's demolishing of LSU not only is a big takedown out of conference, it shows the might of a team that if it can continue doing what it did Monday night, will be almost unstoppable in the SEC. The Crimson Tide dominated in all 3 phases of the ball, and Ryan Ravenhill couldn't have asked for a better debut to replace the legendary Doug Day. Alabama travels to Madison in another big prime time test, but with how they opened the season, I'd be sweating if I was anyone who played the Tide this season.
Biggest Loser: LSU – With Alabama being the biggest winner, I wanted to put LSU somewhere else on the losing list, but there really isn't any way I couldn't put them here. It's not that LSU lost. It's not that LSU can't or won't recover, which they have proven capable of doing in the past. It's how they lost. Turnovers and an offense stymied by Alabama led to one of the bigger losses in school history, at least in the regular season. It doesn't get easier either as the Tigers take on Notre Dame Monday night.
Under the Radar Winner: Missouri – Yes, the Tigers did lose to Michigan this week, but they made it way closer than I think most predicted. Down multiple scores at a few points as well in this one, the Tigers fought back and made this high scoring affair one of my favorite games so far this season, and am happy I got to call it too! Missouri proved they could hang on offense and even got some (though not enough) big plays on defense as well. Missouri has their home opener this week against Miami, and I think that also might be one of the best games of the week.
Under the Radar Loser: Oklahoma State's Offense – The caveat here is that they won, so the Cowboys hardly should care what I write or say. But Kentucky had it too easy on them in Oklahoma State's Week 1 win, and now the Cowboys have Washington before a tough Big XII slate. Harrison Murray needs to hit more than 34 out of 46 pass attempts, and Jordan Hammer especially needs to have more than 47 yards on 8 carries. The sky isn't falling obviously, but if the Cowboys want to compete seriously come conference play, tweaks are needed.
Long Time No See Winner: Boise State – This team last season had an underrated defense, I'll stand by that. Now this season, at least from early action, Boise State has both an underrated defense AND offense. Boise State finally seems to be clicking on both sides of the ball, and if they can build on this entering Big 10 play, watch out. The Broncos travel to Tennessee this week in another winnable game, and you have to think if they enter conference play 2-0 they can be a big threat to start knocking off some powers.
Long Time No See Loser: Notre Dame – Fresh off winning 15 of the last 16 regular season games along with a historic repeat of a championship, that was a bit of a dud for Notre Dame fans to open the season. While neutral fans were treated to an excellent game, the Irish now need, not just want, to beat LSU Monday. Both teams are 0-1, both teams lost, both teams have big aspirations. Talk about a storyline entering Week 2.
Who to Bet On, Who Not To
This section of the mailbag I want to play around with a bit, but for this week I'm going to focus on one teams and games I think you should look to and some you should avoid. I'll be avoiding bigger names as the idea is to figure out where others aren't looking and bet there. For teams to bet on, I like Texas against Auburn. The Tigers have a lot to fix and Texas is looking to rebound in a big way. Similarly, West Virginia has another winnable game on the road against Iowa and I like their chances to win and even cover if they open favored. To avoid, I'll agree with a few of the guys on Jeff's podcast this weekend. Prime time games are scary. LSU – Notre Dame and Alabama – Wisconsin are both games I don't think I'll be betting on for how close they'll be. Texas is an exception on Tuesday if you count Tuesday as a primetime day, but even then if Auburn rebounds and surprises them I don't know how Texas will react.
Fan Questions
So no questions on Twitter this week. Remember, Tweet @collegesimleag with the hashtag #CFSLMailbag and I'll answer your questions here each week!