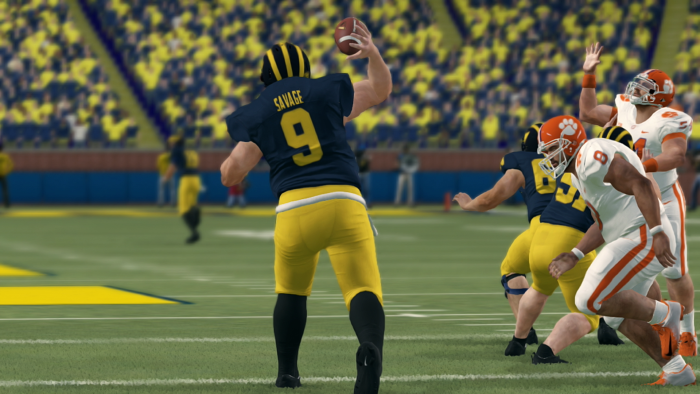 Now with Week 2 in the bag, we return to another edition of the CFSL Mailbag this week with teams looking ahead to conference play beginning Monday! Welcome back to this week's edition of the mailbag as we have a lot to cover and a lot of fun on the way!

3 Winners, 3 Losers
Biggest Winner: Michigan and Boise State
Both the Wolverines and Broncos were near the bottom of the Big 10 standings in Season 13. Now time will tell as conference play begins, but both teams are 2-0 and in a good position so far. Michigan has put it together and has run through big games against Missouri and Clemson. Boise State has a big test this week against Washington, but so far they've met and exceeded expectations. You can't ask for better than what these two teams have given ADs Clutch and Vennom, and thus both get the highest praise from me this week.
Biggest Loser: LSU
For the second week in a row LSU lands here. The Tigers again had multiple issues come up against a tough opponent in Notre Dame, and while plenty of teams have started 0-2 and recovered (looking at you Texas last season), LSU needs to rework some things on offense quick if they want to be one of those teams. This week will be a good place to start however as LSU takes on another 0-2 team in Texas A&M for their home opener.
Under the Radar Winner: Both Oklahoma Teams
There has been much said about how strong both Oklahoma and Oklahoma State are. They are both 2-0, but both have weaknesses that need fixing. Heck, just last week I had Oklahoma State's offense as a loser on this very mailbag. But at the end of the day, both teams are 2-0 and on top of the Big XII. It might not be pretty, but these teams have better records than powerhouses like Notre Dame, Washington, and conference rival Texas. Bedlam can't come soon enough for me at least!
Under the Radar Loser: Clemson
What a close game Clemson played on the road in Ann Arbor. For the record, the sky is not falling and Clemson has had a good, if not great start to Season 14. At 1-1 they have a huge game this week against Florida State and that is what makes the loss to Michigan sting so much more. What could've been if only Clemson could make one or two less mistakes and take the game in Ann Arbor. Still, Clemson has the pieces, and if they can take down FSU I likely put them in a winner's column here next week!
Long Time No See Winner: Justin Morris Jr.
Even going back to last season, Morris Jr. had been up and down in his performances and certainly not at the lofty standard he set for himself. Well at West Virginia, he wasn't perfect, but he got the job done for the Hawkeyes. In a 37-30 win, he had over 300 passing yards and led Iowa to their first win of the season. The senior has some momentum going into conference play as Iowa has rival Wisconsin on the road this week.
Long Time No See Loser: Wisconsin
Speaking of which, hello Wisconsin! The caveat here is that Wisconsin's defense has come as advertised, especially with Iman Porter continuing to wreck every QB he faces. Still, the offense has faced issues, and Alabama put that on full display last week in Wisconsin's first loss of the season. Still, Alabama has one of the best defenses this season and will be easily a top 5 team in the AD poll coming out this week, so if Wisconsin can fix some things up, they also can bounce back in their game this week.
Who to Bet On, Who Not To
In terms of fun factor, Clemson and Florida State were my two survivor picks so far this season. That game on Monday should be fun both from a viewer and bettor perspective, but it is a tossup for me. The rivalry games as well in Iowa-Wisconsin and Florida-Tennessee should be popular with bettors and a treat to watch. To avoid, I don't like any parlays this week. Too much variability and a lot of teams who could pull upsets. Beware long shot odds this week in my opinion.
Want your question answered in the Mailbag? Make sure to tweet us @collegesimleag and use the #CFSLMailbag and we'll answer your questions every week here!