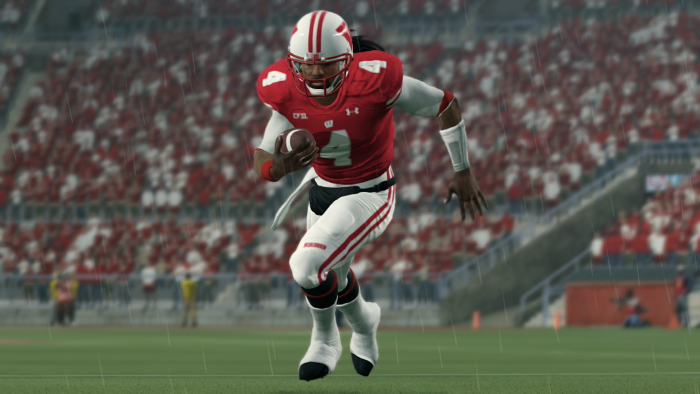 Take a look at the week 4 schedule. There are so many great match ups and so many interesting stories to take a look at. But I don't have the time to write them all up and let's face it, something that long…no one is reading the whole thing. So we will start on Monday night. I mean let's be honest, these games are slated to start the week for a reason. The CFSL loves to start with the games perceived to be the best games of the week. And I think they for sure got it right.
WISCONSIN at WASHINGTON
We start in Seattle with two teams that really know how to put up points. Wisconsin is coming off of a week 3 performance that was just about perfect. The defense pitched a shutout and the offense scored 82 points. Yes, you read that correctly, that is not a typo. Wisconsin put up 82 points. No disrespect to Iowa, but Washington is not Iowa. This game is going to be tight. Cairo Croft and company are going to be able to score with Wisconsin when need be. And the Huskie defense, well they can play too. Washington held Oklahoma State to 20 and a high powered Boise offense to only 13 in the last two weeks. Unfortunately for the Huskies they fell to OK St otherwise they would be looking at a 3-0 record. Wisconsin also comes in at 2-1 with their only blemish coming to an Alabama team that hasn't lost a regular season game now in its last 10 games. If this game is not a last possession, one score type of game I would be beyond surprised. I give a slight edge to the home team in this one….but it is a very slight edge.
OKLAHOMA vs TEXAS
This game, as always, is a neutral site game. And that is the only way to handle this kind of a game. If one of these schools had to go to the other's campus, who knows what would happen. To say these two programs don't like each other is the understatement of a lifetime. And while rivalry week isn't until week 8 and both programs will line up against hated in state rivals this is something else. It is beyond just a rivalry. Oklahoma comes in riding high after a blow out road victory at WVU. The QB turned receiver turned QB again Vinny Mixon looks like he has never stepped out from behind center. Mixon has completed nearly 80% of his passes and has 11 touchdown throws to only 3 interceptions. On top of that, HB Joey Zaza is averaging better than 120 ypg, five different receivers have caught at least one touchdown, and defensively Scott Frank has racked up 6 sacks through 3 games. This is an OU team posed to make a run not only at the Big 12 title, but at the big one at the end of the season that we have become accustomed to seeing ND hoisting up. But don't count Texas out. Oh no! That would be a big mistake. Kai Kohko has plenty of weapons as well. Quincey Myers, Brandon DeMoura, and Anthony Delano have 2 receiving touchdowns each. Three others in the receiving corps have 1 each. And Texas' defense? Well two names stand out, and I'm sure they are standing out to the Oklahoma staff in preparation as well. Joey Cass and Sean Flowerday. Flowerday leads the squad with 32 tackles. And Joey Cass has stuffed the stat sheet full from both sides of the ball. Not to mention every time he comes up to hit someone you hold your breath and hope they can get up afterwards. This is another tight game. But with all the offense on the field don't be surprised if it is one of the defenses that win this game with some big plays.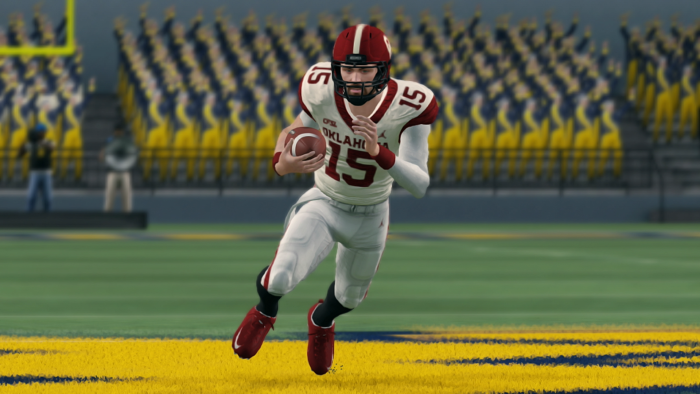 So that wraps up the Monday night matchups. But what about the great games slated for Tuesday!?!? Don't worry CFSL fans. I have those all under control and handled as well. I'll be back with a preview of those games after we digest the opening course from week 4.
Did I miss something? Did I get it wrong? Let's chat about it in league chat. I'm getting out of the booth for the night. But we'll come back up soon to check out the views again. See you next time everyone.