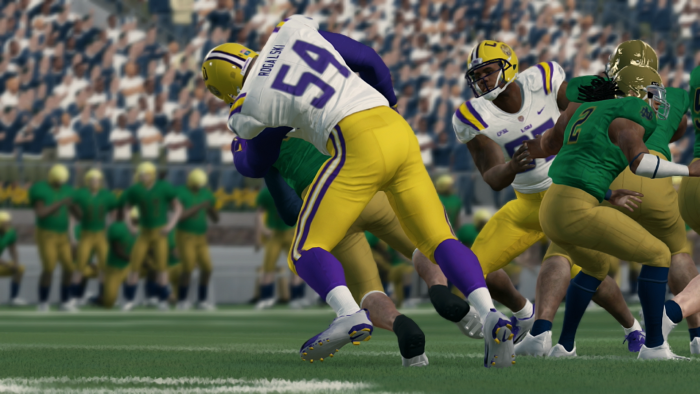 Each week we will be interviewing one or two coaches so that you can get to know them, their thoughts on the league, their thoughts on their team, and other random facts you may not know.
This week we are sitting down with a new AD. He took over for Tink at LSU. Roggie and his LSU crew are still working on finding their feet, but they have the talent to not just win but to dominate. Do not be fooled by their 1-2 start. Once Elite QB Moses King and company find their groove and that nasty LSU Defense shows its face, they will be a tough game each week.
Team: LSU
Discord Name: Roggie
Position: Athletic Director
Team Record: 1-2
Q. What would you say is the current state of the CFSL?
A. "It's ever-improving. Leadership is as strong as it has ever been and every year there are new changes that better the league."
Q. If you could implement one CFSL change, what would it be (purely hypothetical)?
A. "A week of preseason that doesn't count towards records so coaches can get a true look at their team."
Q. How do you feel about the beginning of your season so far?
A. "It's all about how you finish."
Q. What teams in your schedule have you worried?
A. "As a new AD? Every single team."
Q. Outside of your rival, who is left on your schedule are you excited to play?
A. "Everyone. Notre Dame was who I was most excited about due to the success they've had."
Q. What will it take for you to consider this season a success?
A. "We need to make the playoffs."
Q. Who are three names everyone should know from your squad?
A. "George Smith is, at worst, a top 3 LB in the nation. Christopher Jones does not get the hype he deserves for how good of an RB he is. Trey Hawkins has the potential to be a future top pick for the pros at DE as well."
Q. Who is the funniest person in the locker room?
A. "How the heck do I choose one when I've got Syrok, Swooshhouse, and Cajun Chris in there?"
Q. Defense or Offense, why?
A. "Defense. If the other team can't score, they can't win."
Q. Why are you in the CFSL?
A. "It's a great place to make friends and have fun.