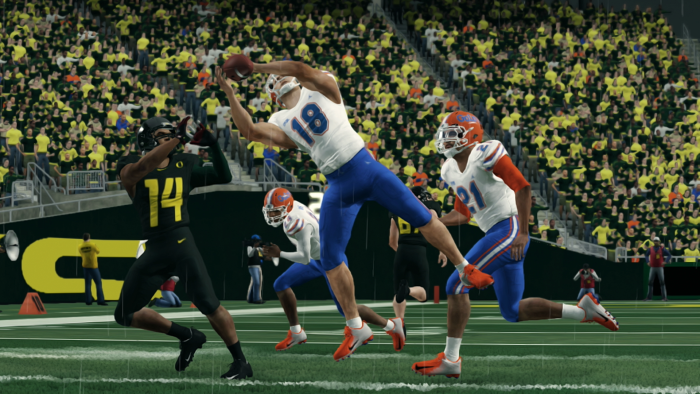 Okay, so when I started my preview article for this week I quickly realized that one article just wasn't going to do it. There were too many great games up and down the schedule, but in particular the lineup on Monday and Tuesday nights. So let's look at the Tuesday night slate, and stay tuned to the end…there may be a little extra after looking at the two games for Tuesday.
ALABAMA at FLORIDA
The Crimson Tide bring one of the best teams in the league to the Swamp to challenge the high powered Gators. The Tide are led by Freshman QB Ryan Ravenhill. At times Ravenhill has looked like the freshman he is. Completing only 69% of his throws he has seemed rattled from time to time. But he has not made the big freshman mistakes, throwing only 2 interceptions in 3 weeks. His favorite target has been TE Ace Axel who is averaging better than about 111 ypg receiving. And he is one of 6 players with a touchdown reception. And just in case Ravenhill gets tired of throwing the ball he can turn and hand it to James Ware. And all he has done is averaged better than 3 yards a carry and 100 yards per game. Ware has tacked on 3 scores as well. So it is safe to say there are a lot of weapons for the Gators to worry about. That is bad news for the Gators who, despite being a 2-1 team, have given up a lot of points in 3 games. In fact in Week 2 and Week 3 both they gave up 52 points. Can Rocko Lacey help the offense keep pace? He couldn't against Oklahoma. Lacey brings in 13 TD passes and a completion percentage of 78%. Fozzy "Waka Waka" Brown leads the team with 4 TD catches. Will this be a high scoring slugfest? Or will the defenses step up and make this one a low(er) scoring affair? I think we will see some defense. But only from the road team.
NOTRE DAME at MICHIGAN
This is a special game. Two rival teams that don't like each other. Venom and Wookie going head to head. And it is a Top 10 game, Notre Dame coming in at #7 with a 2-1 record and Michigan at #5 and unbeaten. Michigan has really found something this season that they didn't have last season…an offense! In their first three games they have scored 52,31,and 47 points respectively. And although they struggled defensively in week one against Mizzu, giving up 45 points, they have steadily improved, giving up only 16 points against Oregon last week. They are doing it exclusively through the air. Don't believe me, ask their HB Conner Darian. Darian is averaging 22 yards per game. The Wolverines have unleashed the beast that is Thor Savage. Savage has been just that, completing 76% of his throws, averaging 487 yards per game and has thrown 14 TDs in three games. Following Venom over from Oregon, Bobby Barrett has been the big play receiver. Barrett is averaging 21 yards per catch and has hauled in a team leading 5 scores. As explosive as this Michigan team is, Notre Dame has the potential to topple the Wolverines on the road. After an opening week loss that saw the ND defense surrender 34 points to a new and improved FSU offense they have put the clamps on their next two opponents. The Irish defense has given up a combined 20 in the following two weeks. They have the defense that I think can slow down Michigan enough to give Kyshawn Williams and the offense a chance to win the ball game. Notre Dame has not been held under 30 points all season, including by the vaunted FSU defense. In my opinion the pressure is on the Wolverine defense to perform Tuesday NIght. And if you ask me, it is still Notre Dame's title to lose. So this game may go a long way in determining if there is potentially an opening at the top.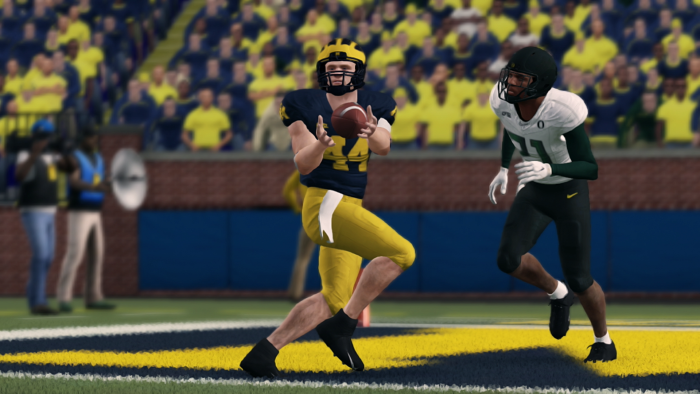 OKLAHOMA STATE vs WVU*
Okay, I know, I know. This game is not a Tuesday game. But we had the Red River Rivalry on Monday. We get Michigan and Notre Dame on Tuesday. There is another…very under the radar rivalry game this week being played in Morgantown. And if i didn't mention the new "Battle for the Golden Gun" rivalry (Formerly played between OSU and TT) I feel the league would be missing out on something. Now I am really bringing this game up because the last time these two teams met the Cowboys were heavy favorites. And all that happened in that one was a WVU secondary that was picked on all season came up with 7 interceptions and 2 pick sixes. But even with all of that Harrison Murray brought OK State back from 24 points down in the second half to win the game with a TD pass inside of a minute to go. That game was in Stillwater. This season the Mountaineer defense feels it is much better than last and this game will be a gold rush game in Morgantown. Can West Virginia pull off an upset? Can West Virginia win their first Big 12 conference game? Or will Oklahoma State hang on to the trophy for another season?
So there you have it ladies and gentlemen. Tuesday night's HUGE matchups, and even a little bonus matchup. Yes, the bonus matchup is slightly self-serving. But it is my view to share. And yes, there are a lot of other games this week that will be big matchups and great games. But I have to make my way from this booth over to the booth in Gainesville. So hop in league chat and tell us all what you think about these games and all the rest. And I'll see you next time up here in the broadcast booth. Thanks for sharing the view with me.