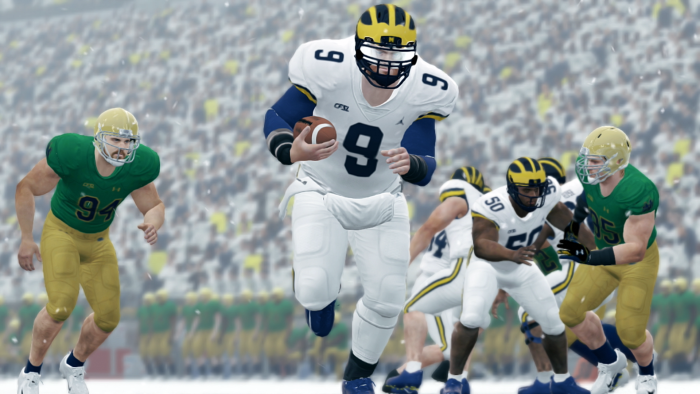 4/29/2022
By: Matt Ousley
(PositivelyPrime#6714 on Discord)
Season 14 is off to a blazing hot start. There are so many top-tier teams off and running that sometimes we overlook a chance at history. Some may call for my termination for jinxing this, but it needs to be mentioned. Michigan's obviously inspired Quarterback, Thor Savage, is off to one of the best starts to a season that the CFSL has ever seen.
Thor is currently the leader in completions, attempts, yards, and touchdowns. He is top six in completion percentage, yards per game, interceptions thrown, and Quarterback rating. He has really blossomed under new AD Vennom's offensive style and coaching. In his previous two seasons, he was a pretty good quarterback. A pretty good quarterback among Elites.
Step into this season and Thor is nearly unstoppable. You are asking yourself; yea so, how is that historic? Well, let's do some math. Thor has thrown for 1,462 yards in three games. He is averaging 487.3 yards per game. He has played against three solid defenses and has torched them all. If he continues at this pace and ends the season at eight games, we will be looking at 3,898 yards. Assuming that occurs and it feels like it will, Michigan will make the playoffs. At nine games he would be near 4,385 yards.
4,385 yards is a lot but it's not the record. The current season passing yards record is held by the Texas legend, Ray Tatum, at 4,920 yards. I know, we are still 535 yards away and it seems impossible that anyone could touch that record. That record is safe. Or is it? 4,385 represents the season and one playoff game. If Michigan wins its second playoff game, he would be around the 4,873 mark. If Michigan can make it to the National Championship game and Thor have a good game, he would be looking at ending his season with an outrageous 5,360 yards!
It is still early in the season but Savage has the opportunity to earn the Single Season Yards Record, Offensive Player of the Year Award, arguably the CFSL Comeback Player of the Year Award, and the CFSL National Championship due to the amazing start he has put together this season. I have your attention now! Thor Savage, we see you dropping that hammer.