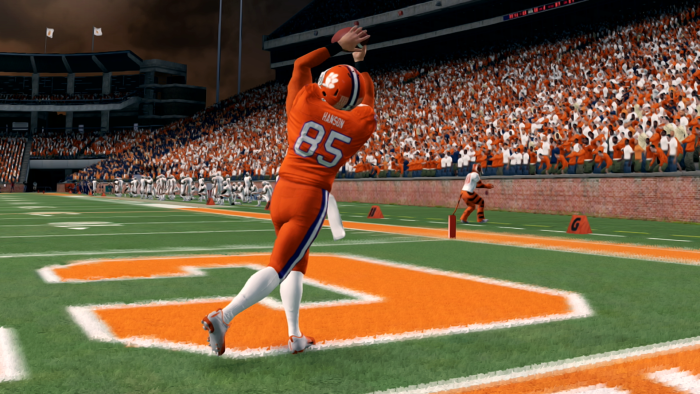 Let's take a look at week 4 from the SEC.
Auburn Vs. Clemson
Clemson's offense as a whole really played great together, as the defense took care of business only allowing two FGs. OLB Nick Shultz was huge for the Clemson Tigers defense as he totaled 4 TCKs, 1 TFL, 1 SCK, and 1 INT. Clemson had a stronghold on this one from start to finish.
X-Factor
QB Dylan Tate 21-23 for 309 passing yards with 4 TDs and 11 rushes for 73 yards with a TD.
Final score
Auburn 6 – Clemson 41
Miami Vs. Kentucky
This was a very close game until the end. Both defense's played great for most of the game but, the Kentucky run game couldn't be contained as QB Scott Pinesaw and RB Taylor Copley combined for 30 rushes, 236 yards, and 1 TD.
X-Factor
RB Taylor Copley 20 rushes for 132 yards and 13 catches for 68 yards.
Final score
Miami 16 – Kentucky 17
FSU VS. Tennessee
This was a tight fought game until WR Aaron Ike took a 100-yard kick return to the house with 1:08 left in the 3rd to make it a two-score game. FSU's defense, particularly MLB Kiyoko Winter, made plays when they were needed to secure the victory.
X-Factor
WR Aaron Ike 175 all-purpose yards and 2 TDs
Final score – FSU 41 – Tennessee 24
Alabama Vs. Florida
Florida came out strong and punched Alabama in the mouth hard. Florida WRs Fozzy Brown and Zak Kelso led the way with 21 catches, 380 yards, and 2 TDs combined. TOs were a theme in this one as both teams combined for 9. Alabama made a late push but, it wasn't enough.
X-Factor
Florida's defense
Final score
Alabama 30 – Florida 35
Offensive Spotlight
Clemson's QB Dylan Tate 21-23 for 309 passing yards and 4 TDs. 11 rushes for 73 yards and 1 TD.
QB Dylan Tate pitched a near perfect game for the Clemson Tigers.
Defensive Spotlight
FSU's MLB Kiyoko Winter 19 TCKs, 4 TFLs, 1 SCK
MLB Kiyoko Winter was all over the field making play after play.
Team of the week
Clemson
Clemson really played a great team game this week with a dominating victory over Auburn.