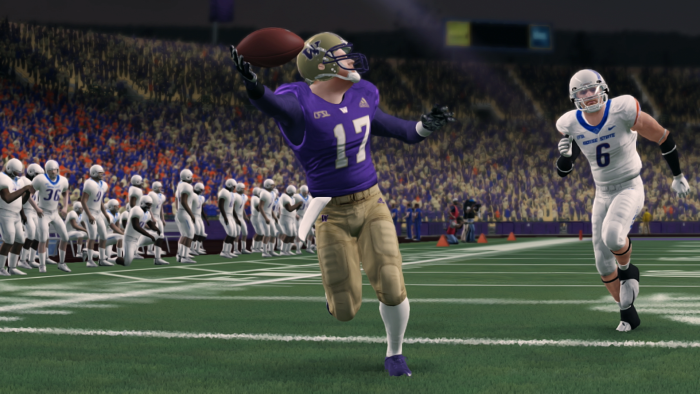 PRIME CUT QUICKFIRE TEN
By: Matt Ousley
(PositivelyPrime#6714 on Discord)
Each week we will be interviewing one or two coaches so that you can get to know them, their thoughts on the league, their thoughts on their team, and other random facts that you may not know.
On the hot seat today is up and coming EJ Ruiz, the Athletic Director for the Washington Huskies. Sitting at 2 – 2 for the season (could easily be 3 – 1) the Huskies are still in the thick of things. They have shown they can hang more than 60 points on anyone and can hold opponents to low numbers as well. Led by QB Cairo Croft who is having a great year and currently enjoys a 152.6 rating, the Huskies cannot be overlooked, by anyone. If you do decide to overlook them their defense will get to you, and they will disrupt everything you thought you were doing.
Name: EJ Ruiz (ejruiz)
Position: Athletic Director
Team: Washington Huskies
Q. Current state of the CFSL?
A. The CFSL is currently as strong as I've ever seen it. The talent in coaching staffs and on rosters is possibly deeper than ever! I'd say we're coming out of a reloading period and can finally look forward to expansion again on the horizon: if enough quality AD candidates step up to the challenge!
Q. If you could implement one CFSL change, what would it be (purely hypothetical)?
A. I would love to see a little more versatility in player position eligibility, at least while in recruiting. Multi-position arches are a pain to align, but the concept of marketing as an athlete and then specializing once on campus just feels right!
Q. How do you feel about the beginning of your season so far?
A. I feel good about how we've started! Obviously, we'd love to be undefeated heading into conference play, but losing to OKST on a last second FG is nothing to be ashamed of.
Q. What teams in your schedule have you worried?
A. I wouldn't say anyone has us "worried," but I'm most interested to see us measure up against Boise State this week and then Michigan later this season. Clutch in his more traditional offense looks like a world-beater again. Vennom and I had some fun Border War games while he was at Oregon, and now he has the Wolverines looking MCU-worthy already!
Q. Outside of your rival, who is left on your schedule are you excited to play?
A. We get another shot at the reigning, defending, UNDISPUTED back-to-back Champs in Notre Dame, so that's a game we circled since our barn-burner classic last season!
Q. Who are three names everyone should know from your squad?
A. I'm going to take this opportunity to highlight some people who for whatever reason haven't gotten the attention I think they deserve throughout their careers. Matthew Norris is a top tier DT (even in this era of Olympic gods at the position), Justin Carey is the heir apparent to Joey Cash atop the TE mountain, and Ralph Rodriguez might be the only WR out there that I'll grant is a step ahead of August Alexander so far this season!
Q. What will it take for you to consider this season a success?
A. I will always consider a playoff berth the benchmark for on-field success in the CFSL. Since we achieved that last year, we'd love to build on that with at least one postseason win. That said, wins and losses aren't the only measuring stick and continuing to build a positive and fun program culture is our #1 goal!
Q. Who is the funniest person in the locker room?
A. This depends on the day, but I'll use overall Locker Room presence as the tiebreaker and give the nod to @XFACE (Deion Prince III), who has been an indispensable figure within our program since Day 1
Q. Defense or Offense, why?
A. Special Teams! Seriously, though, as much as it pains me to say it, you got to go with the offense, because it gives you a chance and that little bit of hope in every game, no matter what.
Q. Why are you in the CFSL?
A. A friend of mine brought it to my attention, I created a 3⭐ FS (not expecting to invest much time, money, or energy into the experiment) but then I was blown away by the recruiting experience and GameDay presentation! I was a 4⭐ by Week 2 and bugged my way onto the Auburn Coaching Staff as Recruiting Coordinator by my 2nd season. Mike gave me my big break as Head Coach of Kent State and that same season I stepped into the AD role in Seattle, and the rest is history in the making! I've always loved College Football in general and NCAA 14 in specific, but what's kept me here is the community. Looking forward to seeing people in person at Hangout!