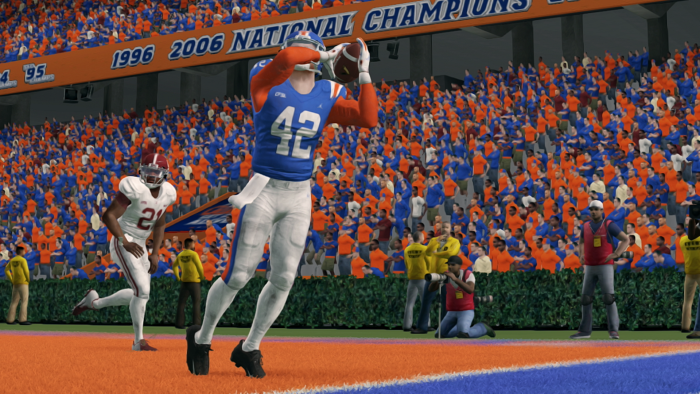 PRIME CUT THE UPSETS
5/11/2022
By: Matt Ousley
(PositivelyPrime#6714 on Discord)
A lot can be said for week four in the CFSL. There were some crazy good (and bad games). There were a lot of winners. There were also some very unexpected losers. Four of the top five teams lost and one cemented their status as the country's best. Here is a look at the big week four shakeup. How will this impact the playoff picture?
I think the biggest upset comes from the Swamp. Dobbins and crew were ready to go to Florida and walk away with the win. Florida's mighty gators had other ideas though. In a thriller that saw Florida lead for the entire game, Bama did not ever just give up. They put up an impressive 13 points in the last few minutes of the game. They just could not find a way to stop Rocko Lacey from having one of the best games the CFSL has seen from a QB in a while. Kudos to Florida for not laying over for this game. It really was an instant classic. Florida 35 – Alabama 30
Most analysts knew that Oklahoma and Texas was going to be a close game. Not only were both teams top 11 ranked, but this is the Red River Rivalry. Sadly, for Oklahoma, Jooby wanted nothing to do with a close game. The story here could be that Kai Kohko had a clean game, but the defense made so much noise you can't hear anything else. Nearly the entire Defense had a tackle led by Zack Flowerday with 12. DT Enrico Pipino also showed why he is an early All-American candidate going for 4 tackles for loss and 2 sacks. When your Defense causes 4 turnovers, you are going to win games. Texas 40 – Oklahoma 9
In what many are calling the biggest upset of the week Oklahoma State was not able to travel into Morgantown and secure a win. West Virginia showed why home-field advantage matters, even in the CFSL. West Virginia took an early and commanding lead but in the third quarter, Oklahoma State came roaring back. However, West Virginia locked Oklahoma State down for the rest of the game and hung another 21 on the Cowboys to end the game 48-34. WR Tomlin Clementine went off hauling in 11 catches for 226 yards. West Virginia 48 – OSU 34
Most CFSL viewers were probably safely assuming that Notre Dame visiting Michigan was going to be close and come down to the wire. While Michigan did show up to the game, they did not come to play. Fighting Irish QB KyShawn Williams had a great game distributing the ball to 8 different receivers! The defense stepped up in a big way as well. They limited phenom Wolverine QB Thor Savage and the team to 13 points. In Notre Dames's book, this was a complete-game win. ND 70 – Michigan 13
Finally, who can beat Florida State? Grin and staff really have their team dialed in on both sides of the ball. They are winning by an average of 25 points per game. QB Jim Carr has been consistent, and their defense has been stingy compared to league averages. They did face three of the weakest conference opponents in the conference but the next few weeks after this week will really show how real FSU is. Can the confidence of beating the defending champions in week one carry throughout the year?