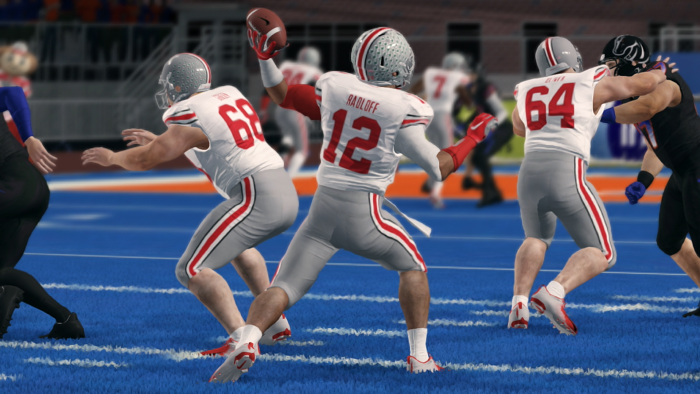 This Week in the BIG 10
Upcoming Games:

Notre Dame (3-1) vs Oregon (2-2)
The Irish will continue to keep their undefeated conference record in tact on the road as they play a hungry Oregon team coming off a big win over Iowa. If Oregon can keep the offense running like they did last week against the Hawkeyes, Notre Dame is going to have a really tough time. The Irish have already lost once this season away from home, so it will be key here for them to play turnover free clean football.
Wisconsin (3-1) vs Boise State (3-1)
On paper the biggest Big 10 game of the week. The Badgers travel across the country to play a Boise State team that has scored 85 points for and only allowed 20 points against in 2 home games so far this season. Wisconsin is 2-0 on the road and their defense is unquestionable so far this season. But the offense at times has been an issue, and this Broncos team is a lot tougher than the squad that lost 37-7 in Madison last season.
Michigan (3-1) vs Iowa (1-3)
Michigan has looked great, no doubt, in the first half of this season. But that Notre Dame loss will provide blueprints for teams to take them down for the rest fo the season, and Michigan still has some very tough teams on their schedule. I've called some Iowa games this season, and they are better than their 1-3 record indicates. They had a close game Week 1 with Miami, and outside the ugly loss in Week 3 to Wisconsin, have had a chance in every game they've played. They need to figure out some stuff on offense with Justin Morris Jr., but once they do they can hang with anyone.
Washington (2-2) vs Ohio State (0-4)
Washington looked their best this season when they beat Boise State soundly with good performances on both offense and defense. At best, Cairo Croft might be the best offensive player in the country (again) and their defense as a unit can shut down almost anybody. But they need to be at their best much more often. Ohio State at times has played very good teams close, and I expect that again here. They have a shot in every game, but they need to get more consistency from their offense before I can call and upset here.
Offensive Highlight
KyShawn Williams – QB Notre Dame – 29-38, 369 passing yards, 3 passing TDs, 14 carries, 32 rushing yards
Williams is a big reason Notre Dame has won 2 titles, but he hasn't always been the flashiest offensive player in the CFSL. While his numbers aren't always as gaudy, this week he was the best when it came to BIG 10 QBs, with another really solid performance in helping Notre Dame crush Michigan 70-13.
Defensive Highlight
Nick Hopper – CB Notre Dame – 4 tackles, 2 INTs, 2 PDs, 1 Defensive TD
Similarly, Notre Dame was excellent defensively in that win against Michigan, with Hopper having one of his best games in his long, storied career. 2 interceptions, including a pick 6, were the big highlight of his night. While Michigan QB Thor Savage had an off night, Hopper took advantage and was rewarded with some of the most fun plays for Notre Dame fans so far this season.
Upset Pick
For the BIG 10, my upset pick this week is Ohio State. The Huskies certainly on paper should win this game, but Ohio State is hungry for a win and has both talent and willpower to win here at home. If Washington can't light it up as usual, Ohio State can capitalize and continue a trend from last week with big teams being upset.